Herbert William Dickie (14 January 1890-June 1949) was born in Victoria but moved to Duncan with his family when he was still an infant.
His father, Charles Herbert Dickie (1858-1947), joined Temple Lodge, No.33 in January 1900 along with Christopher Dobson and James Henry Whittome.
Herbert William Dickie joined Temple Lodge, No.33 in 1926.
He started his own insurance business in 1911, becoming a partner of Kenneth F. Duncan in a firm known as Dickie & Duncan, which operated from 149 Canada Avenue, now the Duncan & Christmas Heritage Mall.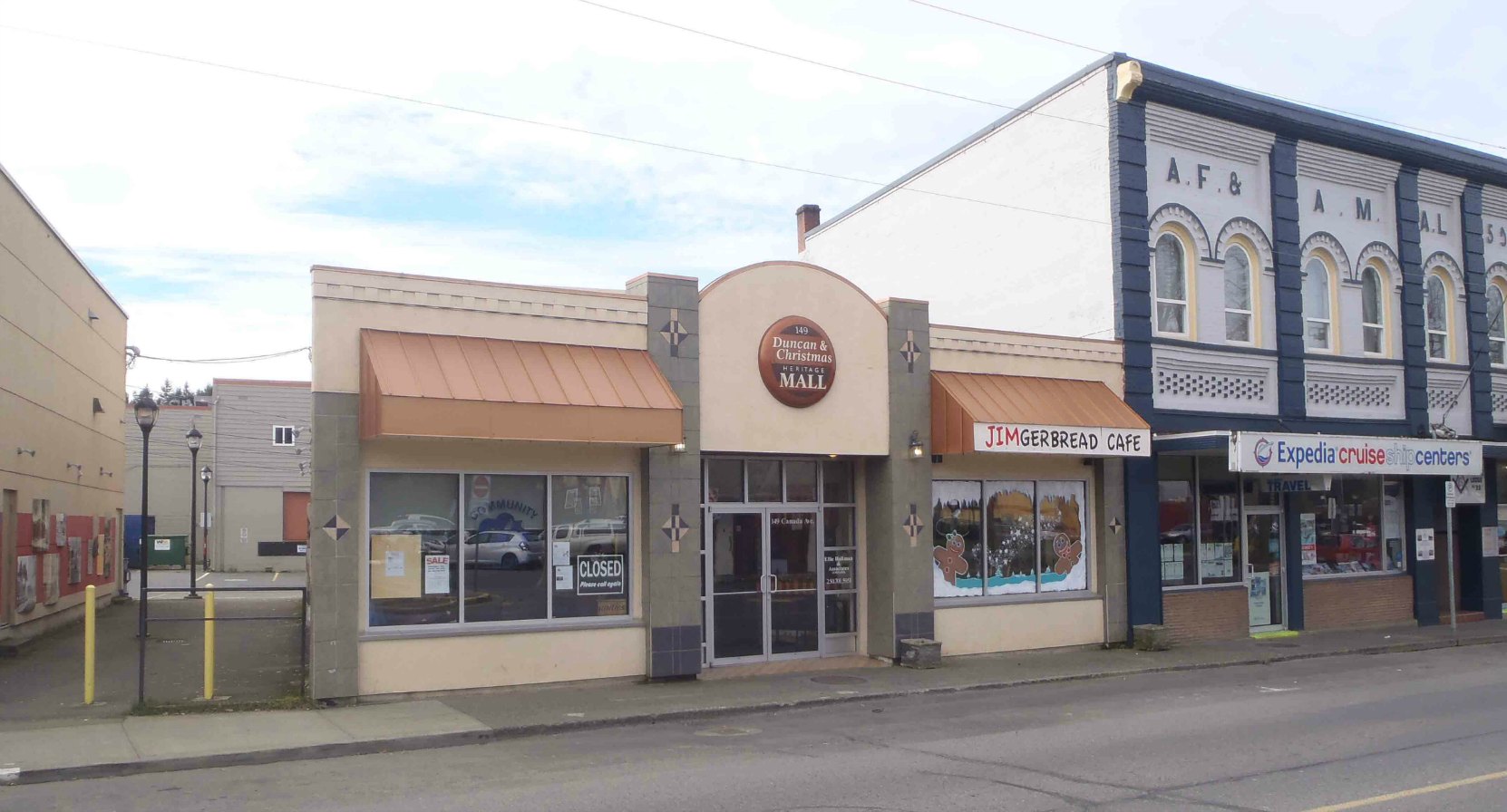 Herbert Dickie and Kenneth Duncan dissolved their partnership amicably in 1934, when Herbert Dickie formed his own company, H.W. Dickie Ltd. Kenneth Duncan formed a new partnership with Wilfred Christmas called Duncan & Christmas Ltd. which lasted until Wilfred Christmas' death in 1950.
After Kenneth Duncan died in 1952, Duncan & Christmas Ltd. continued in business until 1958, when it was merged with H.W. Dickie Ltd.
H.W. Dickie Ltd. continued in business until 1999, when it was purchased by Coast Capital Savings Credit Union and merged into the Coast Capital's insurance operations.
Here is a brief biography of Herbert William Dickie taken from his 1949 obituary in the Cowichan Leader newspaper:
"Dickie – A respected figure in the business and community life of Duncan and Cowichan for nearly 40 years, Mr. Herbert William Dickie, died at his home on Alington Road on Thursday at noon.
He had been ill for some time. He underwent a serious operation three years ago in Victoria, following which he resumed his normal routine of life, though having to avoid undue strain. In recent months, however, he had failed rapidly and was confined to his home for some weeks prior to the end. [note: Herbert Dickie's death certificate gives the cause of death as stomach cancer.]
He had lived all but six months of his life in this community. He was born in Victoria on January 14, 1890 and was the only surviving son of Mr. and Mrs. C.H. Dickie.  His father was Conservative M.P. for Nanaimo Riding for 1921-35 and a leading mining promoter here in the early days.
"Herb" attended Duncan schools and for a short time Victoria High School, where he played football with the present Premier of B.C., the Hon Byron I. Johnson, and his brother, Mr. J.V. Johnson.
In 1911, at the age of 21, he started in business for himself, selling insurance, in part of the former Jaynes Building t the corner of Station Street and Canada Avenue. He was subsequently a partner of Mr. W.A. McAdam, C.M.G., now B.C. Agent-General in London. He added real estate to his activities and for some years was a partner of Mr. K.F. Duncan.
Later he concentrated more on insurance and attained a high standing as a life insurance agent.
For the last 15 years Mr. Dickie had been an independent businessman, subsequently branching out actively again into real estate. He formed the company of Dickie Ltd. in 1945. [note: we think this should be H.W. Dickie Ltd., not Dickie Ltd.]
Mr. Dickie enjoyed considerable popularity through his very human approach to people's problems and his quiet, cheerful outlook.
Throughout his life he had participated in all phases of community development. He served as a city alderman from 1919-23 and then from 1925-28. He was an original member of the Duncan Volunteer Fire Department and in later years an honorary member.
He was a member of the Duncan Chamber of Commerce, a past president of Duncan Rotary Club, president of Cowichan Recreational Center, and a member of Cowichan Fish and Game Association. He worked as sales head of several Cowichan Victory Loan drives during the war years, aided in annual drives of the Red Cross here and assisted many local campaigns for and in support of progressive projects.
Recreationally, he was in his youth a follower of sports in general, including basketball, baseball and football, and later as a player and supporter of the old Cowichan Golf Club, which his father had been instrumental in organizing and having located on Indian Reserve land near Duncan. He was an ardent hunter and fisherman, inheriting from his father a great love of the outdoors and its pastimes.
As head of Cowichan Recreational Center, he was concerned here in recent years in providing suitable supervised recreation for youth. He was an honorary club member of Cowichan Branch, Canadian Legion and a member of Maple Temple, No 33. A.F. & A.M. [note: this is a mistake;  the writer appears to have confused Duncan's Knights of Pythias' Maple Lodge, and Temple Lodge, No.33]
Politically, Mr. Dickie was a Conservative. Though approached several times to allow his name to go before a convention, he limited his interest to active campaigning in both Provincial and Federal arenas. His active support of the Coalition is regarded by many as a major factor in the return of a Coalition M.L.A. in Cowichan-Newcastle earlier this month.
Mr. Dickie is survived by his wife and youngest son, Ronald, at home; one son, Carl, in Vancouver; one daughter, Mrs. A.J. (Eileen) Bird, Victoria; and four grandchildren. His second son, Robert Lloyd (Bob) was killed in January 1943 on R.C.A.F. operations overseas.
There was a record gathering of residents of Cowichan and other Island communities at the funeral on Sunday afternoon.
Hirst's Funeral Chapter, Ingram Street, where the Rev. W.F. Burns conducted a service preceding burial at Mountain View Cemetery, Somenos, was crowded half an hour before the appointed time.
Those unable to gain admittance, including residents of all faiths, creeds and races making up the Cowichan scene, lined both sides of the street outside the chapel.
The casket was banked high with a wealth of beautiful floral tributes from public and private organizations and citizens.
Following singing of the hymn "Abide With Me," Mr. Burns paid a personal tribute to Mr. Dickie, as a member of a pioneer family, as a good citizen, as a businessman of ability and as a warm-hearted friend. "His great friendliness endeared him to all," said Mr. Burns, "and during the past 23 years I have been in Duncan I came to enjoy meeting him and taking pleasure in his cheerfulness and appreciating his sense of humour."
Organist in the chapel was Mrs. R.S. Stevens.
The cortege then formed up outside and wound its way to the cemetery. Duncan Volunteer Fire Department had nearly a full attendance of active and honorary members to honour the memory of a pioneer volunteer.
Pallbearers were Messrs. R.B. Evans, N.J. Prest, W.K.L. Farquahar, Max Blunt (Nanaimo), E.M. Waldie and T. Harold Truesdale.
Hirst Funeral Chapel had charge of arrangements."
(Source: Cowichan Leader, June 1949 – from Cowichan Valley Museum & Archives collections) 
Herbert William Dickie is buried in Mountain View Cemetery, North Cowichan, B.C.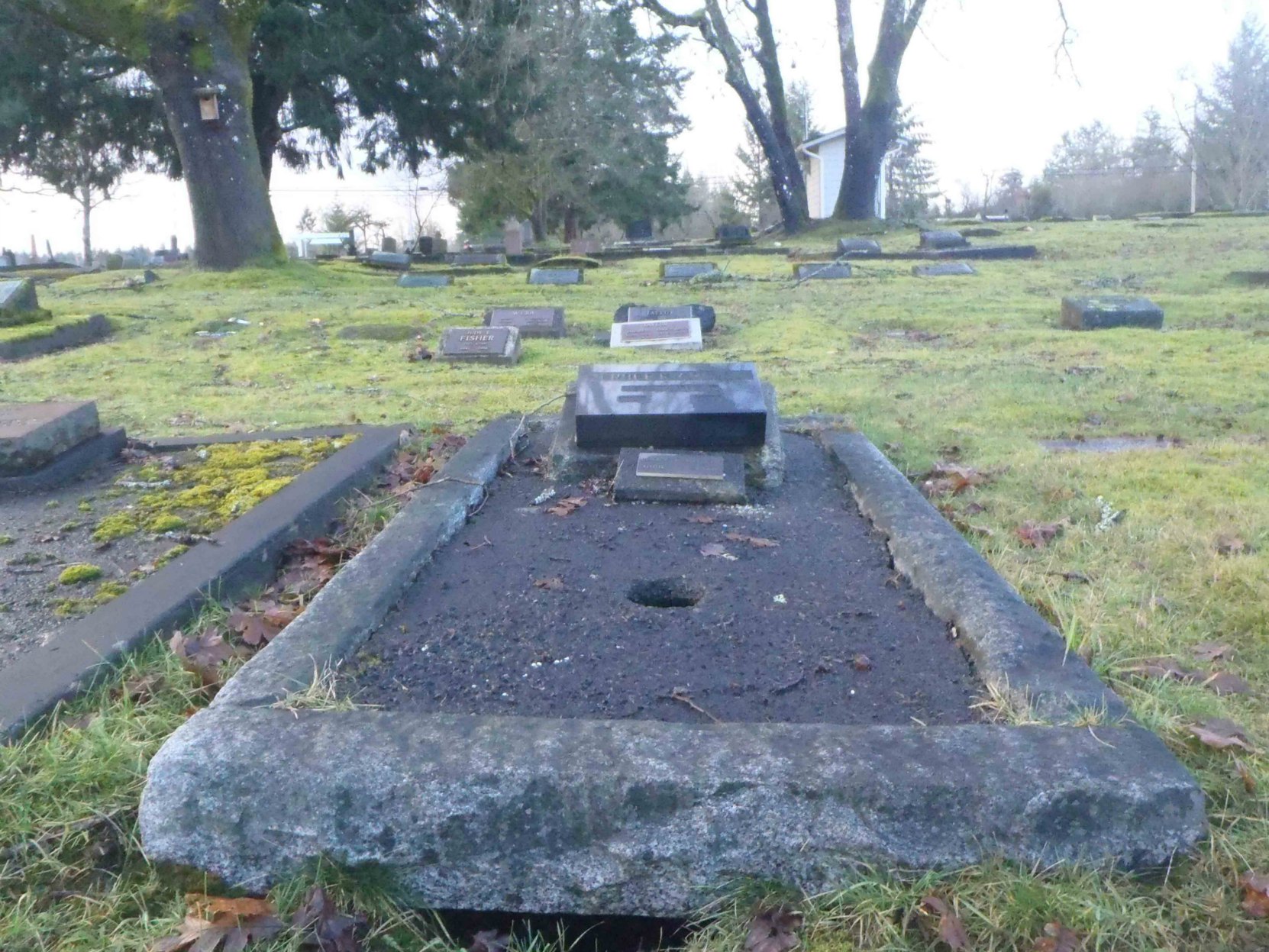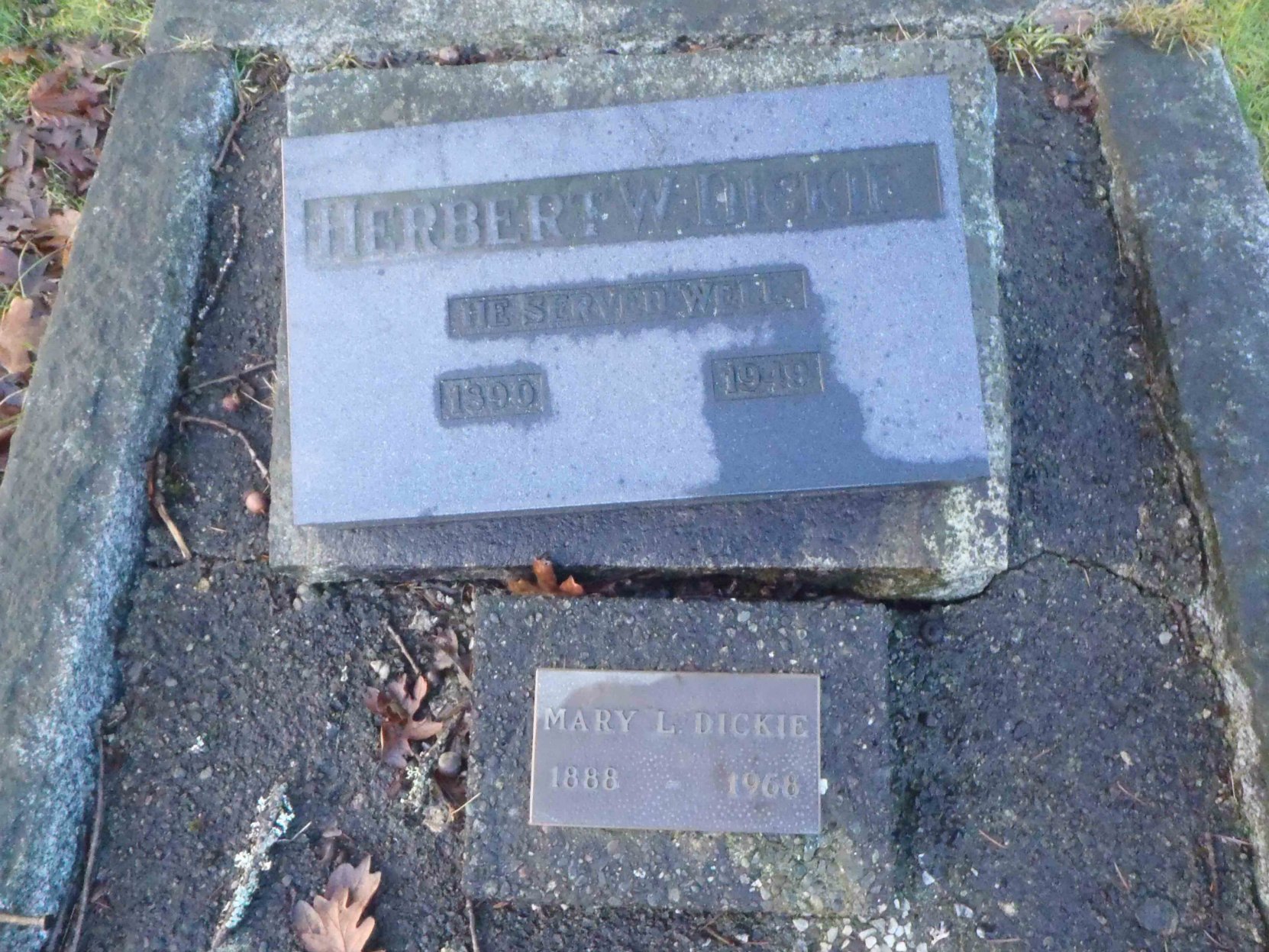 Would you like to leave a comment or question about anything on this page?