Charles Herbert Dickie (14 September 1858 – September 1947) was one of the first three new members initiated in Temple Lodge, No.33 after the Lodge was formed in December 1899. The other two were Christopher Dobson and James Henry Whittome. In December 1899, he was the owner of the Alderlea Hotel (now demolished). He later became a federal Member of Parliament from 1921 to 1935. His son, Herbert William Dickie, also became a member of Temple Lodge, No.33
Charles Herbert Dickie submitted a Petition for Initiation to Temple Lodge, No. 33 at the Lodge's first meeting on 16 December 1899. He was recommended by James Mutter and Louis Truesdale and his Petition was referred to an Investigating Committee comprised of William Gidley, Jonathan Hands and Samuel Robinson.
Brother Dickie was Initiated in Temple Lodge on 10 February, 1900, Passed on 24 February 1900 and Raised on 10 March 1900.
Here are the records of his first three degrees from Temple Lodge, No.33 records:
"…The Lodge then proceeded to Initiate the following candidates.
First Mr. Chris Dobson of the town of Duncans…Second Mr. C.H. Dickie….Third Mr. J.H. Whittome….All of whom were found well and worthy, recommended, initiated to the first degree of an Entered Apprentice Mason.
Bro. J. Evans S.D. then gave the lecture to the candidates on the Tracing Board, giving great satisfaction to the brethren present……"
(Source: Temple Lodge, No.33, Minutes of Regular Meeting, 10 February 1900)
"…Lodge was opened in the first or apprentice degree at 8 o'clock. Bros. C. Dobson, C.H. Dickie and J.H. Whittome was [sic] then [examined] as to their efficiency of being passed to the second or Fellowcraft Degree. The three Brethren were found worthy to be passed.
Moved by Bro. Wm. Gidley, sec'd by Bro. Samuel Robinson, that Bros. Dobson, Dickie and Whittome having passed the examination they now be passed to the second or Fellowcraft Degree (Carried)……
Bros. C. Dobson, C.H. Dickie and J.H. Whittome were then passed to the second or Fellowcraft Degree. Bro. W.D. Stewart of Ashlar Lodge kindly gave the lecture to the candidates…."
(Source: Temple Lodge No.33, Minutes of Emergent Meeting, 24 February 1900)
"…Bros. C. Dobson, C.H. Dickie and J.H. Whittome being present were examined as to their proficiency in the work of a Fellow Craft Mason. The three Bros. passed well in the work, being complimented by the W.M. on their proficient knowledge of the same [and] recommended them for further advancement…..
….Bro. C. Dobson was then raised to the sublime degree of a Master Mason in due and ancient form. Bro. C.H. Dickie being in waiting was then also raised to the sublime degree of a Master Mason in due and ancient form. After which Bro. J.H. Whittome was also raised to the sublime degree of a Master Mason in due and ancient form.
The W.M. then gave the charge to the newly obligated Bros. [and] they signed the roll……"
(Source: Temple Lodge, No.33, Minutes of Regular Meeting, 10 March 1900)
Here is Charles Dickie's obituary in the local Cowichan Leader newspaper:
""Dickie – A former M.P., a man of varied interests and a much-loved pioneer resident of the Cowichan district, Mr. Charles Herbert Dickie, passed away last Wednesday in North Vancouver Hospital, aged 89 years.
Born at Beachville, Ont., September 14, 1858, son of the late Mr. and Mrs. James Dickie, he was educated at Beachville and Ann Arbor, Michigan, to which place he went in 1877. Going to California in 1883, Mr. Dickie came to Victoria on July 4, 1885.
After four years in that city, he arrived, in March 1899, in Duncan, where he made his home until 1935, when he moved to Vancouver to reside.
In Michigan he followed the occupation of bookkeeper, log scaler and lumber inspector. It is understood that he won fame there by fighting world champion, John L. Sullivan.
During the suspension of the Vancouver Charter, owing to the Chinese riots in the early months of 1877, Mr. Dickie was one of 35 police constables, under the superintendent of police, Roy Croft, who took charge of the city. Police remained in control for several weeks, the cost of the "occupation" being charged against the city treasury.
On his return to Victoria from the "occupation" of Vancouver. Mr. Dickie joined the E&N Rly., as one of the earliest conductors on that line.
Soon after his arrival in Duncan he operated the Alderlea Hotel and ran the early hostel for some years. He was well-known in mining circles in B.C., being identified with the Portland Canal development of nearly 40 years ago. He also headed the Richard III company on Mount Sicker and was interested in the Kootenay mine.
But he will probably be best remembered by many for his political career. He first entered politics in 1901 when he was a member of the Prior Legislature until 1903. The following year he was offered election by acclamation, but this he refused.
It was not until 1921 that he again entered the political field, when he was elected to the House of Commons, Ottawa, as Conservative member for Nanaimo Riding. He continued to hold that seat in the three following general elections until 1935, when he was defeated by Mr. J.B. Taylor, C.C.F. candidate. Mr. Dickie then retired from politics.
His tall, commanding figure was a familiar one on the streets of Duncan in his younger days, and many residents will recall his genuine interest in their affairs, his love of a good story and the telling of them, followed by his hearty laugh.
He was a keen fisherman, a good golfer, and loved to ramble about the the district where he spent so many happy years. In his latter days he had published a book of poems, proving him to be a man of versatile talents.
In September, 1888, he married Miss Eliza E. Calvert, Victoria, who died some years ago. In April 1930, he was married to Mrs. Edith Collings, Torquay, England, who survives him.
He also leaves his only son, Herbert William Dickie, Duncan, who at the time of his father's death, was on holiday in Eastern Canada. There are three grandchildren, Carl Dickie, Vancouver; Ronald Dickie, Carmi, B.C.; Mrs. Arthur (Eileen) Bird, Victoria; and four great-grandchildren. Another grandson, Bob Dickie was killed overseas while serving with the R.C.A.F. in World War II.
Funeral services were held on Monday afternoon, the Rev. A. Bischlager, Cumberland, formerly of Duncan, officiating. Interment was in Capilano View Cemetery."
(Source: Cowichan Leader, 25 September, 1947 – from Cowichan Valley Museum & Archives collections)
The following is reproduced, by permission of the publisher, from the 1999 book, Small City In A Big Valley, by local historian Tom Henry:
"A man looking for a drink in turn of the century Duncan had three establishments to choose from: the Quamichan Hotel on Duncan Street, where businessmen and commercial tarvellers gathered; the Tzouhalem Hotel at the corner of Trunk Road and Front Street, well fitted for the mint julep and cravat set; and the Alderlea Hotel at the brow of Duncan's Hill on Trunk Road. The Alderlea was where the working man drank. Box-like and partitioned with single plank, cheese-hole walls, it was Duncan's equivalent to the raucous Mt. Sicker Hotel, or Lake Cowichan's fistworn Riverside: smoky, collegial, fight-ridden, noisy, overpriced, dirty, skunky; in short, a classic frontier-style bar.
In 1899, the Alderlea Hotel was leased to Charles Herbert Dickie, who was later a long-serving MLA and MP for the Cowichan valley. Dickie, then forty-one years old, was a big, strong man with shoulders like roasts of beef and hands large enough to encircle a bottle of whisky (which they regularly did). He had just been sacked by the E&N Railway for threatening to stuff an engineer into the firebox, and the Alderlea, with its low smog of cigar smoke and promise of lazy, yarn-filled afternoons, seemed to Dickie a near ideal way to make a living.
It wasn't. The first day Dickie was in charge he had to escort two men, still mounted on their horses, out of the bar. In the dining room, dissatisfied customers hurled tough steaks at Chinese waiters. While Dickie tended to a problem at one end of the building, investory walked out a door at the other end. Clearly, he realized, the place was being run from "the wrong end of the bar."
Dickie's cleanup of the Alderlea started with the persistently troublesome customers. There was a long-armed fellow who filched cigars from a countertop case whenever the barman turned his back. Dickie removed one of the pricier stogies, tapped gunpowder into the core and returned it to the display. Then he stepped around a corner for a moment. "When I returned," recalled Dickie, "the gentleman in question was sitting by a window lighting a cigar; a moment after, his hat was blown off and the window was broken by the impact of his head." The proud hotelier observed a "slight increase in the profits derived from that branch of our trade operations."
Other troublemakers required a more tarditional beer hall disposal, On a Monday afternoon an E&N trackwalker burst into the Alderlea and informed Dickie that a "big bad man," possibly carrying a pistol, was headed his way. Dickie retreated to a back room and worked out on the clubs and dumbbells. "To loosen up a little," he said.
The two men met chin to chin over the Alderlea's shining hardwood floor. "My eyes sought a nice spot on his prominent jaw," recalled Dickie. The fellow made a threatening motion but Dickie was swifter. "I hit him where I looked and he went down down and out. While removing him I went through his pockets but found neither weapons nor money and I was sorry for hitting him so hard." The troublemaker was jailed and fined, but Dickie was so grateful for his absence he paid the fine."
(reproduced, with permission, from Tom Henry, Small City In A Big Valley, The Story of Duncan, Harbour Publishing, 1999, pages 33-34)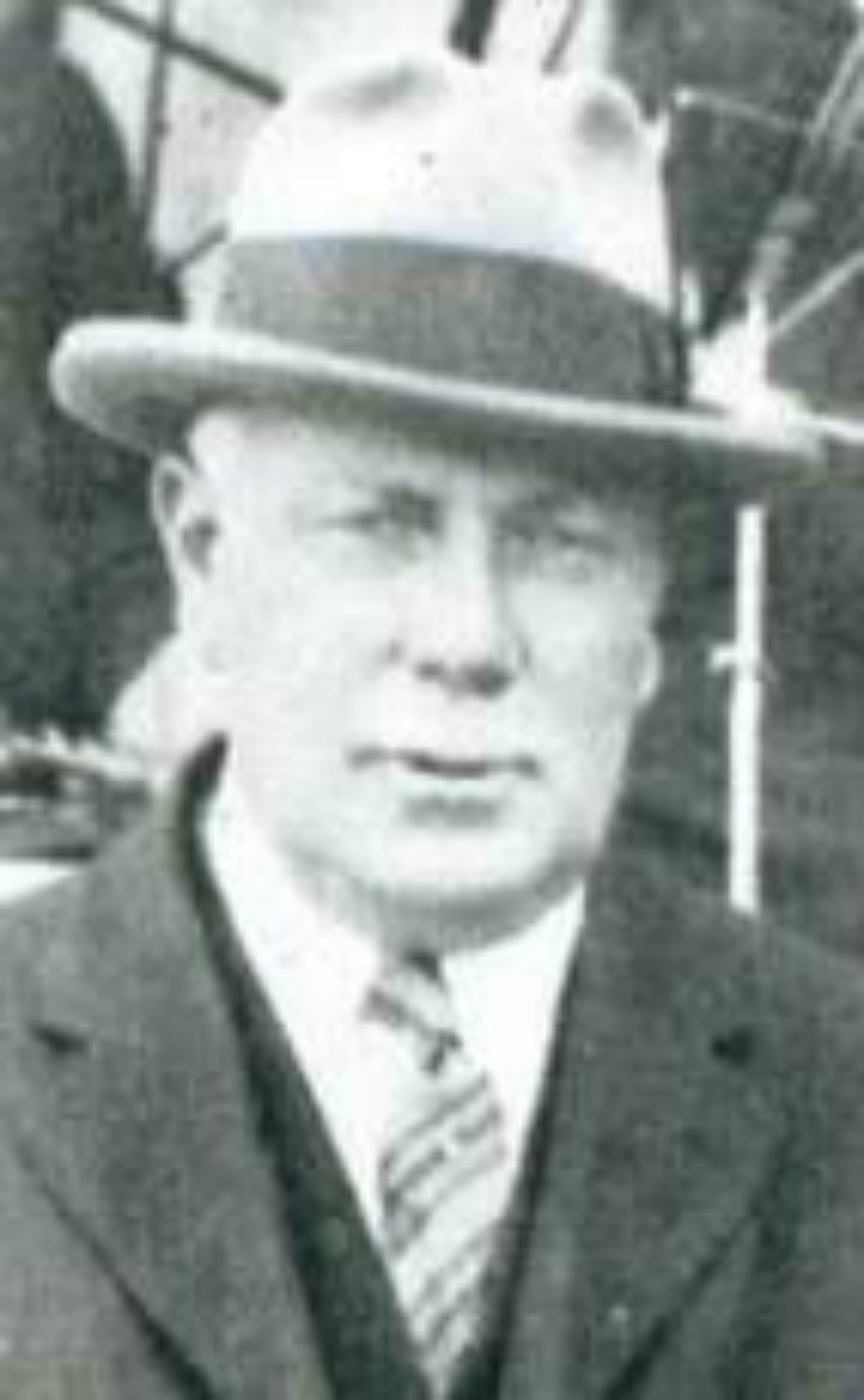 Would you like to leave a comment or question about anything on this page?