Richard Nelson (1882-1921)was Initiated in Temple Lodge, No.33 in 1910 and Raised in 1913.
Here is a brief biography of Richard Nelson from his June 1921 obituary and the coverage of his funeral in the Cowichan Leader newspaper:
"SHOCKING FATALITY
——-
Mr. Richard Nelson Accidentally Killed When Handling Shot Gun
———–
A most distressing occurrence took place on Tuesday evening when at his own home, on Sherman road, near Duncan, Mr. Richard Nelson was accidentally and fatally shot through the left breast whilst preparing to clean a gun.
No one was in the house at the moment but his two daughters were just outside playing with other children between 8:15 and 8:30 p.m. when they heard a noise from the house. They entered and found their father on the floor in pain and bleeding. He was able to say that he put the gun on the table when something flew back at him. He thought there was nothing in it. Mrs. Nelson, who had gone to a neighbour's, returned immediately and was only able to make out that the gun had gone off by itself.
Dr. H.N. Watson arrived almost immediately and plugged the wound but Mr. Nelson only lived about half an hour after the incident.
At the enquiry held by Dr. H.F.D. Stephens, R.N., in the North Cowichan Municipal Chambers yesterday morning Mrs. Nelson stated that in the early part of the evening they had been planning both for work and pleasure during the summer. They intended going off for this week-end and Mr. Nelson brought out his fishing tackle to overhaul. Apparently, as was his habit, he brought out his gun to clean. The gun was one purchased last year and had recently been used for rat shooting.
Mr. Douglas Sherman said that he was sent for about 8:30 p.m. and, on arriving, found the deceased lying on the floor bleeding profusely. There was fishing tackle on the table, also a gun cleaning rod. On the floor, about three or four feet away from the body, lay a gun. It was a breechloader with hairtrigger action and was at 'safe.'
He surmised that Mr. Nelson had lifted the gun from the gun cupboard with his left hand and in placing it on the table the jar had set it off.
Mr. Nelson enlisted in the 88th Bn. C.E.F. on June 13th 1915. He proceeded overseas with this unit and in September, 1916, was promoted to sergeant-major and transferred to the 6th Reserve Brigade. From January, 1917, to October, 1917, he was with the 4th, 2nd and 1st Reserve Brigade Field Engineering schools. He returned to Victoria and was discharged on March 8th, 1918.
He was born at Kendal, Westmoreland, England in 1882 and was the son of Mr. and Mrs. J. Nelson, of that place. He was educated at Kendal Grammar school and in 1908 came to this district, where he carried on his occupation of building contractor.
As a contractor Mr. Nelson was responsible for a number of buildings in the district. He had just completed a house for Mr. T.A. Wood, at Maple Bay, and was about to begin a large residence for Mr. J.A. Pridham at Koksilah. He was greatly interested in sport and outdoor pursuits. He came to Canada when he was 21, living first at Winnipeg and coming here after he was married.
Mr. Nelson was greatly esteemed in the community. He was a member of Duncan Board of Trade and of Temple Lodge, A.F. & A.M.
After coming back from the war Mr. Nelson had the misfortune to lose his house on Somenos Lake by fire. Shortly afterward he sold his property to Mr. A. West and bought a place near Mr. F.C. Holmes' farm. He leaves a widow and two daughters, Beulah and Ethel.
The deep sympathy of the residents is with his bereaved relatives.
The funeral will take place tomorrow afternoon at St. Peter's Quamichan, leaving Duncan at 2 p.m. The Masonic lodge has charge of the arrangements.
(Source: Cowichan Leader, 2 June 1921 – from Cowichan Valley Museum & Archives collections)
"Nelson – The funeral of the late Mr. Richard Nelson took place on Friday afternoon last at St. Peter's, Quamichan. A short service was held in the church, the officiating clergy being the Rev. A. Bischlager and the Rev. F.G. Christmas. At the graveside the Rev. Christmas recited the committal service and the Masonic ceremonies were then conducted by Wor. Bro. A.H. Peterson, W.M., and Wor. Bro. H.F. Prevost, C.
The pallbearers were all members of Temple Lodge, A.F. & A.M., to which the deceased belonged. They were Messrs. K.F. Duncan, M.L.A., Mayor Thomas Pitt, J.M. Campbell, M.K. Macmillan, George Savage and F. Van Norman. A profusion of beautiful floral wreaths denoted the esteem in which the late Mr. Nelson was held."
(Source: Cowichan Leader, 9 June 1921 – from Cowichan Valley Museum & Archives collections)
Richard Nelson is buried in St. Peter's Quamichan Anglican Cemetery, North Cowichan, B.C.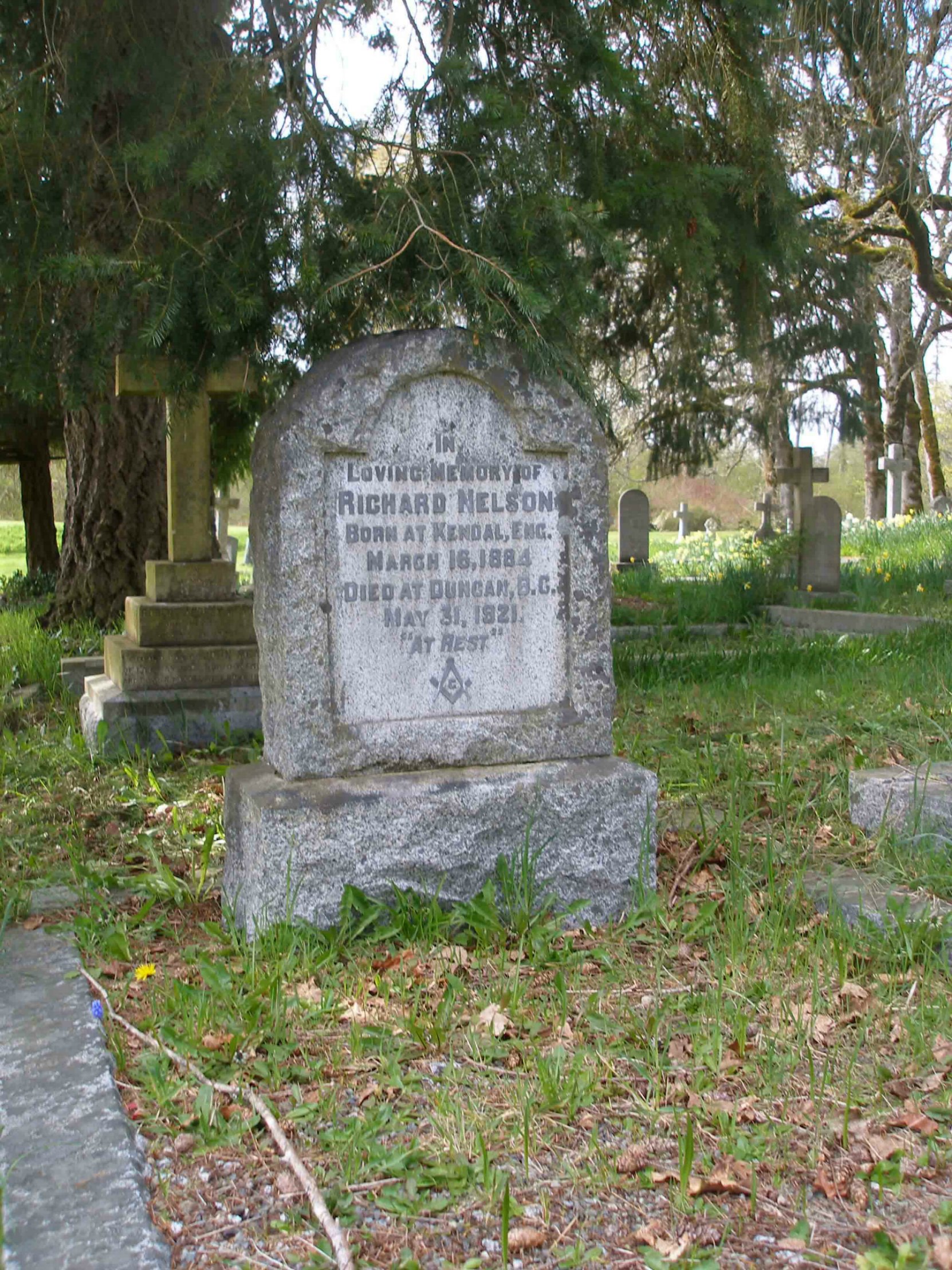 Would you like to leave a comment or question about anything on this page?