William Harrington Purver (1879-1965) joined Temple Lodge, No. 33 in 1927. He demitted in 1931. He was also a member of Tzouhalem Chapter, No. 26, R.A.M.
Here is some biographical information on Bro. William Harrington Purver.
Here is William Harrington Purver's 1965 obituary in the local Cowichan Leader newspaper:
"W. H. Purver here 40 years dies
William Harrington Purver, a resident of Duncan for 40 years, died Saturday in Duncan Hospital at the age of 83.
Mr. Purver was born in Nettlebed, near Henley-on-Thames, Oxfordshire, England. He started a long military career before the Boer War at the age of 15 in the Volunteers (militia) and at 17 joined the regular British Army. He served in Bermuda before coming to Canada and subsequently transferred to the Canadian permanent force when it was established after the turn of the century.
He served in France in the First World War, and retired from the army in 1921 at defence headquarters in Ottawa. During the Second World War he resumed military activity as a member of the Pacific Coast Militia Rangers in Duncan.
Mr. Purver lived in Duncan continuously from 1924 except for two years in England where he was on the staff of the Canadian Government Exhibition Commission. He was assistant city clerk in Duncan for some years. He was one of the founders and first secretary of Cowichan Branch, Royal Canadian legion. He was a Royal Arch Mason and a member of St. John's Anglican Church.
Surviving are his wife, in Duncan; a son, Gordon, in Vancouver; a daughter, Mrs. K. B. Dow (Margaret), South Portland, Maine; four grandchildren and three great ­grandchildren.
Funeral services will be held to­day at 3 p.m. at St. John's Church. Canon R. L. Crisfield will officiate, with Rev. W. E. Greenhaigh assisting. Burial will be in St. Mary's Cemetery, Somenos. The Royal Canadian Legion will take part."
(Source: Cowichan Leader, 3 March 1965 – from Cowichan Valley Museum & Archives collections)
"William Harrington Purver — Funeral services for William Harrington Purver, who died at Duncan, February 27, were held from St John's Church, March 3 with Canon R. L. Crisfield, assisted by Rev. W. E. Greenhalgh, officiating.
During the services the hymn "Breathe on Me, the King of Love" was sung with C. A. Howard at the organ.
The pallbearers were H. G. MacMillan, M. A. Kinch, A. M. Dirom, M. Carmichael, P. Smith and W. Dobson.
Members of the Royal Canadian Legion formed a guard of honor outside the church, as the coffin was born to the hearse. William Macguire read the last rites at the graveside.
The services concluded with the singing of "Nunc Dimittis." Hirst Funeral Chapel was in charge of the arrangements and interment took place in St Mary's church­yard, Somenos."
(Source: Cowichan Leader, 10 March 1965 – from Cowichan Valley Museum & Archives collections)
William Harrington Purver is buried in St. Mary's Somenos Anglican Cemetery, North Cowichan. The GPS location of the grave is: N 48° 47.967 W 123° 44.139′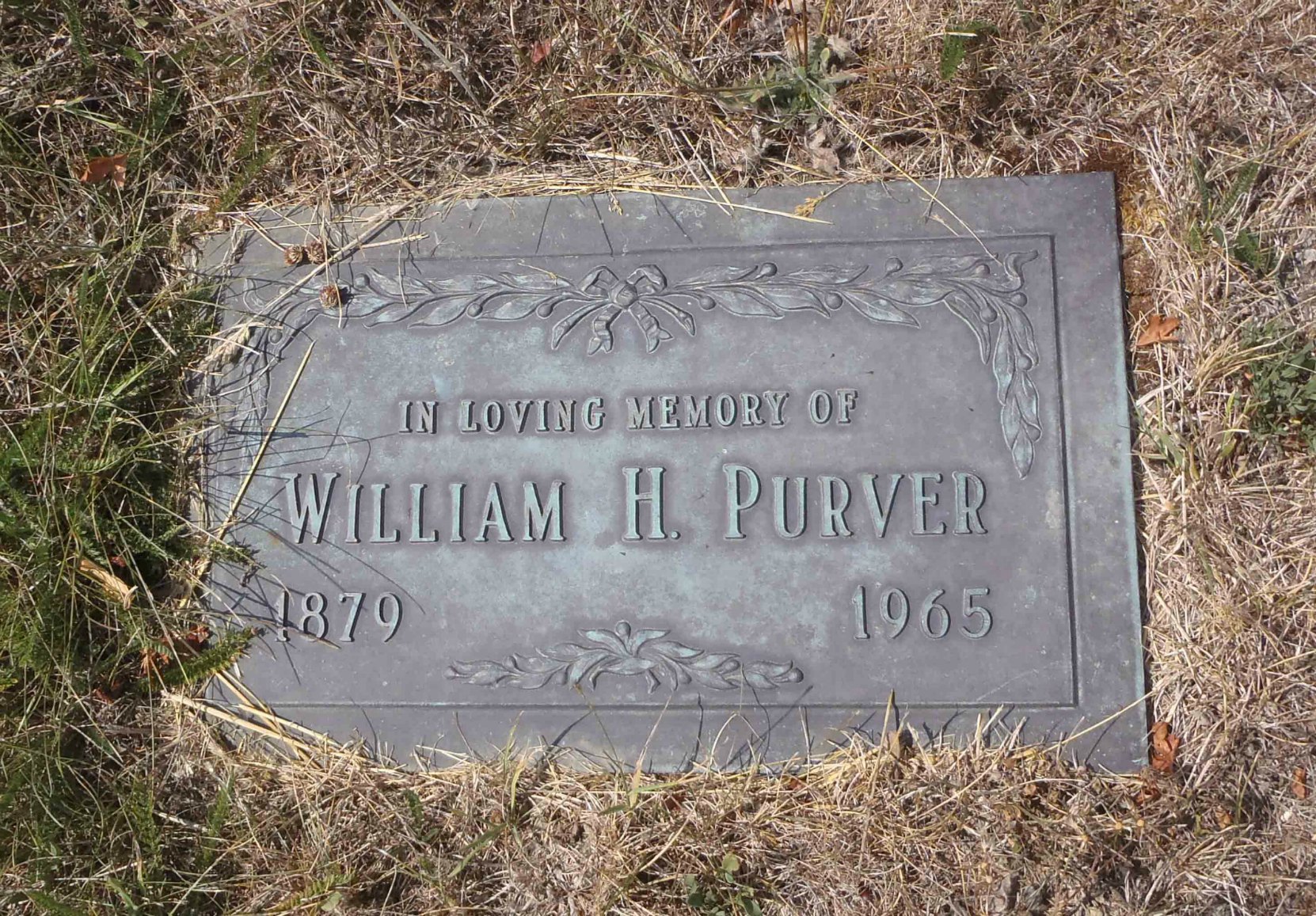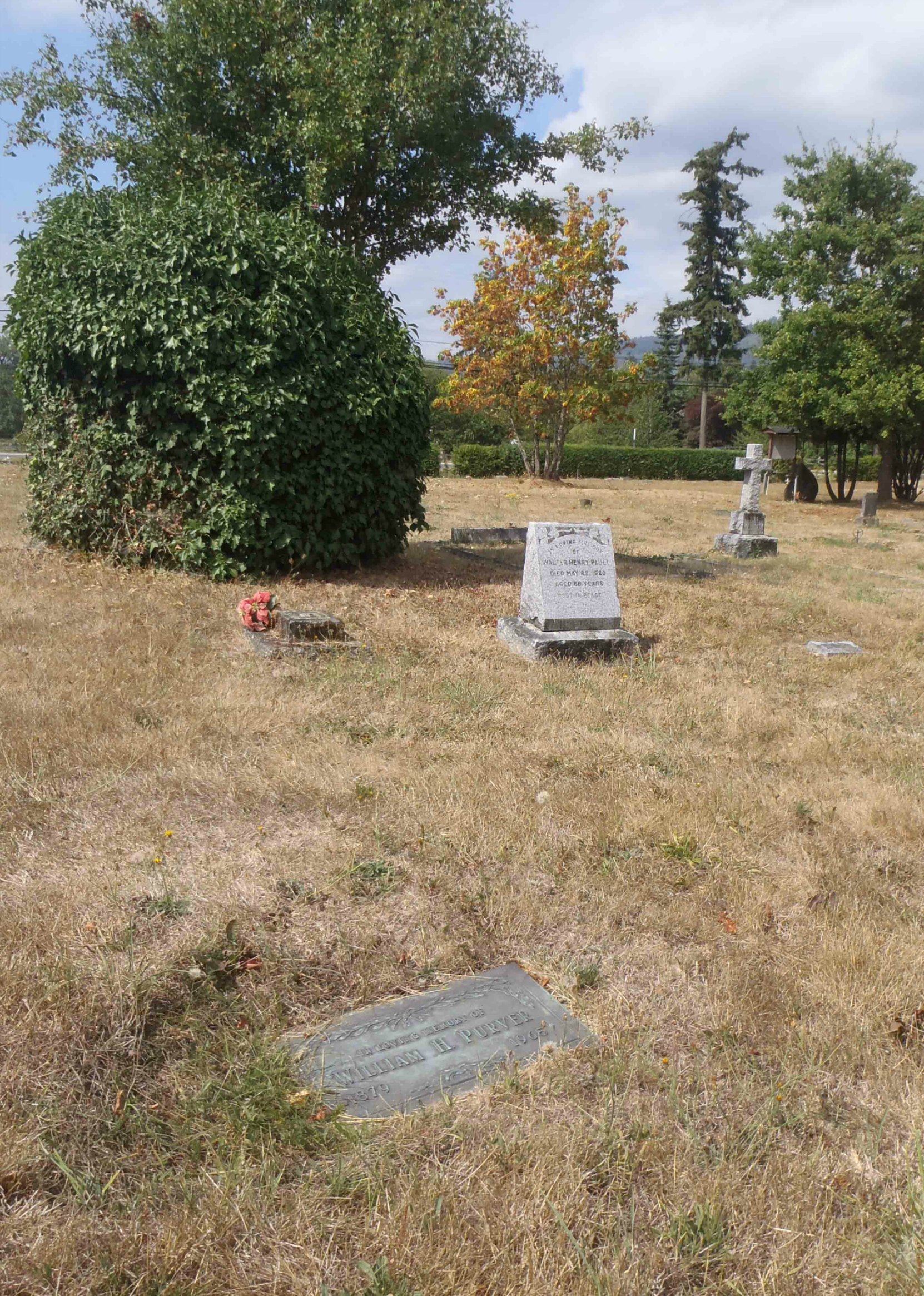 Would you like to leave a comment or question about anything on this page?