Lewis Henry Truesdale was a charter member of Temple Lodge, No.33 in December 1899 and remained a member of Temple Lodge, No.33 until he demitted in 1915.
Here is a brief biography of Lewis Henry Truesdale taken from his obituary in the Cowichan Leader newspaper:
"Mr. L.H. Truesdale
——–
Was Highly Esteemed By Citizens
———
It was with much regret that the community heard last Thursday of the passing away of one of the old-time residents of Duncan in the person of Mr. L.H. Truesdale. While able to go about and perform many duties, Mr. Truesdale had not been well for some months, but was only laid aside for two weeks when the end came.
Born near Hamilton, Picton County, Ontario nearly 59 years ago, he was a genuine Canadian, his parents having been born in the same county. He was in the milling business, but for the benefit of his health he made a trip to this coast in the company of Mr. R. Grassie, twenty-five years ago, returning home via Salt Lake City. However, he could not resist the climate's attraction, and returned two years later to make a permanent stay.
He worked on the railway for some time and also took part in the mining on the Tyee, but in whatever work he had on hand it was well known that he used his skill to good purpose. He was at his best when something mechanical was given him to adjust.
There is no doubt that while he approved of his sons William and Walter joining the Canadian contingents, he missed them exceedingly.
Deceased leaves a widow, three sons and two daughters. Two of the sons are with the contingents in England at present. The other son, Harold, is partner in the firm of McKay and Truesdale. One daughter is married, Mrs. Edgar Mackenzie, and Irene, the youngest, is at home. A brother, Mr. Walter Truesdale, is at present in Duncan, and another brother is resident in the Okanagan Valley.
The funeral, which took place on Saturday, was attended by a very large number, representing all sections of the community. A short service was held by the Rev. J.W. Dickinson at the house, and the service at Somenos church was taken part in by the Rev. Mr. Redman and the Rev. Mr. Nixon, of the Methodist church. A Masonic service was held at the graveside.
The pallbearers were Messrs. J.M. Campbell, J. Livingstone, Owen Graham, G.A. Harris, Thomas Pitt and D.R. Hattie.
The following is a list of friends who sent flowers:
The family, wreath; Temple Lodge, No. 33, A.F. & A.M., wreath; Mr. and Mrs. R. Miller, wreath; Charles Stoney, wreath; Mr. and Mrs. N.E. McKay, anchor; Mr. and Mrs. E. Lemming, cross; Mr. and Mrs. Jos Cathcart, spray; The Dickie Family, spray; Mr. and Mrs. A. Harris, spray; Miss Livingston, spray; Mrs. Graham, spray; Jean Mackenzie, spray; Mr. and Mrs. T. Pitt, bouquet; Mr. and Mrs. J.C. Gidley, spray; Mrs. Booth and family, spray; Mr. and Mrs. Stevens and Elva, spray; Mr. and Mrs. Albert Kyle, spray; Miss Weissmuller and girls, Duncan school, spray; Mr. and Mrs. Syrup, bouquet; Mr. Nagano, bouquet; Mr. and Mrs. Collins, spray."
(Source: Cowichan Leader 9 September 1915 – from Cowichan Valley Museum & Archives collections)
Lewis Truesdale is buried in Mountain View Cemetery, North Cowichan.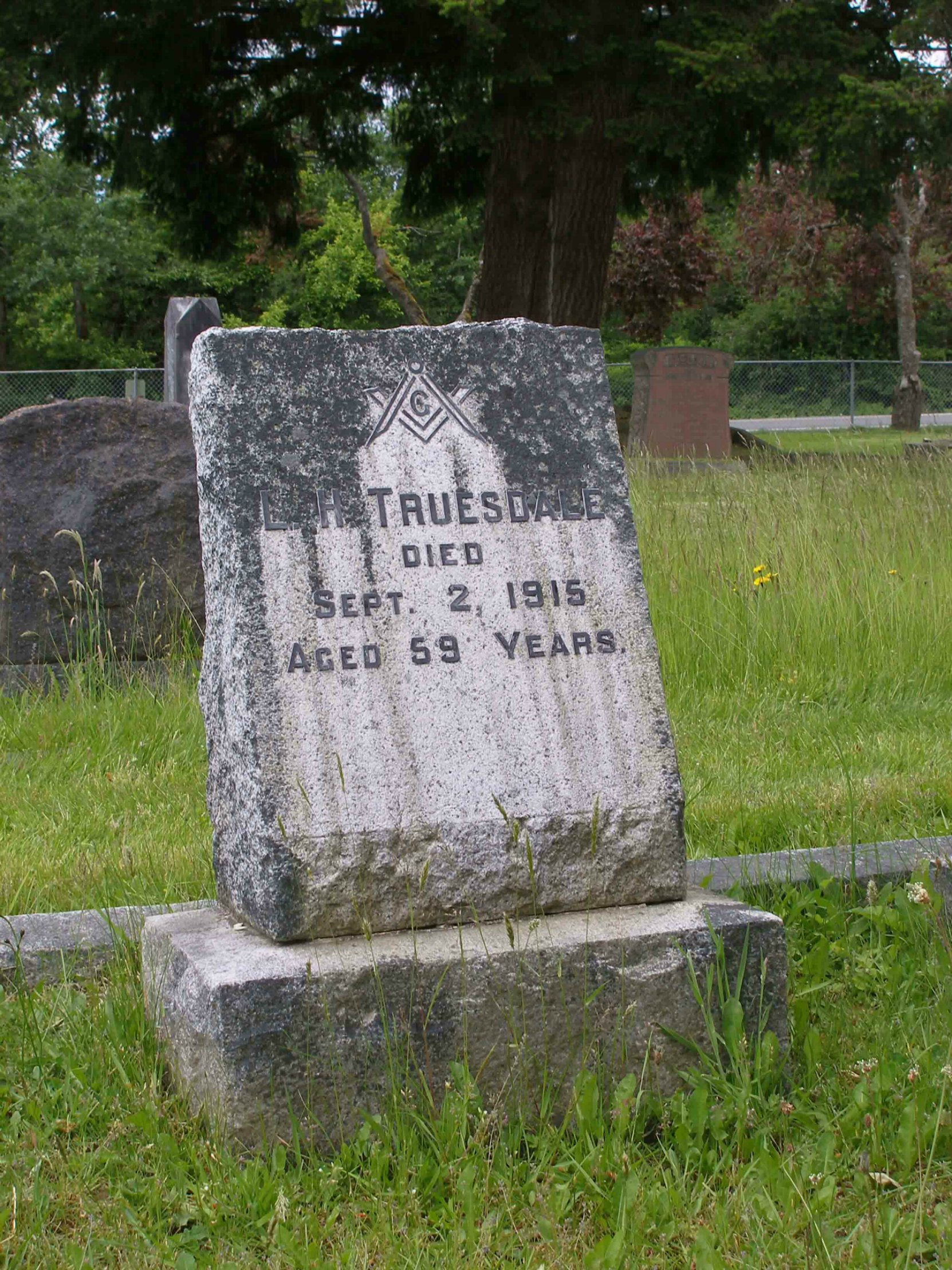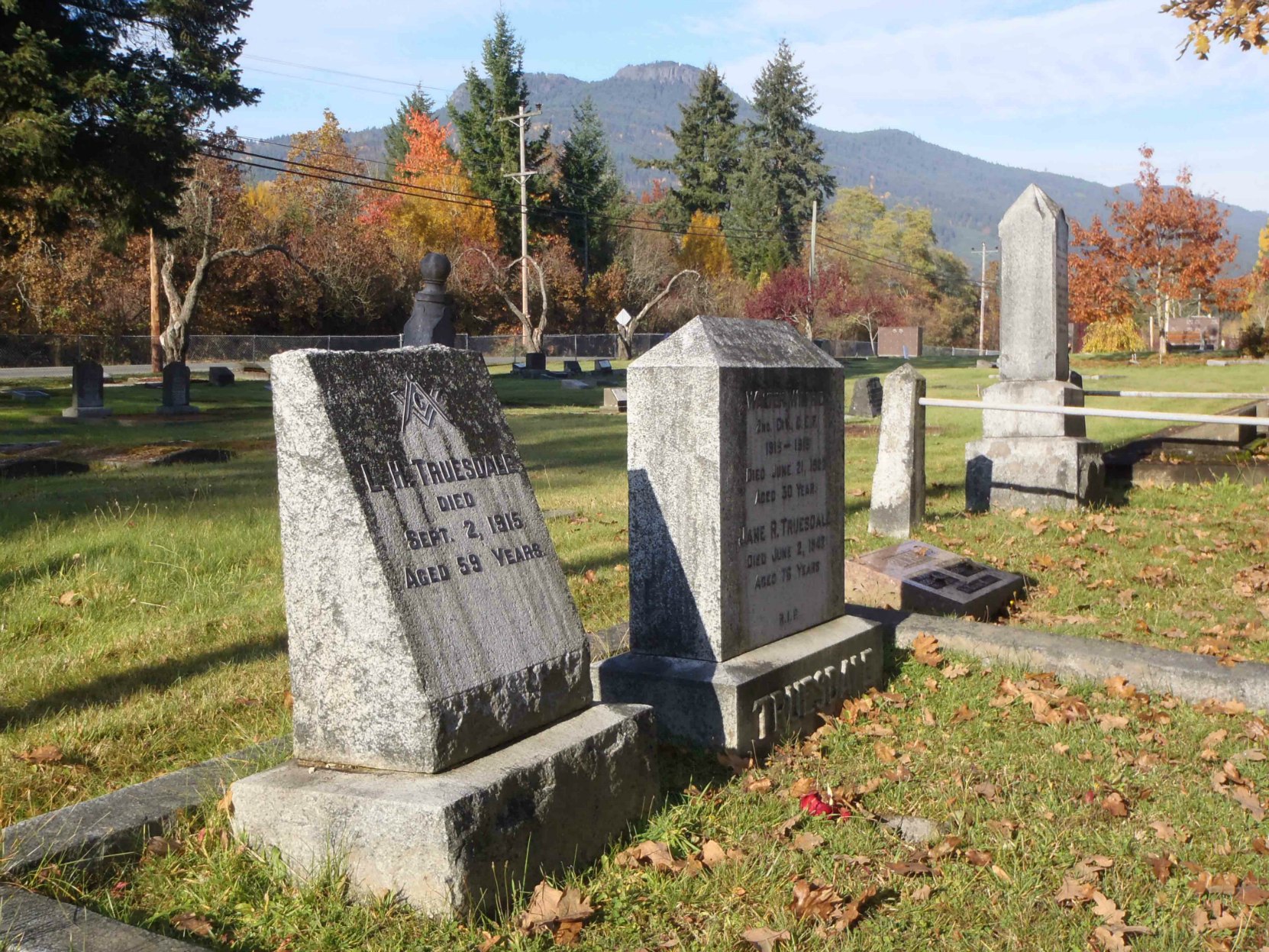 Would you like to leave a comment or question about anything on this page?