As part of our Vancouver Island Masonic History Project, with its sections on Vancouver Island Cemeteries – Masonic Interments and Deceased Brethren, here is a page on William Dalby (1839-1916), a member of Vancouver & Quadra Lodge, No.2, who served as Mayor of Victoria and Grand Master of B.C.
William Dalby is buried in Ross Bay Cemetery, Victoria, B.C.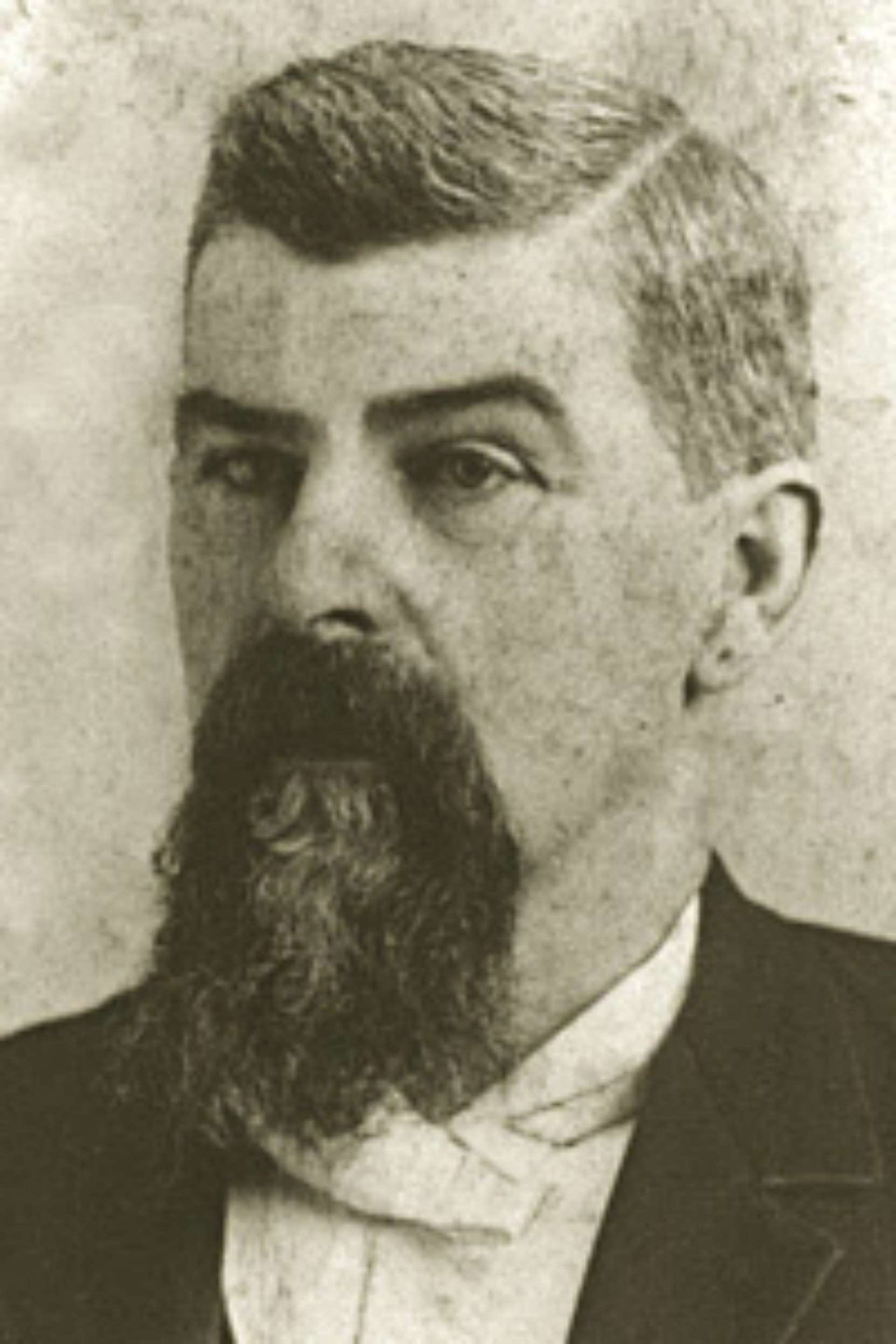 William Dalby was a native of Richmond Hill, Ontario who came to Victoria in the 1850's.
He went into business as a tanner but later became involved in real estate and insurance.
William Dalby served on Victoria City Council and as Mayor of Victoria from 1873-1875.
He was initiated, passed and raised in 1867 in Vancouver Lodge, No. 421 S.R. in Victoria, serving as Worshipful Master in 1870-71 and Secretary in 1872. After the creation of the Grand Lodge of B.C. in 1871, Vancouver Lodge, No 421, S.R. became Vancouver Lodge, No. 2, B.C.R. In 1877 it was amalgamated with Quadra Lodge to become Vancouver-Quadra Lodge, No. 2, B.C.R.
William Dalby served as Grand Director of Ceremonies in 1871, Grand Treasurer in 1884 and Grand Master of British Columbia in 1886-1887.
Here is a brief biographical sketch of M.W. Brother William Dalby, taken from local newspaper reports of his death and funeral:
"FORMER MAYOR IS CALLED BY DEATH
—————
William Dalby, J.P., Passes Away After Residence Here of Over Half Century
—————
A pioneer of over fifty years residence in Victoria, and one who took a prominent part in the early municipal life of the city, passed away on Saturday in the person of William Dalby, who formerly was twice mayor of Victoria.
Death took place at the residence, 1773 Beach road, after a lengthy illness. He was within one week of being 77 years of age, having been born at Richmond Hill, Ontario, on January 29, 1839.
Mr. Dalby was educated in Ontario public schools, and at the age of 22 he started for the California goldfields, traveling by way of Panama and Aspinwall. On his way he met John Grant, who also became mayor of Victoria, and who recently has returned here to reside.
At Santa Cruz Mr. Dalby entered a tannery, of which he became foreman, and the next year he came to Victoria, attracted by the rush to the city for the Cariboo fields. Like many others whom the lure of gold brought west, he did not stay long in the mining area, and soon returned here. Purchasing land at Colwood, he later built a tannery, near where Hatley Park is now located. This formed the nucleus for a tannery, harness and show manufacturing business, the undertaking eventually becoming the Belmont Tanning, Boot and Shoe Manufacturing company, which was taken over by the Ames-Holden company later. This tannery, with the Victoria factory, run by the late William Heathorn in conjunction with his tannery at Rock bay, were the pioneer cordwainery industries of Vancouver island. After Mr. Dalby closed out his interest in the tannery he was able to devote himself to other interests in and about Victoria.
With considerable business training and capacity, it was natural he should seek public office. He was returned to the city council in the election of 1873, and two changes taking place in the mayoralty during the year, he finished out the term of James D. Robinson, who had been appointed water commissioner on the passage of the Victoria City Waterworks act. The foundation stone of the waterworks was laid October 7, 1873. Next year he was re-elected mayor, and thus was especially associated with the construction of the Elk Lake waterworks. It is interesting to note, in view of what afterwards occurred, that he strongly advocated the location of the dam at the head of Beaver lake, instead of at the lower end.
He told the electors in 1893 that the council had an excellent opportunity to sell out the waterworks to a private firm and distribute a handsome commission among themselves. However, the city undertaking was carried out expeditiously, and he retired from the council till 1878, when he again served as alderman under Mayor Finlayson. It was not till 1893, when he unsuccessfully contested the return of Mr. Beaven, that he again sought to re-enter the council.
However, in the late eighties, when the council had a re-assessment of the city made by commissioners, he was one of those who acted in the capacity, the outcome being the appointment of the present city assessor, Mr. Northcott, who had been one of the commissioners.
Mr. Dalby was very much interested in the Agricultural society, of which body he was three times president, having prior to that time been a member of the management board.
There are a number of other pioneer organizations of the city which owe a considerable debt to his aptitude for public work and anxiety for development of the city.
His wide business interests caused him to be among the best known citizens of Victoria. The real estate firm of Dalby, Ballantyne & Claxton, and later Dalby & Claxton, was one of the leading organizations of Victoria 25 years ago, taking an active part in the development of the province. He was manager of the B.C. Fire Insurance company, and a member of the board of the Dominion Building and Loan association. In the days of the volunteer fire department he was also a member of the board of delegates.
Mr. Dalby also took some share in politics, and was an unsuccessful candidate at the general election for the provincial house in 1890, from this city. He was a very prominent Mason, and is the third past grand master of the jurisdiction to die within a very short space of time. He was grand treasurer of the B.C. grand lodge in 1884, deputy grand master 1885 and grand master 1886. He was an honorary member of No. 2 lodge here. He was grand representative in this jurisdiction for the grand lodge of Canada, and of Victoria, Australia.
Of late years, though frail physically, his mind was always clear and logical, and on the anniversary of the passage of the city waterworks act he gave the Times representative an interesting account of the events leading to the construction of the Elk waterworks, and of the completion of the contract in record time.
Mr. Dalby since 1879 held a commission as justice of the peace, and till about two years ago acted in that capacity.
He was twice married, being united in 1866 to Miss Sarah Jane Robinson Moody, and in 1889 he married Miss Susan Netherby, second daughter of S.B. Netherby, of Vancouver.
In addition to the widow, he is survived by six sons and one daughter, the latter being Mrs. W.J. Jeffrey, of Vancouver. The sons are as follows: Dr. William S. Dalby, of Vancouver; Frank J. Dalby, of the Canadian Collieries, Cumberland; Henry Gage Dalby, of the firm Dalby & Lawson, this city; John A. Dalby, Hoquiam, Washington; Sewell M. Dalby, of Ruby, Alaska, and Kenneth B. Dalby, of Vancouver. A brother, John Dalby, resides on Gladstone avenue, while there are also a number of grandchildren.
The funeral will take place to-morrow afternoon at 2.30 o'clock from the B.C. funeral chapel, and a short service will be held at the First Presbyterian church, of which Mr. Dalby was a member, fifteen minutes later, the officiating clergyman being Rev. John Gibson Inkster. Interment will be made at Ross Bay cemetery.
By request of the grand master (Mr. Ditmars, of Vancouver), Past Grand Master E.B. Paul will officiate on his behalf at the funeral to-morrow."
(Source: Victoria Daily Times, 24 January 1916, page 13)
William Dalby is buried in Ross Bay Cemetery, Victoria, B.C.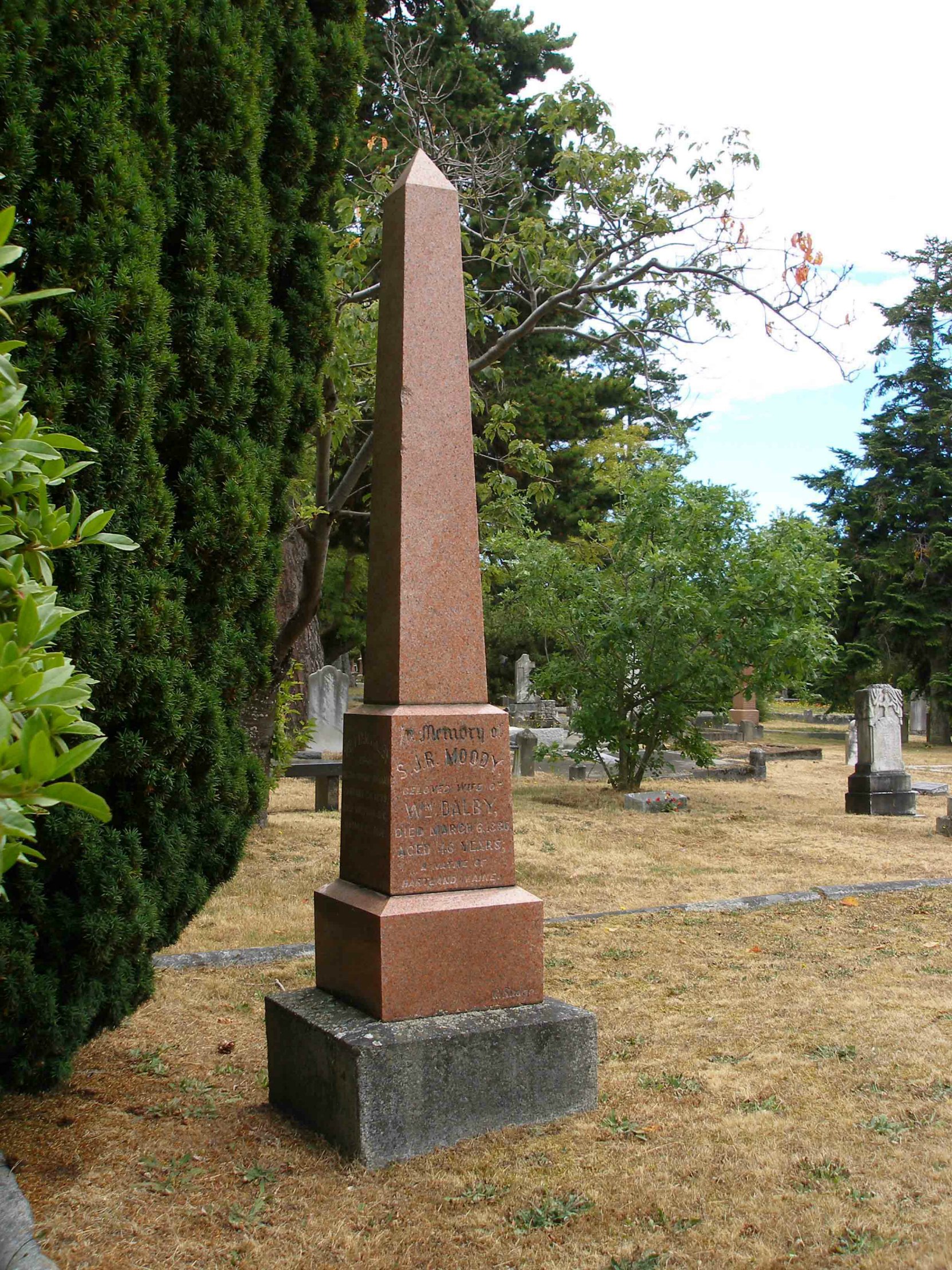 Would you like to leave a comment or question about anything on this page?