Robert Bulmer Waldon (died January 1954, aged 57) was Worshipful Master of Temple Lodge, No. 33 in 1934. He was also a member of Fellowship Lodge, No. 137 in Burnaby.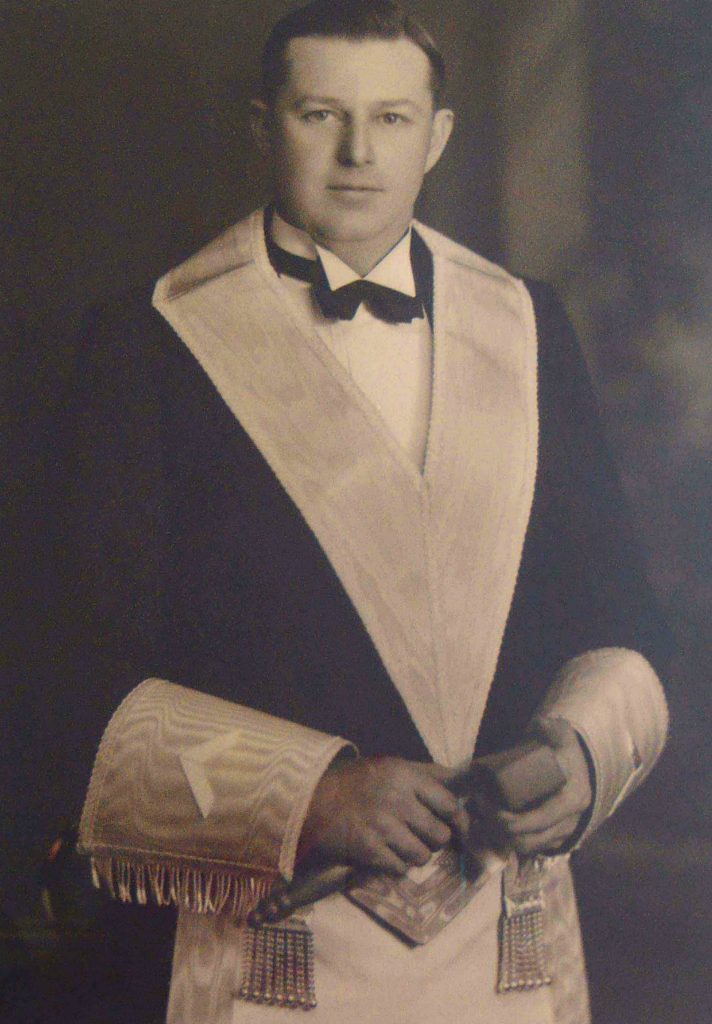 Robert Bulmer Waldon was Initiated in Temple Lodge, No. 33 in 1928. His father, Worshipful Brother William Waldon, was also a member of Temple Lodge, having affiliated with the Lodge in 1921.
Robert Waldon served Temple Lodge as Chaplain in 1929, Inner Guard in 1930, Senior Deacon in 1931, Junior Warden in 1932, Senior Warden in 1933 and Worshipful Master in 1934.
We note that a Brother who went from Entered Apprentice to Worshipful Master within six years in a Lodge whose membership included many of the leading figures in local politics and business must have had some clearly recognized talents.
Wor. Brother Waldon was also a member of Fellowship Lodge No. 137 in Burnaby, B.C. Fellowship Lodge was warranted on 12 February 1949 but surrendered its Warrant to the Grand Lodge of B.C. & Yukon in 1998. Having surrendered its warrant, Fellowship Lodge no longer exists.
Here is a brief biography of Robert Bulmer Waldon taken from local newspaper reports of his death and funeral:
"Waldon – A former Duncan and Chemainus resident who grew up in this district, Mr. Robert Bulmer Waldon, aged 57, died suddenly at his home in Vancouver on Thursday. He suffered a heart attack.
His was a rapid success story. He rose from the ranks of P.L.I.B. (Pacific Lumber Inspection Bureau) to be its B.C. superintendent, a position he held for nearly 20 years.
Born in Ripon, Yorkshire, England, he came to Cowichan with his parents, the late William and Mrs. Waldon, in 1911, sharing the trials of their early years on the pioneer Waldon Jersey farm at Glenora.
He was educated at University School, Victoria, and prior to the outbreak of World War 1, served at the former Bank of British North America.
Enlisting with the 88th Fusiliers, Victoria, in December 1915, he proceeded to France with the 43rd Cameron Highlanders of Winnipeg.
In the lumber bureau, Mr. Waldon saw service at the former Genoa Bay mill of the Cameron Lumber Co. He left there in 1921 for Chemainus where he continued in the bureau, his promotions culminating in 1934 in his appointment as superintendent of the B.C. division, with offices in Vancouver.
Mr. Waldon was a past master of Temple Lodge, No. 33, A.F. & A.M., Duncan and a member of Fellowship Lodge, A.F. & A.M., Vancouver.
Mr. Waldon is survived by his wife, the former Grace McInnes, Chemainus; one brother, William, Duncan; and one sister, Mary, Glenora.
His efficiency and popularity were attested to on Monday afternoon at his funeral, attended by a large gathering representative of the lumber industry and other industries.
Cremation followed the service. His ashes will be deposited around Big Bar Lake, in the Cariboo.
Pallbearers were Messrs. L.R. Andrews, B.M. Hoffmeister, J.A. Humbird, E. Lehman, O. Lauritzen and W.M. Thomas."
Source: Cowichan Leader, 28 January 1954 – from Cowichan Valley Museum & Archives collections)
Although Worshipful Brother Waldon's obituary (see above) says his cremated remains were scattered around Big Bar Lake in the Cariboo region of British Columbia's Interior, there is a grave marker for him in Chemainus Cemetery. We cannot say with certainty whether Worshipful Brother Waldon's remains are interred here or whether they were, as noted in his obituary, scattered at Big Bar Lake in the Cariboo. All we can say is that there is a grave marker for Worshipful Brother Robert Bulmer Waldon in Chemainus Cemetery.

Would you like to leave a comment or question about anything on this page?