As part of our Vancouver Island Masonic History Project, with its sections on Vancouver Island Cemeteries – Masonic Interments and Deceased Brethren, here is a page on Stephen Jones, Past Grand Master, who is buried in Ross Bay Cemetery, Victoria, B.C.
M.W. Bro. Stephen Jones (1869-1933) was one of the most prominent Masons in the Pacific Northwest. He was a member of Victoria-Columbia Lodge, No. 1 in Victoria.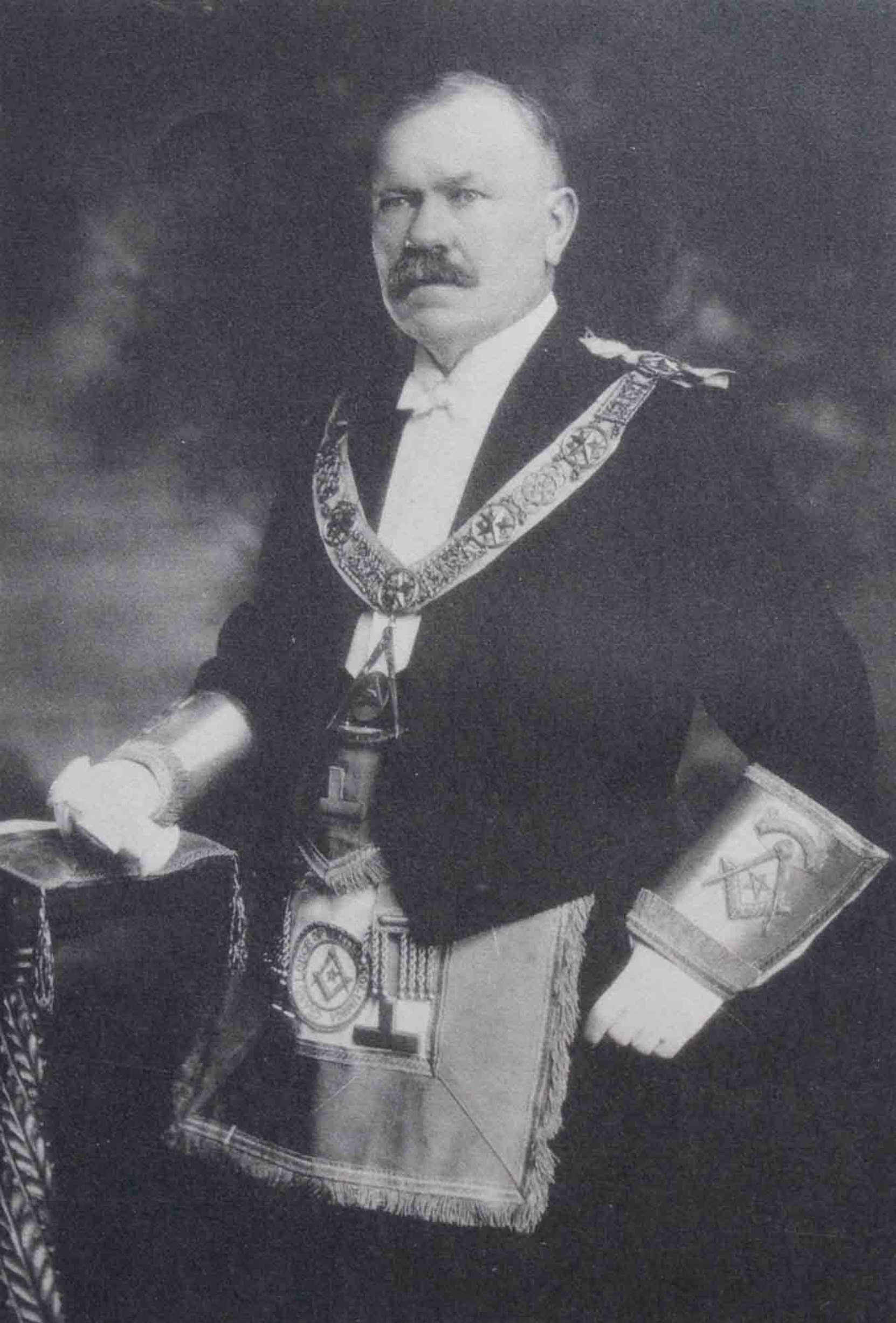 He served as Grand Master of B.C. in 1924-25 and as Potentate of the Gizeh Shrine.
M.W. Brother Jones was in the hotel business in Victoria. His family established the Dominion Hotel, which was renamed the Dalton in the 1990's. It has since been converted into a condominium complex called the Dominion Rocket.
MW Bro. Jones took over the Dominion Hotel from his father in 1890 and ran it until his death on 1933. He expanded the hotel building several times.
Here is a brief biography of M.W. Brother Stephen Jones, taken from various sources, including the local newspaper reports of his death and funeral:
            "DEATH CALLS STEPHEN JONES
——————–
Dean of Coast Hotelmen and Notable Success in Business was Widely Known
——————–
Was Past Masonic Grand Master and Gizeh Temple Potentate; Many Activities
——————-
Stephen Jones, proprietor of the Dominion Hotel, who has been the recognized dean of Pacific Coast hotel men from California to Alaska for a number of years, died late yesterday afternoon of a heart attack in the Jubilee Hospital.
Mr. Jones, who had been one of the most prominent Masons on the continent, was stricken a week ago following a meeting of the past grand masters of the Masonic Order here. He was taken to the hospital where he continued to sink steadily. The seriousness of his condition became apparent to his friends when doctors had to exclude visitors from his room.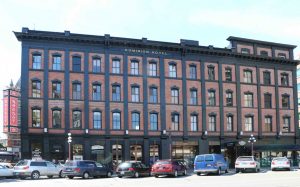 For forty-three years Mr. Jones had operated the Dominion Hotel which he took over from his father, expanding it as the city grew. The successful operation of the hotel was the basis of the Jones fortune, but it was added to from the first of the century when downtown real estate in Vancouver, which Mr. Jones had acquired when Granville Street was only a trail through stumps, became valuable. He was also one of the largest holders of real estate and individual taxpayers in Victoria.
   CAME HERE AS INFANT
Mr. Jones was born in Clinton, Huron County, Ontario, in 1869, and came to Victoria three years later with his parents, Mr. and Mrs. Stephen Jones, who were members of an old Irish family. He went to school here, and was one of the early pupils of the old Boys Central School. His father had taken up property and established the Dominion Hotel on Yates Street, adjoining the corner of Blanshard, which then seemed far out of the business centre of the city.
From school young Stephen went to the hotel where he learned the business from his father. They were also associated in the operation of the International Hotel which the father established in Esquimalt in 1887.
In his off hours young Stephen took an interest in sports. Bicycle-riding was the big sport of that day, and he took to it with determination, and carried off the endurance tests championships for a number of years.
Then, his father died and all the responsibility for the conduct of the hotel business was thrown upon his shoulders. Times were not exactly good in Victoria in those days, and the load he assumed in the hotel business was heavy. However, he threw himself into it with such devotion that it soon became one of the best paying hotels in the whole west. Mr. Jones became known far and wide for his business ability, and he was soon a leader in the international hotel men's organizations, being elected to directorships and presidencies.
      GOES TO TOP IN MASONRY
While his hotel business and his fame as a hotel executive were spreading, Mr. Jones had taken up masonry. In this work he went to the very top. He was a past master of the Victoria-Columbia Lodge No. 1, A.F.&A.M., and past grand master of the Grand Lodge of British Columbia. He entered the Shrine and was a charter member of Gizeh Temple and a past potentate. On five occasions he was chosen as representative of Gizeh Temple and represented it at Imperial Council gatherings. The Al Kader Temple of Portland and the Nile Temple of Seattle both honored Mr. Jones for his service to the order conferring upon him life membership. In the Masonic Lodge he was initiated into the Columbia Chapter, No. 120, which is one of the peak degrees of Masonry.
      HAD WIDE CONTACT
His prominence in hotel and Masonic activities brought his into personal contact with many of the outstanding men in Canada and the United States, and gave him in his later years a remarkably wide range of personal contacts. He traveled extensively crossing the continent many times to take part in various gatherings. He was honored by members of the bench in California when they made him an honored guest on the bench, occupying a seat with the justices during court hearings. He delivered many addresses at international hotel, travel and Masonic gatherings, and was especially highly regarded for his addresses behind tiled doors of British Columbia lodges. In his capacity of grand master, he had covered on a number of occasions every part of British Columbia, establishing a host of fraternal and personal friendships.
            FOUNDED LAURIER CLUB
Mr. Jones took an active interest in politics and in the last couple of elections had been held as a prospective candidate for the Liberal party in this city. He was the chief organizer and the first president of the Laurier Club of Victoria. As president, he was also host to a number of nationally-known Liberals when they came to Victoria. Since his retirement from the office, to be succeeded by A.D. Macfarlane, K.C., Mr. Jones has been elected to the office of honorary president.
In the old Board of Trade, Mr. Jones was an enthusiastic worker to advance the interests of the city that was then developing into the Victoria of today. At one time he was president of the board. He continued his interest in the work after the name had been changed to that of the Chamber of Commerce.
Mr. Jones was one of the founders of the old tourist association, which was the parent of the more ambitious Victoria and Island Publicity Bureau. Besides through his connections with these organizations, Mr. Jones did much to make Victoria known through the west and in California by the publicity campaigns he carried on himself to bring people to Victoria in the interests of his own hotel business. He aimed at making Victoria and the island the playground of the Northwest and kept this idea to the fore in all his speeches when he was the guest of various organizations in other cities.
He was also one of the early members of the Rotary Club. He also a charter member of the Uplands Golf Club.
TWO BEAUTIFUL HOMES
Mr. Jones built the large family, "Castlewood," and developed around it luxuriant gardens and lawns which have made it one of the city's most admired homes. His summer home, a large two-story house with all the city conveniences, was situated on the choice waterfront location on the inner coastline, at Shoal Bay, two miles north of Sidney. There in his "Twin Bay Park," with its fifty acres of waterfront, some of the few remaining stands of giant timber, its herd of prize sheep, its gardens of fruit and vegetables, and all the accessories of a perfectly appointed waterfront home, he developed one of the choice retreats of the coast. During the last summer, when he knew his health was fading, he spent much of his time there in company of close personal friends.
Surviving him are Mrs. Jones, who was the former Miss Eliza Margaret Thompson of Cornwall, Ont., whom he married in 1910; two sons, Stephen and Howard; three daughters, Frances, Mildred and Margaret; two sisters, Mrs. M. Owens and Mrs. A. Winters; and one brother, George, all of this city.
The City Council honored the memory of Mr. Jones at its meeting yesterday evening by a silent tribute and a standing vote of condolence which is embodied in a written message of sympathy being forwarded by the city clerk to Mrs. Jones and members of his family.
The funeral, which will be Masonic, will take place at 3 o'clock from the B.C. Funeral Parlors and at 3.15 o'clock from St. John's Church, where a musical service will be held."
(Source: Victoria Daily Times, 3 October 1933, page 1)
        "FUNERAL NOTICE
————
Members of Victoria Columbia Lodge No. 1., A.F.&A.M., B.C.R., are requested to meet at the Masonic temple, Fisgard Street, on Thursday, October 5, at 2.30 p.m., to attend the funeral of our late Most. Wor. Brother Stephen Jones.
Members of other lodges and adjourning brethren are also invited to attend.
By order of the Wor. Master.
J.R.SAUNDERS,  Secretary"
(Source: Victoria Daily Times, 3 October 1933, page 10)
Apart from the Dominion Hotel, Stephen Jones also built 600-610 Courtney Street in 1913.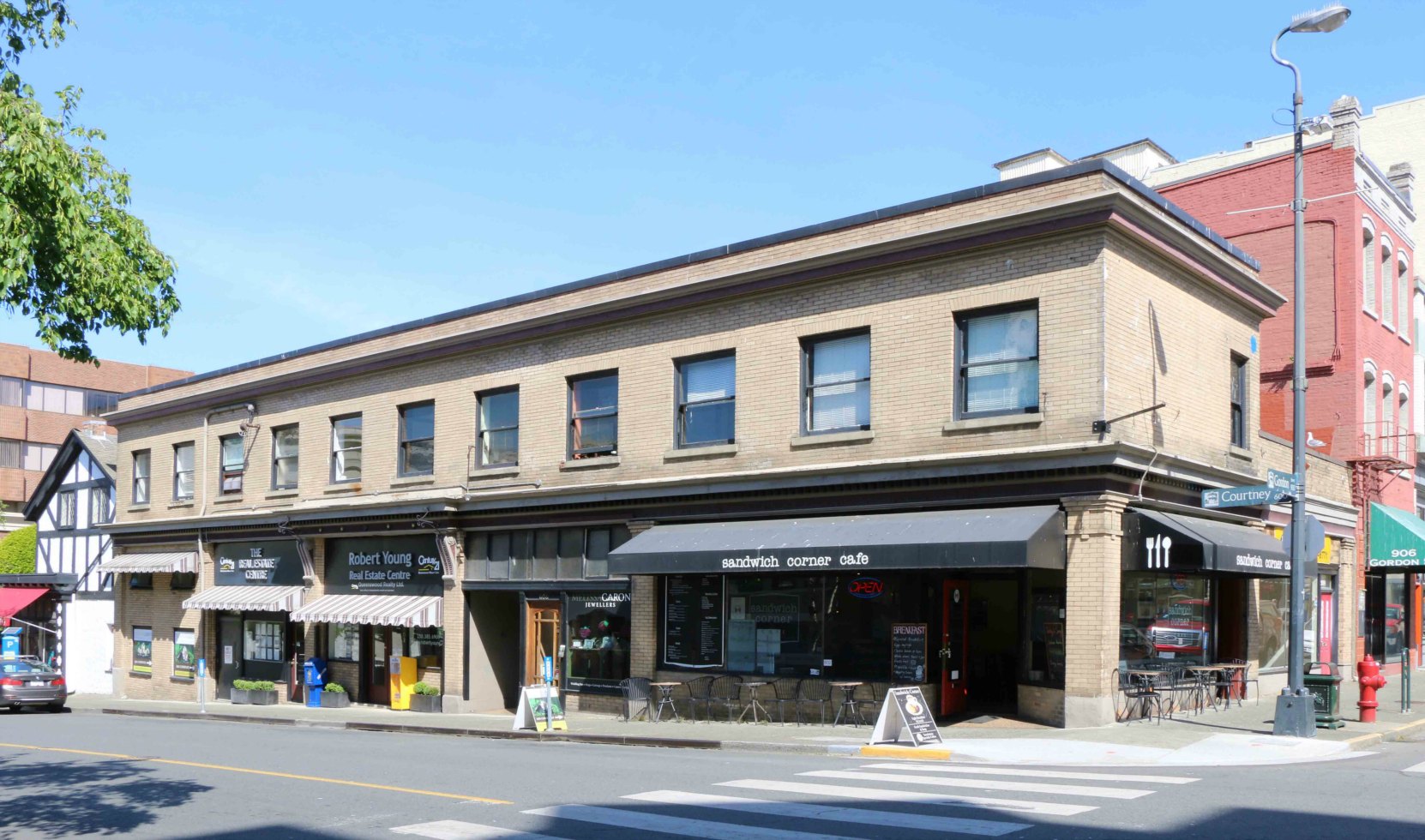 M.W. Bro. Stephen Jones is interred in Victoria's Ross Bay Cemetery.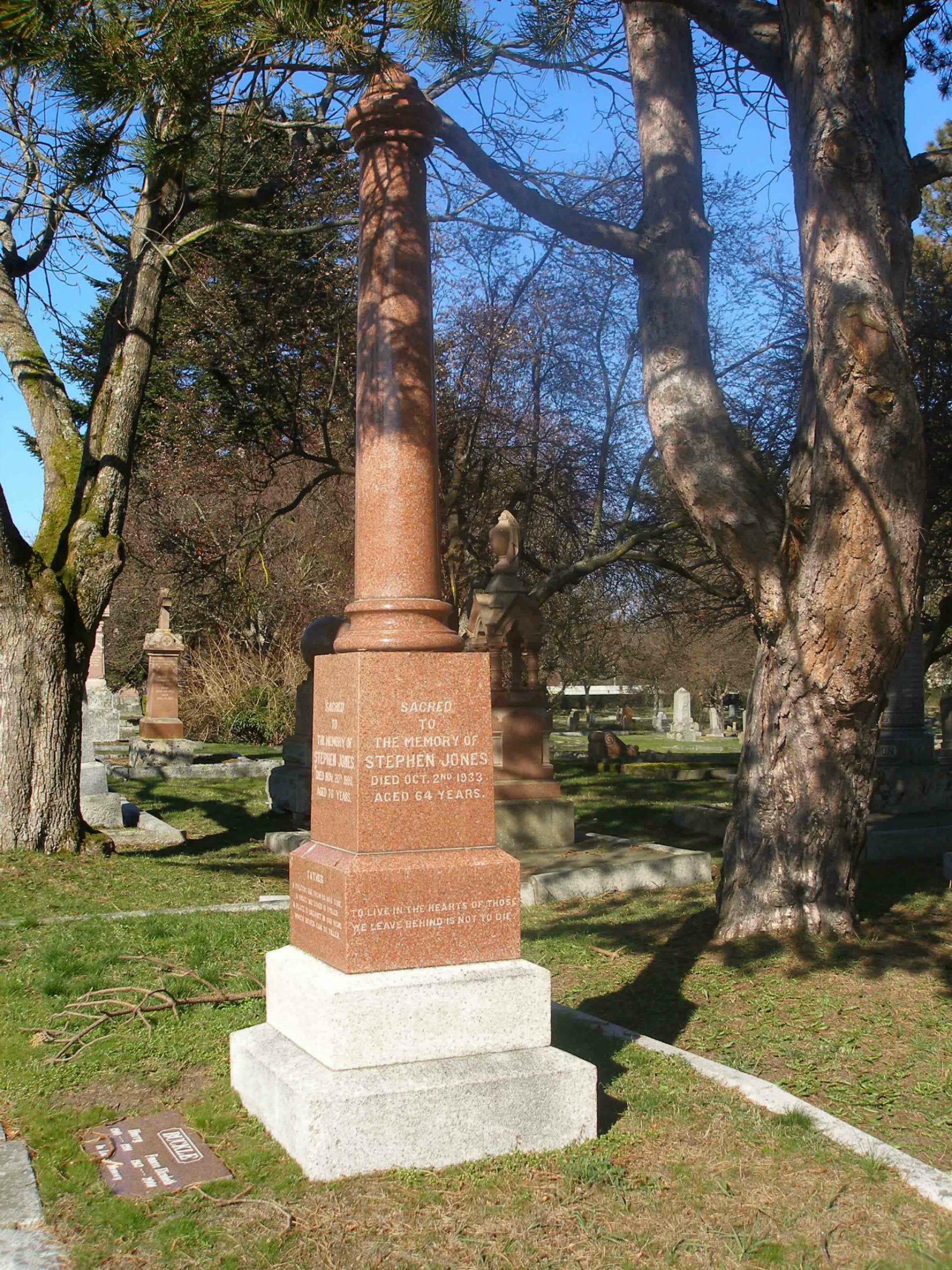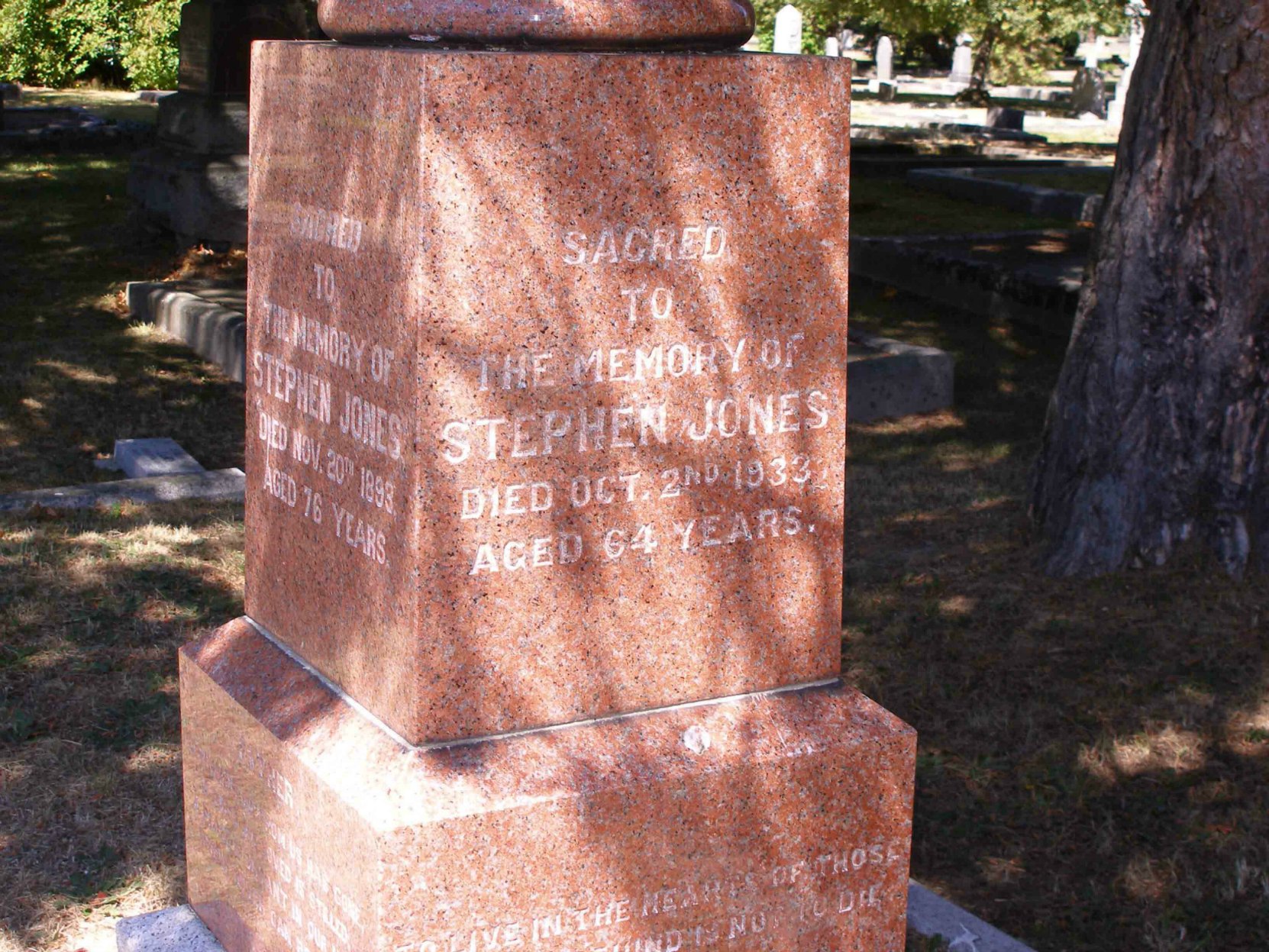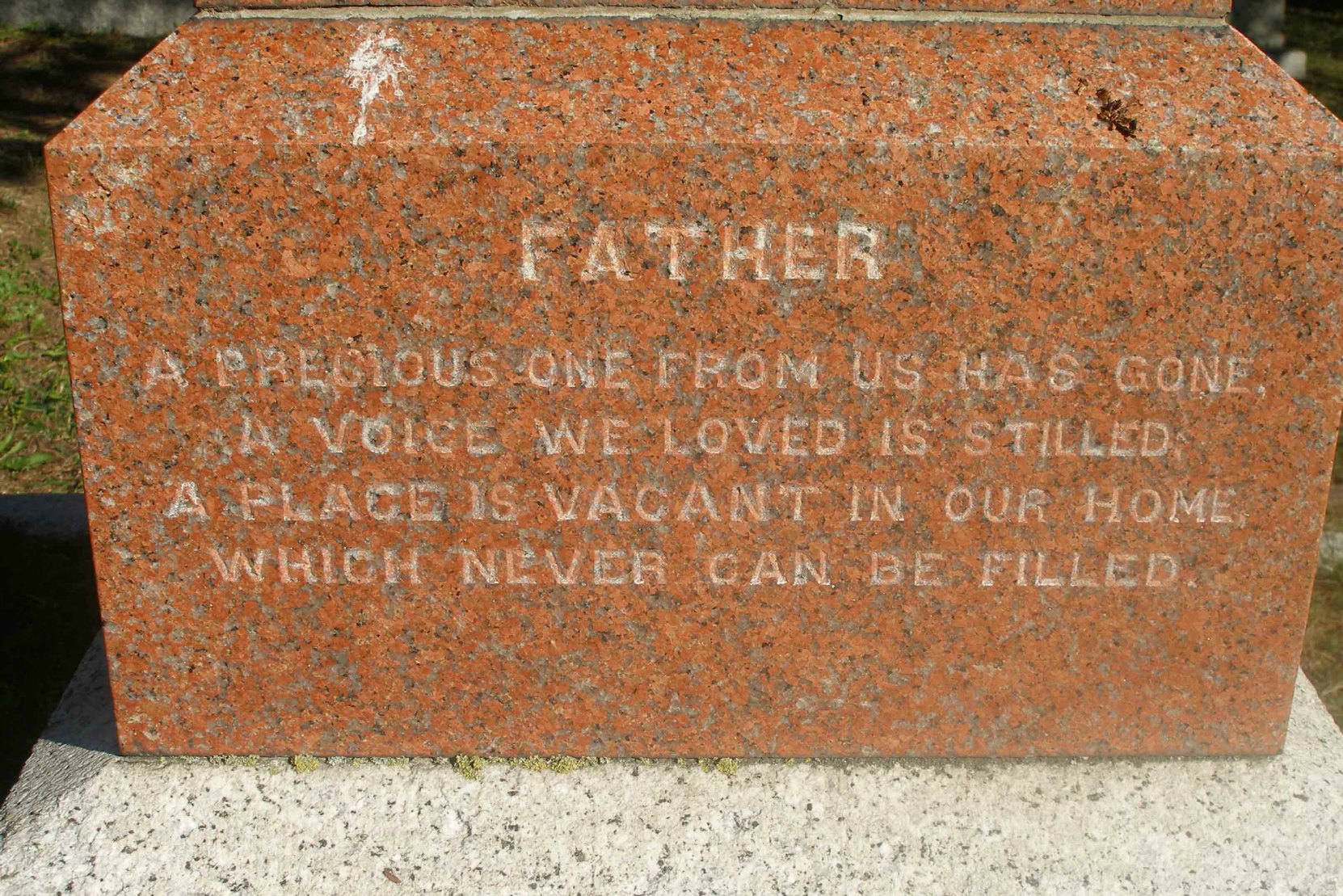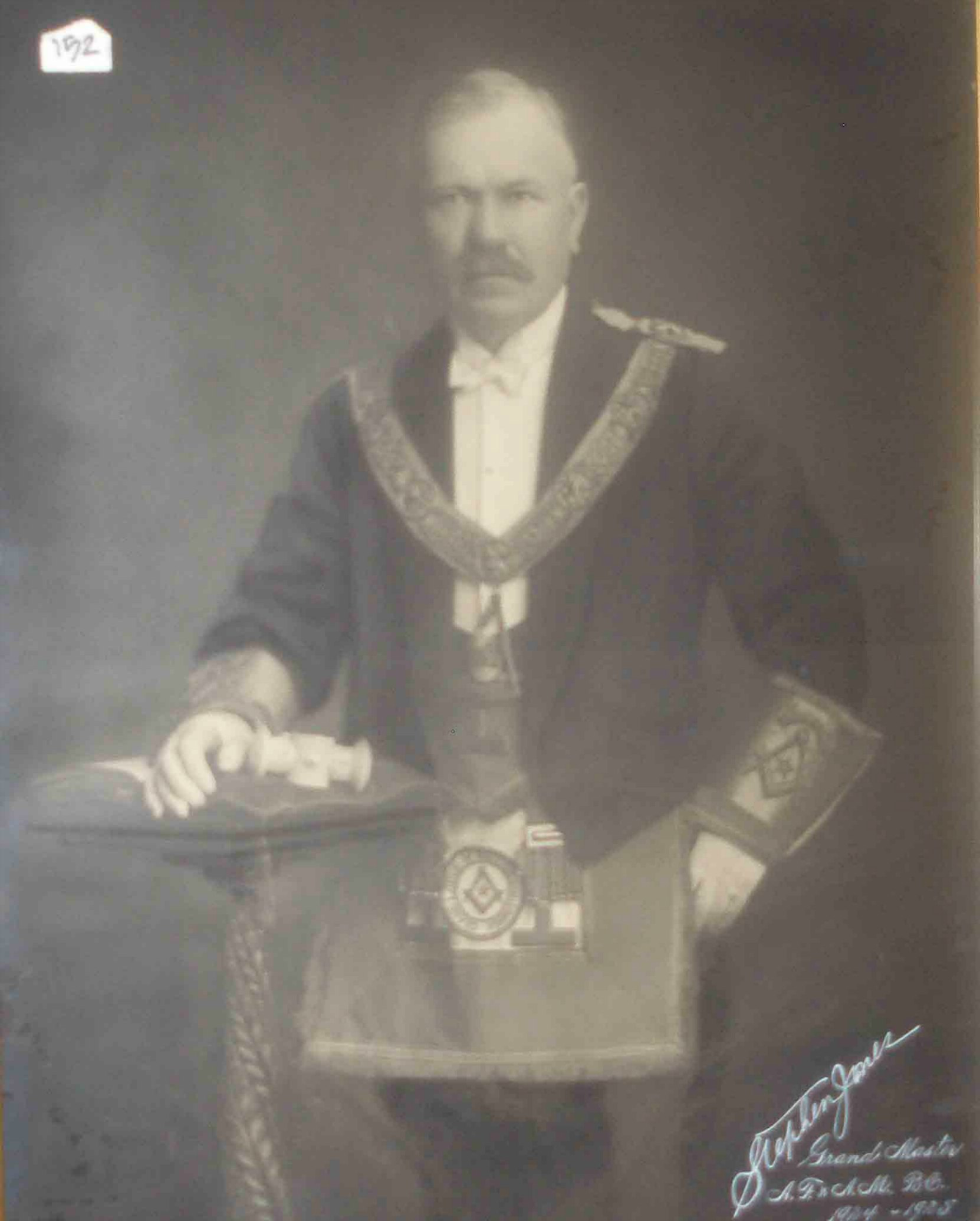 Would you like to leave a comment or question about anything on this page?