As part of our Vancouver Island Masonic History Project, with its sections on Vancouver Island Cemeteries – Masonic Interments and Deceased Brethren, here is a page on Richard Broderick, who is buried in Ross Bay Cemetery, Victoria, B.C.
Richard Broderick was a member of Victoria-Columbia Lodge, No. 1 in Victoria, B.C. He was a native of Liverpool, U.K. who came to Victoria in 1858 and became prominent in the shipping, wharfage and stevedoring businesses.
Here is a brief biography of Richard Broderick taken from contemporary newspaper accounts of his death and funeral:
"DIED
——-
BRODERICK – At his residence, 150 Menzies street, on the 31st August, Richard Broderick, a native of Liverpool, England, aged 65 years.
The funeral will take place on Thursday, at 2:20 p.m., from the Masonic Temple, Douglas street. Friends will please accept this intimation."
(Source: Daily Colonist, 1 September 1896, page 8, column 4)
"DEATH OF RICHARD BRODERICK
——————
Another Well Known Citizen Passes Away at the Age of Sixty-Five
——————-
After a short illness Richard Broderick died yesterday at his residence, 150 Menzies street, and Victoria loses another of those men who in the early days helped lay the basis for her future business prosperity. Born in Liverpool, England 65 years ago, Mr. Broderick came to Victoria in 1858 and was the pioneer of the wharfage business here. Having amassed considerable money he went to California ten years later, but was not so fortunate in his ventures there. Returning to Victoria he again entered the wharfage business and made considerable money during the construction of the C.P.R. After another short visit to California he eventually entered on the business of stevedore in Victoria, and continued in that occupation until his death, doing an extensive business for shipping firms as well as contracting for the Navy. A man of genial, cheery disposition, with a kind heart that made him ever ready to assist those in need, Mr. Broderick made many friends, not only in Victoria, but among the seafaring men who visited this port. Indeed, he was one of the best known men on the Coast, and his death will be heard of with sincere sorrow by his friends. The funeral, which will be under the auspices of the Masonic order, takes place at 2:30 p.m. on Thursday. Mr. Broderick leaves a widow, two sons, W. Broderick, of Victoria, and Dr. R. Broderick, U.S.N., and one daughter, Mrs. Stinson, of Seattle."
(Source: Daily Colonist, 1 September 1896)
"RICHARD BRODERICK
——–
TO THE EDITOR:- We have lost another pioneer of '58 and a remarkable man – landmark in the province. As an old friend of the deceased I feel called on to make a few remarks. A gymnast and athlete on all points – before the days of cycling, baseball, etc. – a good rider, swimmer, oarsman – he was stroke in a four-oared winning race with Whitehall boats. Mr. Broderick was essentially a man of business. Trading with the New Vancouver Coal Company for over ten years, with the Sound and San Francisco steamer agencies, and much sailing and other business all passing through his hands, at a time when 400 to 500 head of cattle was the monthly importation, at unearthly hours, from the Sound, and every pound of freight from San Francisco was discharged in Esquimalt and lightered into Victoria and delivered, he still found time to carry on a profitable contract for supplying the Navy with coal and water.
Tireless, and punctual in his engagements and prompt in the payment of his employees, Broderick was an example of energy, illustrating the saying of the wise man, "Seest thou a man diligent in his business," etc. With more self-control and the advantages of a superior education Broderick would not have stopped at being Premier of the province.
"Friends depart and memory takes them
To her caverns pure and deep"
EDWD. MALLANDAINE (note: Edward Mallandaine was an architect and landscaper. Among other projects, he laid out the grounds for Ross Bay Cemetery)
Victoria, Sept. 2"
(Source: Daily Colonist, 4 September 1896, page 2, column 2)
"There was a very numerous attendance yesterday at the funeral of that genial and much regretted old pioneer, Richard Broderick, which took place from the Masonic Temple, the interment being in Ross Bay cemetery. The impressive and beautiful services for the dead were conducted both at the Temple and at the graveside by Worshipful Master H.L. Salmon of Victoria Columbia lodge, No. 1, of which the deceased had for many years been an active and honored member. The pall bearers were Messrs. R. Carter, A.W. Barnett, Capt. Henry Smith, Capt. McCulloch, W.H. Perry and R. Chipchase."
(Source: Daily Colonist, 4 September 1896, page 8, column 1)
Richard Broderick is buried in Ross Bay Cemetery, Victoria, B.C.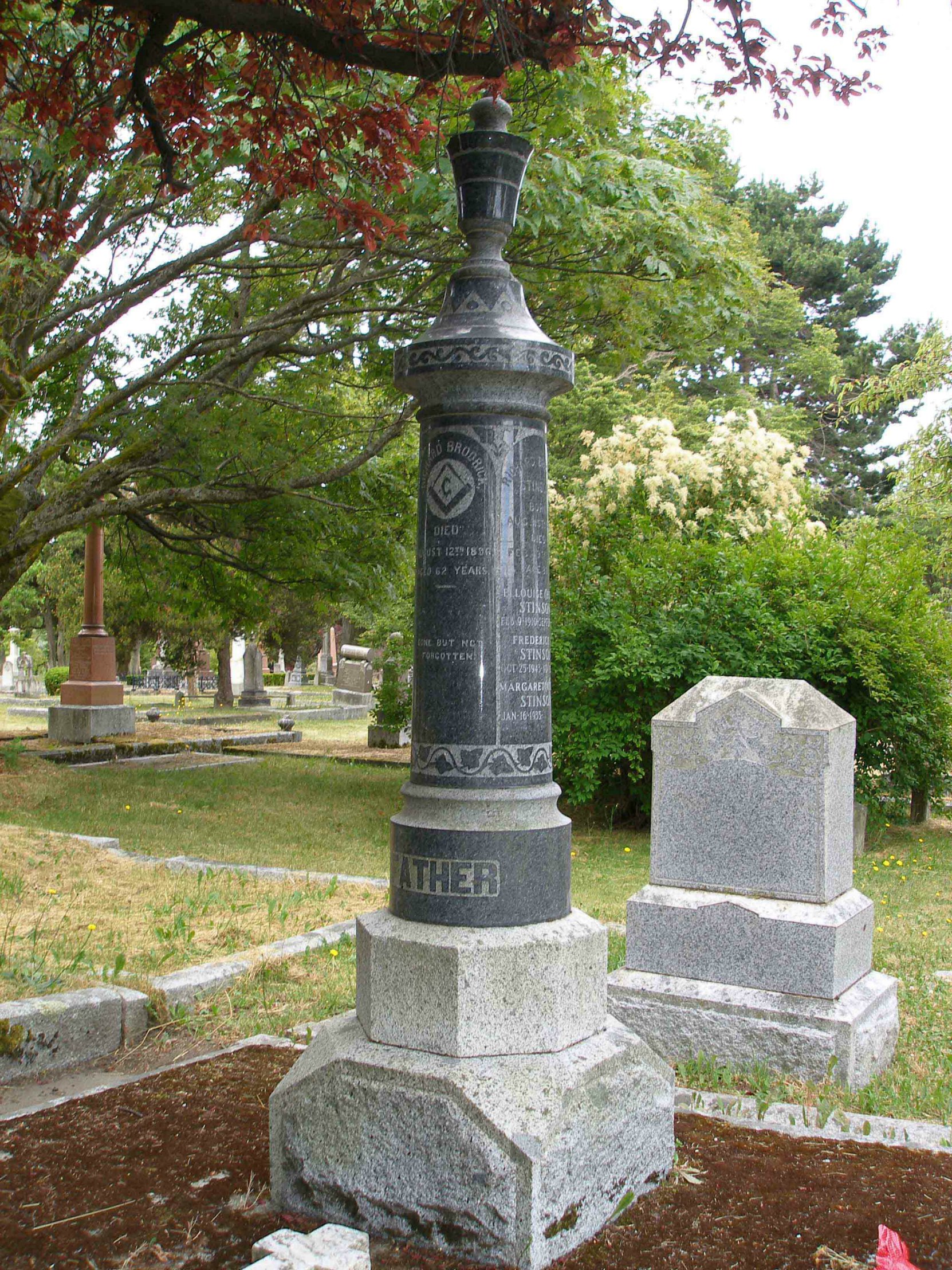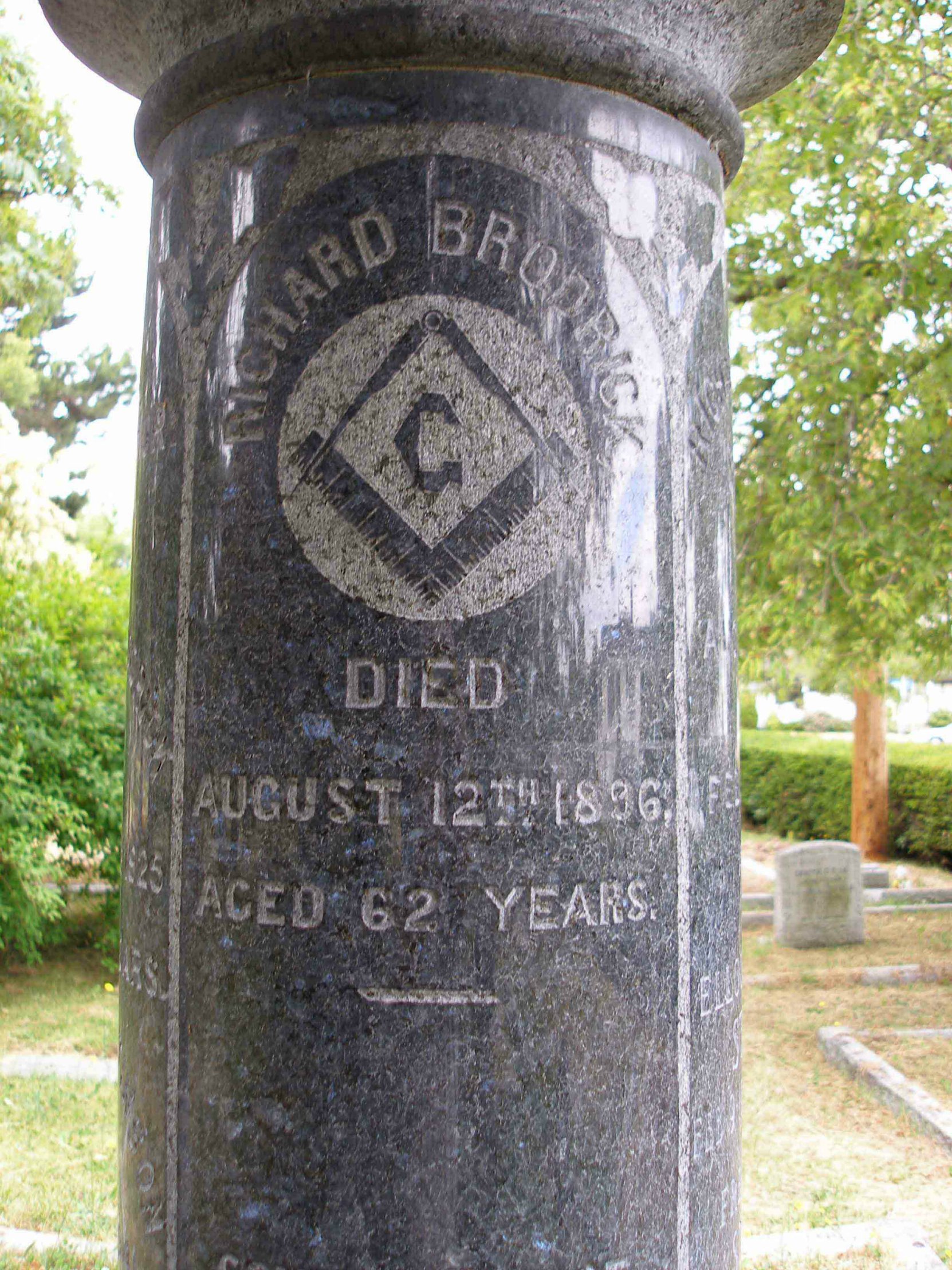 Would you like to leave a comment or question about anything on this page?