As part of our Vancouver Island Masonic History Project, here is  a page on Lewis Levy (died 18 January 1926, aged 73), who is buried in the Victoria Jewish Cemetery. Lewis Levy's grave displays the Masonic Square and Compasses.
Lewis Levy was a member of Port Angeles Lodge No. 69, Grand Lodge of Washington. He lived in Port Angeles, Washington and spent most of his career there. According to his obituary he was in "the real estate business." Lewis Levy's obituary says he played a very prominent role in the development of Port Angeles, Washington.
Despite his connections to Port Angeles, Lewis Levy  was apparently buried in Victoria Jewish Cemetery because it was the closest Jewish cemetery to Port Angeles.
Here are the Port Angeles, Washington local newspaper reports of Lewis Levy's death and funeral:
"Lewis Levy, 73, a pioneer real estate man of Port Angeles, whose one thought in life was the upbuilding of this city, passed away early this morning from stomach trouble after an illness of only a few days.
Mr. Levy was taken ill late last week and was taken from a hotel room to a hospital where at first he showed signs of improvement. His advanced age and the fact that his heart had become weakened, caused him not to rally to treatment and he passed away this morning.
Mr. Levy was born in Poland. He came to Port Angeles in May, 1888, and that same year became a naturalized citizen of the United States. Some of his earlier days were spent in Victoria and in Alaska but his home was in NY previous to coming here.
Upon his arrival here, Mr. Levy went into the real estate business and for all the years that have followed he has been in that business here, at times having other business interests, but with the real estate business as his main occupation.
Mr. Levy is survived by his widow, Mrs. Helen Levy of this city, a son Arnold, also of this city, who graduated in law from the NYU and another son, George Levy, a physician in NYC. Julius Kirschberg, a life long friend, is a brother of Mrs. Levy.
From all sources n the community there are coming expression of regret for the sudden calling of Mr. Levy. He was absolutely tireless in his efforts in behalf of Port Angeles and its upbuilding and his last act on earth was a request that he might sign an affidavit in regards to some property "To help the city progress" as he put it.
There was not a man in the county who knew property values as well as Mr. Levy. He had faith in this city and county that never grew dim. He was for this city, first, last, and all the time and his life seemed to be dedicated to the upbuilding of the city that he saw grown from a village on the beach to its present size and in a measure, Port Angeles itself is a monument to him and his labor for in truth he was a builder of it.
Mr. Levy had many close friendships with Victoria businessmen and had during all of his life here, acted as agent for them in their property interests and they give him their fullest confidence.
Full details of the funeral have not yet been made. Mr. Levy was a member of the Masons and Elks lodges and these 2 bodies will have charge of the funeral ceremonies.
(Source: Port Angeles Evening News, 18 Jan 1926)
"Funeral services for Lewis Levy, 73 year old pioneer of Port Angeles who passed away at 4:30 am Monday, will be held from the Elks Temple Wednesday at 2 pm. The services will be conducted by Naval Lodge of Elks No.353, of which Mr. Levy has been a member for several years.
The Masonic Lodge of this city, to which Mr. Levy also belonged, will furnish the pallbearers. Out of respect for the memory of the late Lewis Levy, Mayor W. B. Hedrick has issued a proclamation asking the stores of the city to close from 2 to 2:30 pm Wednesday.
The remains will be shipped to Victoria where interment will be made by the Masonic order of that city. Arrangements have been made by Lyden-Freeman Funeral Parlors."
(Source: Port Angeles Evening News, 19 Jan 1926 – on olypen.com)
Lewis Levy is buried in Victoria Jewish Cemetery. The adjacent grave is that of Rabbi Elias Friedlander.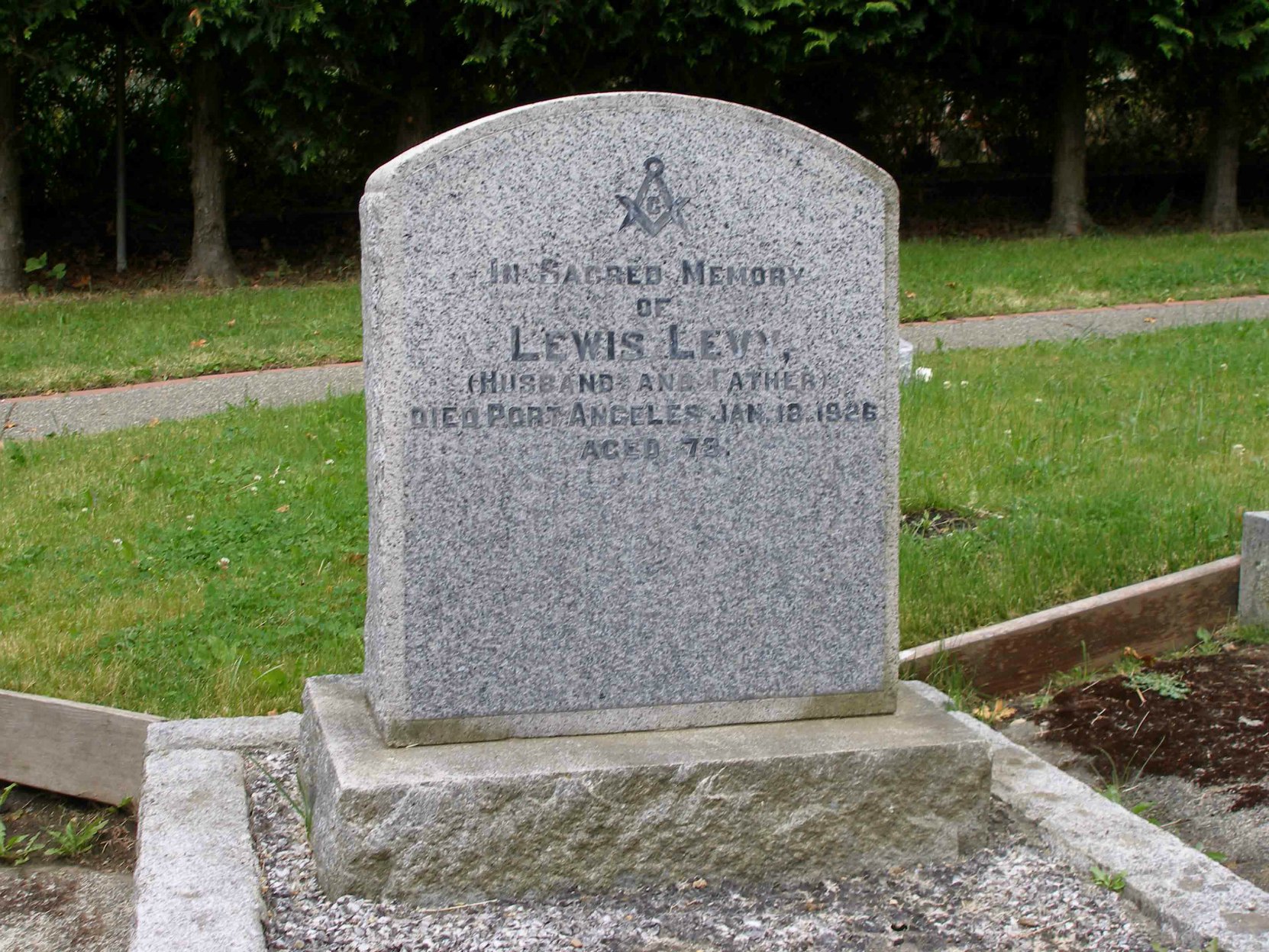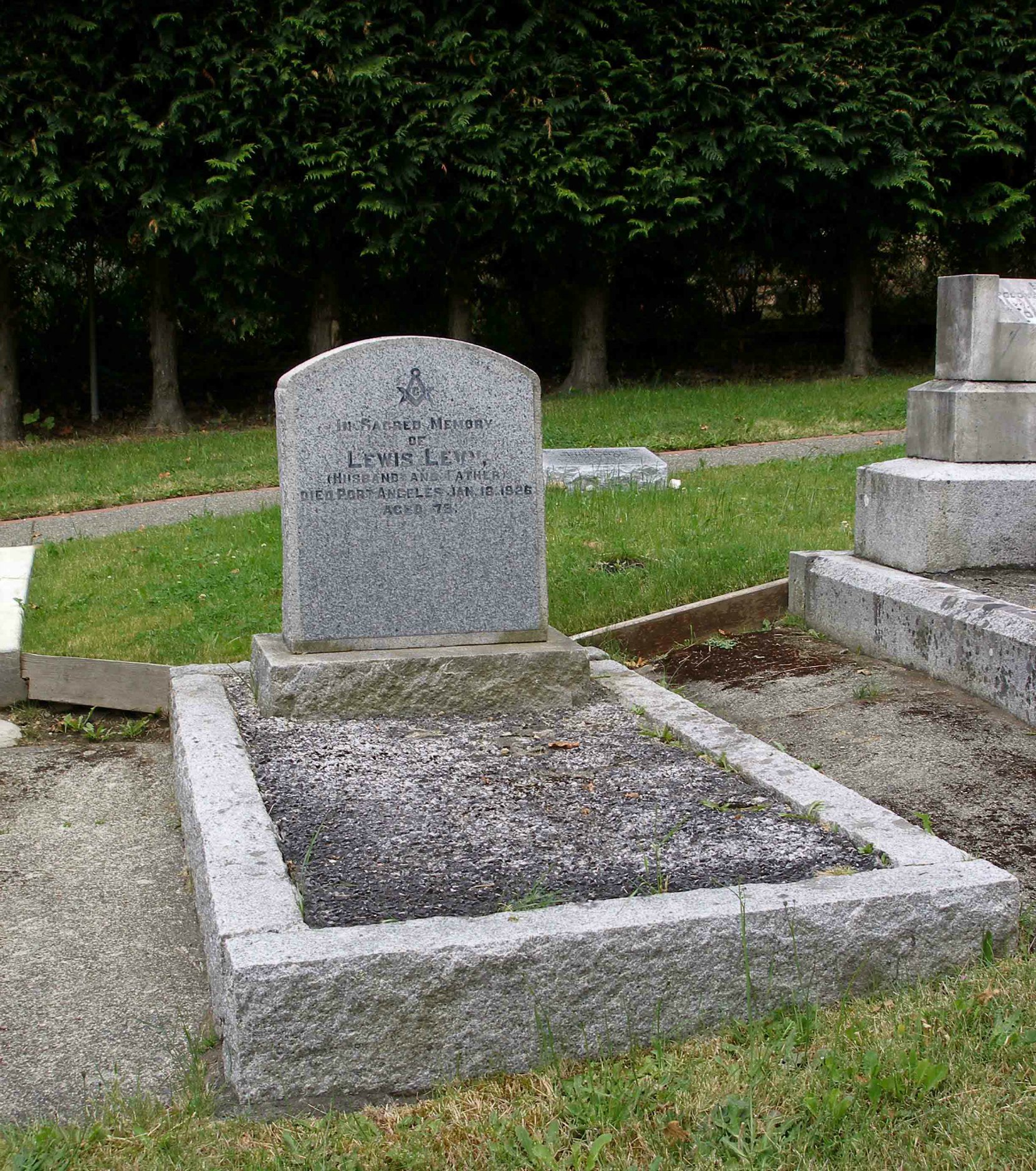 Here is an obituary of Lewis Levy's wife, Helen Kirschberg Levy (died 1934)
"Mrs. Helen Levy, 68, beloved mother of Arnold Levy and sister of Julius I Kirschberg, of Port Angeles, passed away peacefully at 5:45 pm Wednesday, Oct 10th following a lingering illness of several years which had taken a more serious turn during the last several months. Funeral announcement will be made upon receipt of advice from relatives in NYC. The remains are at the Christman Mortuary.
Mrs. Levy was born in Poland in 1866, graduated from a European university and came to NY with her parents, Mr. and Mrs. Isaac Kirschberg about 42 years ago where she entered the NY Conservatory of Music and graduated with high honors.
She was joined in marriage to Lewis Levy, former well-known Port Angeles pioneer, at Victoria, about 45 years ago. Until 16 years ago, when she came here with her son Arnold to make her home with Mr. and Mrs. J L Kirschberg, Mrs. Levy maintained a residence in NY where her sons were given advantage of university training, one graduating as an attorney, the other as a physician and surgeon.
Mrs. Helen Levy was a member of Esther Chapter, Order of Eastern Star. She was a highly cultured woman, a talented musician, an inveterate reader, a lover of travel, and was always a delightful conversationalist to those who knew her intimately.
She leaves to mourn her sons, Arnold Levy, Port Angeles; and Dr. George Levy, San Francisco; brothers Julius I Kirschberg, Port Angeles and Joseph I Kirschberg, NYC; sister, Dr. Rose Himwich, NYC."
(Source: www.olypen.com – Accessed December 2016)
Would you like to leave a comment or question about anything on this page?