Harry Smith (25 October 1859 – February 1942) was a member of Eureka Lodge, No. 20 in Seattle and Port Townsend Lodge, No.6 in Port Angeles before becoming a charter member of Temple Lodge, No. 33 in December 1899. He was Worshipful Master of Temple Lodge, No.33 in 1901.
Harry Smith also served as District Deputy Grand Master in 1903 and Grand Standard Bearer.
Through the Grand Lodge of B.C. & Yukon, we contacted the Grand Lodge of Washington seeking information about Harry Smith's membership in Washington State Masonic Lodges. The Grand Lodge of Washington kindly provided the following information:
Harry Smith was Initiated in Eukeka Lodge, No.20, Seattle, Wash., on 8 May 1889, Passed on 9 October 1889 and Raised on 23 October 1889. He demitted from Eureka Lodge, No.20 on 13 January 1894. In 1893, Harry Smith affiliated with Port Townsend Lodge, No.6, in Port Townsend, Wash. He demitted from Port Townsend Lodge, No.6 on 12 September, 1900.
Harry Smith lived an eventful life (see his obituary below). Among his other notable achievements:
About 1899, Harry Smith started a business called the Duncan Emporium for which he built a new building in 1900 at the north east corner of Station Street and Craig Street in downtown Duncan. This building was a downtown landmark until it was demolished in 2015.
Temple Lodge, No. 33 rented space on the second storey of the Duncan Emporium Building from Harry Smith for its Lodge rooms between 1902-1912, prior to building the Duncan Masonic Temple in 1912..
In 1902, Harry Smith sold the Duncan Emporium business to fellow Temple Lodge, No.33 members Andrew H. Peterson and Thomas Pitt, who built the business into the Cowichan Merchants Ltd. Temple Lodge, No.33 records show that Temple Lodge, No.33 was paying rent to Harry Smith until 1912 for lodge room space on the second floor of the Duncan Emporium building, so it seems clear that while Harry Smith sold the Duncan Emporium business, he retained ownership of the building.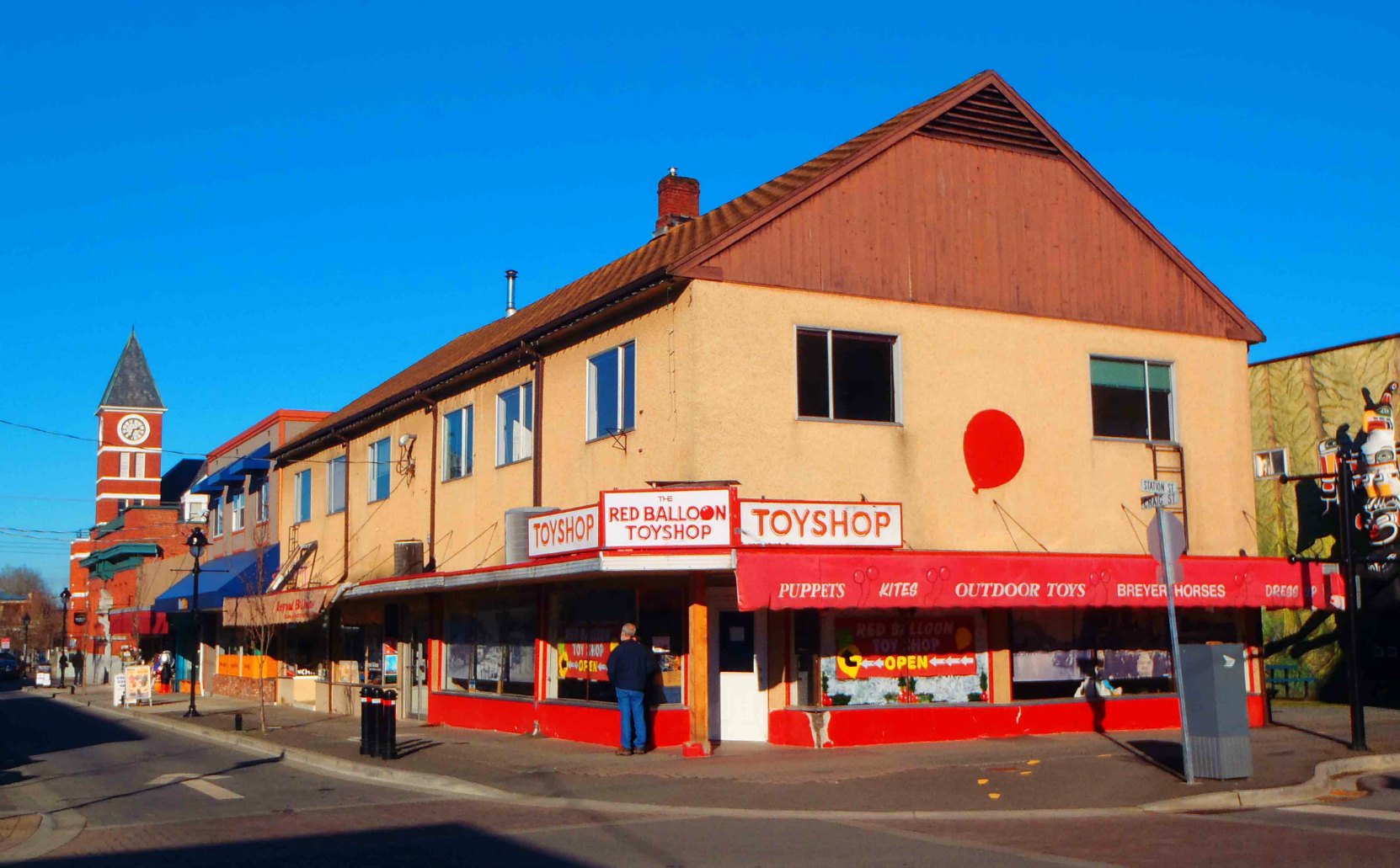 The present Duncan City Hall is built on the former site of Harry Smith's house.
Harry Smith left Duncan about 1907-08 and moved to Prince Rupert, where he operated a general store. He became a charter member of Tsimpsean Lodge, No. 58 in Prince Rupert. He demitted from Temple Lodge, No.33 in 1909.
Here is a brief biography of V.W.B. Harry Smith, taken from his 1942 obituary in the Cowichan Leader newspaper:
"Smith – In the fashioning of Duncan from a mere hamlet to the semblance of a marketing place and community centre, the name of Mr. Harry Smith, who died on Thursday at Kamloops, B.C., at the age of 83 years, stands out predominantly.
Harry, as he was known to all old-timers, launched the first newspaper in the district, The Duncan Enterprise, which made its debut on Sunday, January 21, 1900. It was printed in Victoria. The last issue of it was on January 12, 1901, when it had changed its name to The Weekly Enterprise.
Duncan was two years without a newspaper, but in 1903, The Enterprise was revived by Mr. Smith, though it ran for only a short time. However, on April (*note: we will try to confirm this date; it's illegible in the available copy*) the first issue of the Cowichan Leader appeared, with Harry as editor and proprietor. The paper was printed in Duncan.
It was then that his son Martin, who died on May 19, 1941, helped his father in printing the paper. On May 28, 1908 Harry formed a partnership with Mr. O.T. Smythe. A month later Mr. Smythe became the sole owner of The Leader and conducted the paper until March 1910, when he disposed of it to the company now known as Cowichan Leader Ltd.
Though he was probably best known during his newspaper days, Harry led a varied life before and after that period.
He was born at Tholonas Drove, near Wisbech, Cambridgeshire, England, on October 25 1859, of English parentage. His father was a tenant farmer and Harry was the youngest in his family of 13 children.
He emigrated to the United States at the age of 13 or 14 years is understood to have completed 'what little formal education he had' around Chicago. He worked for a time as fireman on the Chicago, Lake Shore & Michigan R.R. Then he farmed for a while in Iowa. In 1884 he married Martha Ellen Porter, who predeceased him many years ago.
They came west by mule team in 1890 and lived for a time at Smith's Cove, Seattle. Later they homesteaded at Potlatch, Puget Sound, and afterwards moved to Port Townsend, where Harry was for a time customs inspector in the U.S. department of revenue.
In 1897 they came to Vancouver Island and Harry prospected. He staked the Richard III, Tyee and Lenora mines on Mount Sicker that year, in partnership with Harry Bussard. His activities ranged from manager of the Duncan Opera House to sharing in the institution of the Duncan Fire Brigade, and Temple Lodge, A.F. & A.M.
In 1900 he built and operated the store called Duncan's Emporium, which was in the building now occupied by the Island Drug Co. store. It was the need for newspaper advertising which prompted the launching of the Duncan Enterprise.
When not running the newspaper, Harry went to Nome, Alaska, and worked there as foreman for the Piercy Morris Construction Co. In 1908 he had the first store in Prince Rupert, and moved to Stewart in 1907, where he was in business until 1913.
In 1915 he left for California, where he mined chrome ore during the last war. In 1924 Harry came north to Alice Arm to live with his son Marshall, who now lives on Gibbins Road. In 1937 Harry entered the Provincial Home in Kamloops, where his death took place.
The funeral was held at Kamloops on Saturday. He is survived by two sons, Harry Smith, jun., principal of a school in North Vancouver, and Marshall."
(Source: Cowichan Leader, 5 February 1942 – from Cowichan Valley Museum & Archives collections)
[Note: "…the Provincial Home in Kamloops…" may refer to the Tranquille Sanatorium, which, at the time, was the province's tuberculosis hospital. We will do addition research to determine if this was the facility referred to in Harry Smith's obituary.]
Would you like to leave a comment or question about anything on this page?