Harry Frederick Brown (1872-1910) was member of Vancouver & Quadra Lodge No. 2 in Victoria, Columbia Chapter No. 1, R.A.M. and Gizeh Shriners.
He was a master mariner. At the time of his death he was in command of the government steamer Petrel.
Here are some reports of his death and funeral from the local papers:
"SHIPMASTER DIES
Late Captain H. F. Brown Well Known on Pacific Coast
The death occurred yesterday, as a result of the rupture of a blood vessel In his brain, of Capt. Harry Frederick Brown, well known local ship master, who was prominent in the Victoria Shipmasters' association. Capt. Brown, who  was relieving Capt. Barry, of the government steamer Petrel, in command of that vessel two months ago was suddenly incapacitated as a result of a similar rupture when at the wheel of the government steamer and hurried off to St. Joseph's hospital, where he lay unconscious for some days. He then began to recover and for the past few days has been seemlngly convalescent, meeting his friends in the local ship chandleries and on the streets. and It was expected that he would be able soon to resume his work when he was again attacked on Friday night and taken to St. Joseph's hospital in a seml-consclous condition. No hope was entertained by Dr. George Hall, who was in attendance. After being unconscious for some hours Capt. Brown passed away yesterday afternoon.
The funeral of the dead navigator will be held tomorrow afternoon at 2 p. m, from the residence of his only relative in Victoria, his brother, Capt, T, H. Brown, master of the government dredge Mudlark, at 1127 Katherine street, Victoria West. The remains arc now at the chapel of the B. C. Funeral Furnishing company, and will be removed to the Katherine street residence tomorrow morning. Captain Brown was a prominent member of the  Masonic order,—being a member of the Mystic Shriners, and the funeral will be under the auspices of the Masonic order. Rev, T. E. Holling will officiate.
His Career
Captain Brown was 39 years of age. He was a native of North Sydney. C.B.
Captain Brown came to. Victoria in 1891, coming here at the instance of his'brother, who was interested in the ownership of the schooner Maud S. He . began the sealing career in whioh he was for so long engaged as a hunter on board the Maud S., then In command of the late Captain McKleI, and was on many .sealing schooners as master, until he lefti the. industry a few years ago To take command of a local steamer. Captain Brown commanded tho Oralner and other local vessels,"
(Source: Daily Colonist, 23 October 1910, page 7)
"Brown
Borne away on his last outward trip, the remains of the Iate Captain Harry Frederick Brown were laid to rest in the Ross Bay cemetery yesterday afternoon and many of his friends attended the services, testifyIng the great esteem with which the younger mariner had been held. The floral offerings were very large and the casket was literally covered with the many beautiful wreaths. 'The cortege left the home of the deceased's brother. Mr.- T. H. Brown, 1127 Catherine street, at 2 o'clock, where Impressive services were conducted by the Rev. T. K. Hoillng. The members of the Masonic order and the 8hlpmasters' association attended In a body and M. W. G.. Master. Bro. E.B. Paul conducted the last rites of the Masonic order. The Mystic 8hriners also attended In a body. The followIng gentlemen acted as pallbearers: Capt. George Kirkendale, Capt. J. M.' Newcombe. Mr. A. E. Bowers, Mr. G. W. Brown. Mr. J. A. Worthington' and Mr. W. F. C. Pope, who were all members of the same lodge of Masons an the deceased. The family wish to thank those' who presented floral pieces and herewith ls a list of them: Vancouver Quadra lodge No. 2. square and compass wreath; Glzeh temple emblem wreath;-'Royal Arch chapter, emblem wreath; Viclorla 8hlpmasters' Assn., wreath; officers and crews of dredge Ajax and Petrel; officers and crew of dredge Mudlark and steamer Prlncess, anchor; Mr. and Mlss McMlven, wrealh; Mr. and Mrs. Bowers, wreath; ; Mr. and Mrs. S. J. WIllls, pillow; Mr. and Mrs. J. Stapleton, bouquet; Capt. and Mrs. J M. Newcomb, wreath; Mr.. and Mrs. G. H. Brown, wreath: Dr. . and Mrs.. A. A. Humber, bouquet; Mr.  and Mrs. C. E. Watkins, wreath; Mr. and Mlss Nlebct, bouquet; Mr. and Mrs. Soidonbaum, .wreath; Mrs.R.R. Woodlll, wreath; Mr. Farmaa, bouquet; Miss M. and Mr. A. J. Pattou, wreath; Mrs. J. Worthington, wreath: CoL. and Mrs. A. \V. Currrie, bouquet; Mr. and Mrs. Wm. Turpsl. bouquet; Capt. and Mrs. W. D. McDougall, bouquet; Mrs. Charles McDonald, bouquet; Capt And Mrs. Cutler. creecent; Mrs. A. McAmes, crescent. And others."
(Source: Daily Colonist, 25 October 1910, page 7)
Harry Frederick Brown's funeral was conducted from his brother's house at 1127 Catherine Street, which is still standing. Here is a map showing the location of 1127 Catherine Street:

Here is a Google Street View of 1127 Catherine Street:
Harry Frederick Brown is buried in Ross Bay Cemetery, Victoria, B.C.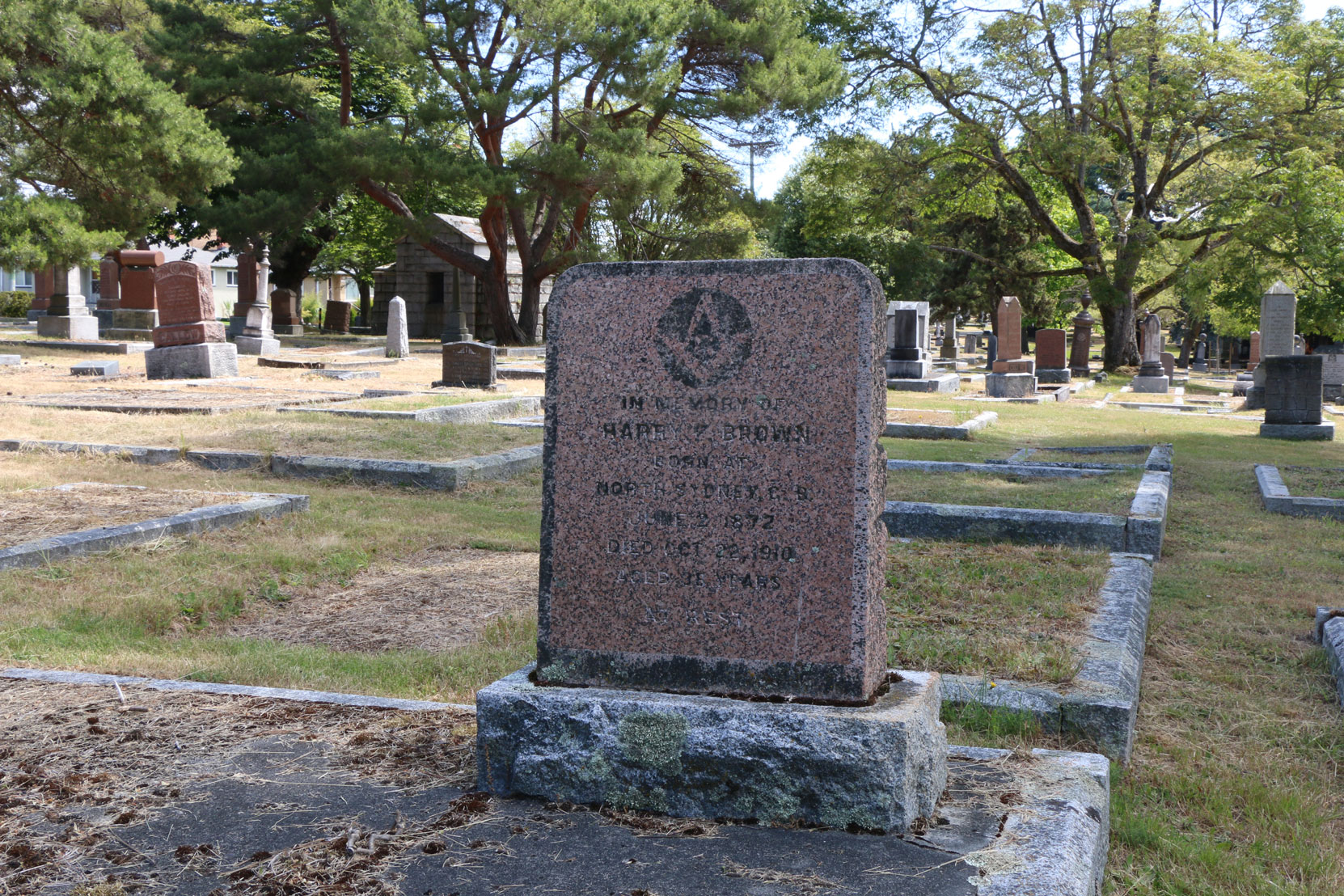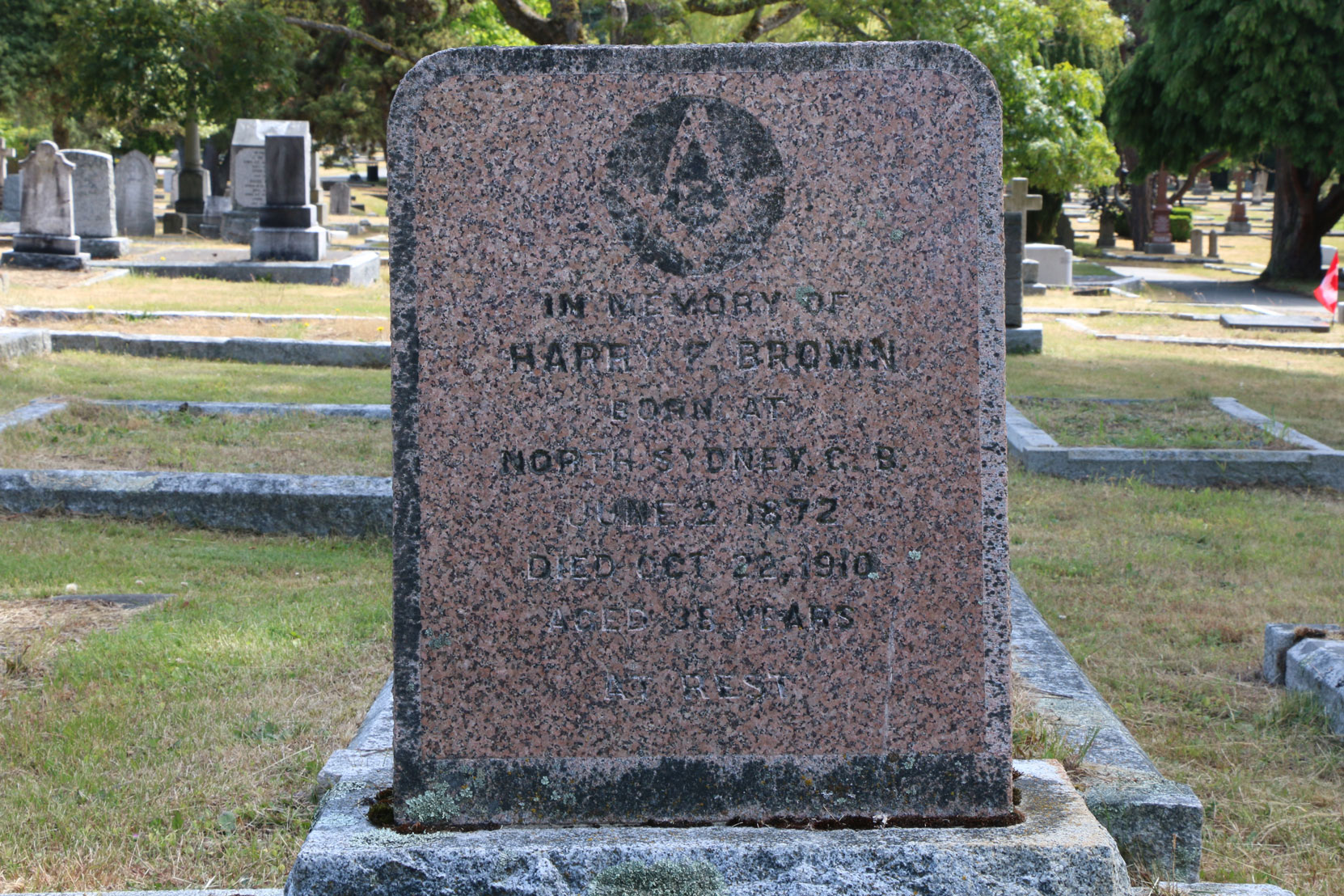 Would you like to leave a comment or question about anything on this page?