The building at 70 Government Street is currently occupied by Jim's Pools and Spas, but it was originally built in 1922 by architect Douglas James and building contractor Edward Lee for Charles B. Mains, a member of Temple Lodge, No.33 who operated his butcher shop in this building until his retirement in 1951, aged 84.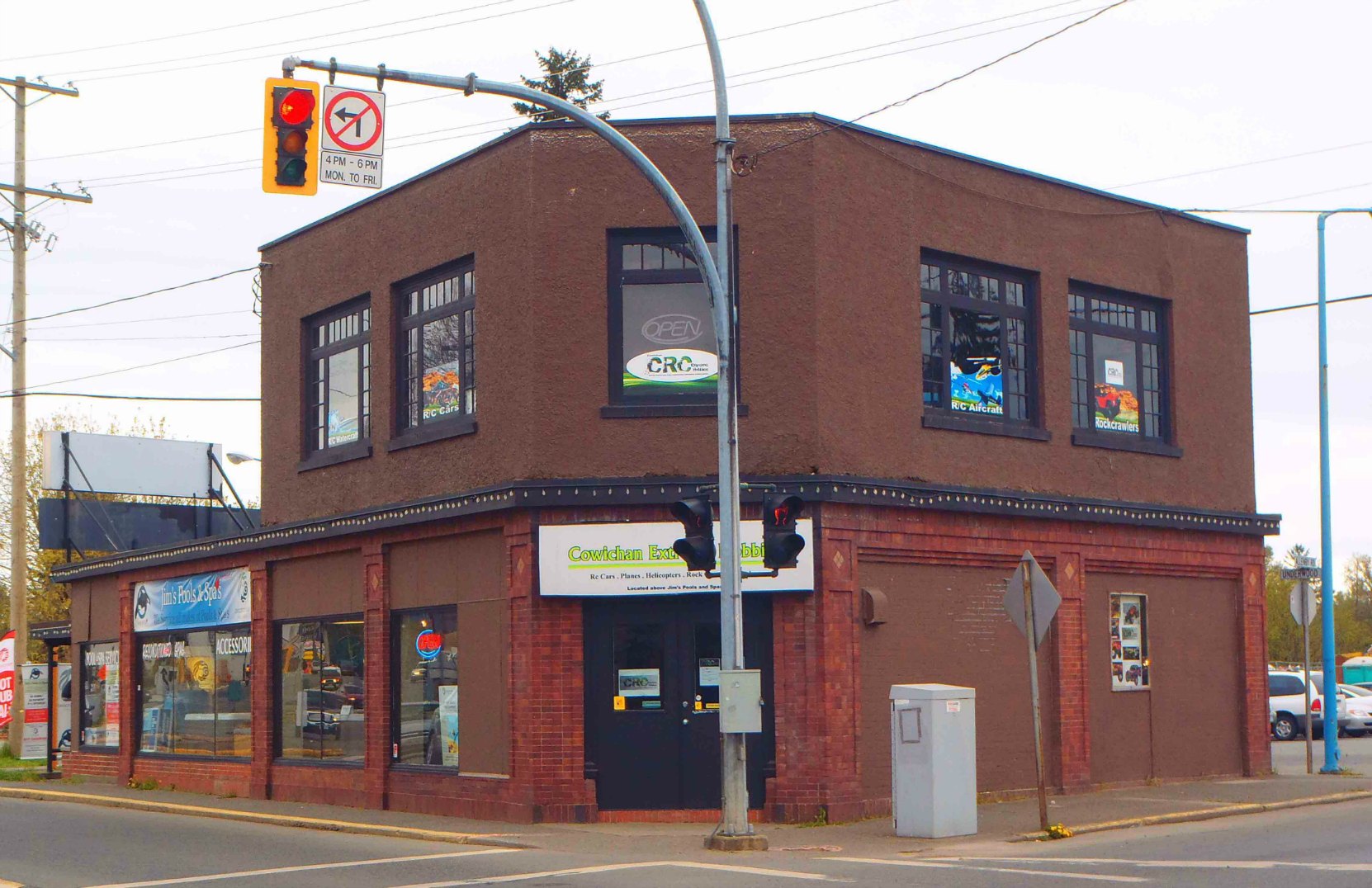 Charles B. Mains had been operating a butcher shop at this location since 1911 and replaced his earlier store building with the building that now stands at 70 Government Street.
According to the 1922 newspaper reports of this building's construction:
"Everyone coming to Duncan by way of the Island Highway [note: at that time, what is now Government Street was part of the main north-south highway on Vancouver Island] cannot fail to appreciate the fact that, after standing for so many years at one of the most important junctions of the road, the building that has been used by Mr. C.B. Mains to carry on his butcher business, is now being torn down, to be replaced by a modern structure.
A one storey garage to hold two cars is to be built first. It will be used as a temporary shop while the old wooden building is being taken apart. The new one to be erected will be a two storey building, constructed of interlocking hollow tile. It will be faced on the lower portion with pressed brick and with rough cast plaster above.
The ground floor will be concreted right over and the shop will have a finished floor and walls of terrazzo. The second floor is planned so that the rooms, three in number and a bathroom, may be used for offices or as a living apartment.
The estimated cost of the building is in the neighborhood of $10,000. The architect is Mr. Douglas James and Mr. E.W. Lee, Duncan, has the contract for the work."
In 1922 Douglas James and contractor Edward Lee also built the store at 45 Craig Street, half a block from 70 Government Street, for Temple Lodge, No.33 member Harold F. Prevost, who later became Mayor of Duncan. The newspaper reports of the construction of 45 Craig Street cited similarities in the brick work design of 45 Craig Street and 70 Government Street.
In 1962, this building became the business premises of H.W. Dickie Ltd. an insurance and real estate firm started by another Temple Lodge, No.33 member, Herbert William Dickie.
Herbert W. Dickie died in 1949 but his firm continued operating until 1999, when it was purchased by Pacific Coast Credit Union.
H.W. Dickie Ltd. performed a major renovation on this building in 1962, gutting the interior and creating "a main public office, three salesmen's interview offices, five private offices, a built in vault, salemen's work office, a solicitor's office, a photographic and print room and other storage space." According to contemporary reports in the Cowichan Leader newspaper, the total cost of the purchase of this building and the subsequent renovations by H.W. Dickie Ltd. in 1962 was $55,000.
Would you like to leave a comment or question about anything on this page?