As part of our Vancouver Island Masonic History Project, with its sections on Vancouver Island Cemeteries – Masonic Interments and Deceased Brethren, here is a page on James Allen Grahame, who is buried in Ross Bay Cemetery, Victoria, B.C.
James Allen Grahame came to Victoria, B.C. as a factor with the Hudson's Bay Company. He was a member of Multnomah Lodge, No. 1 (Oregon), Vancouver Lodge (now Vancouver & Quadra, No. 2.) as well as being active in the Royal Arch.
He was a leading figure in the creation of the Grand Lodge of B.C. in 1871.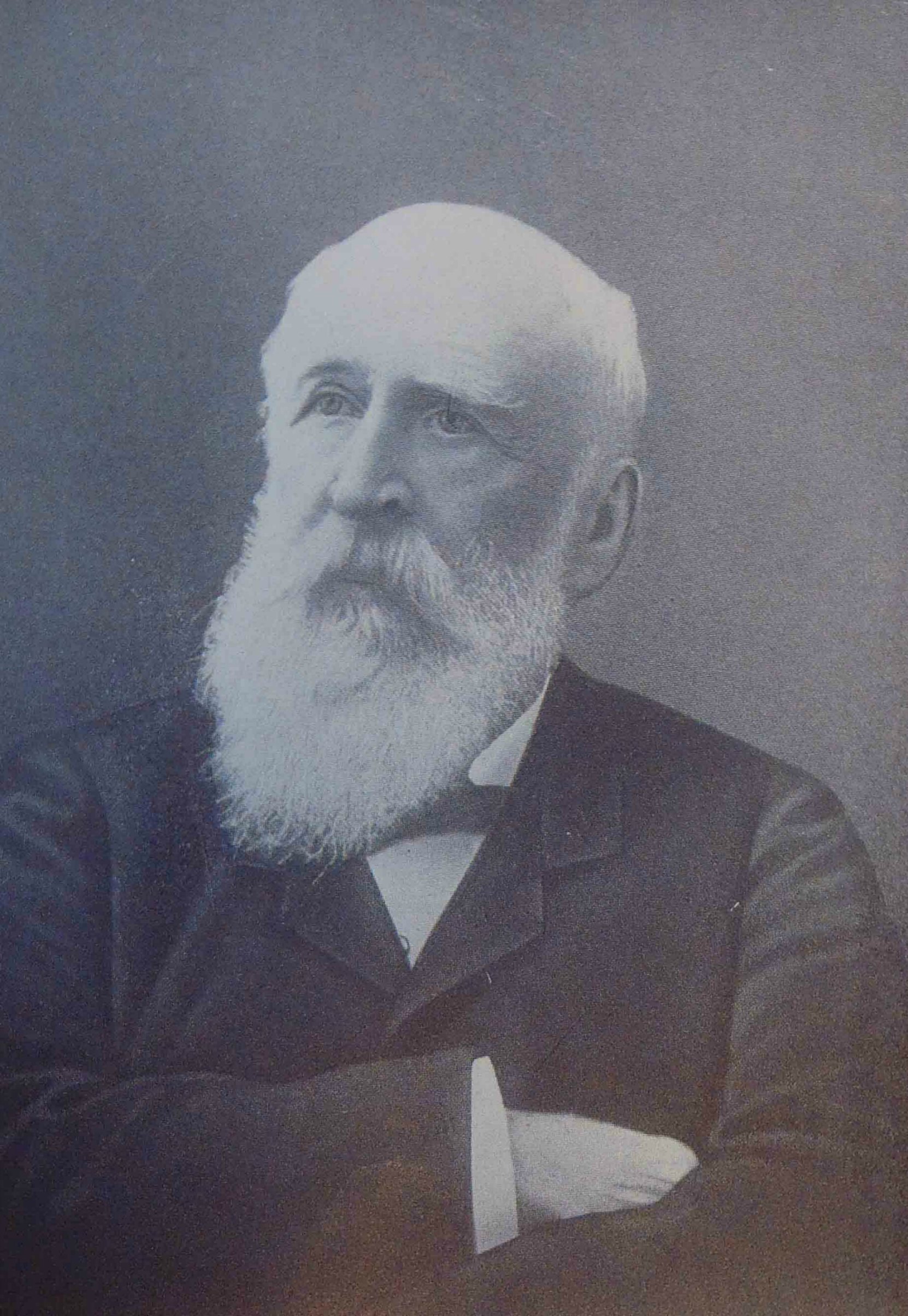 Here is some biographical information on Very Worshipful Brother James Allen Grahame, taken from various sources:
"James Allen Grahame
"Canadian history, embracing commercial development and civilizing influences, has its root in the work of the Hudson's Bay Company and the enterprising men who inaugurated and controlled its affairs. A great system, embracing all the features of military organization with business enterprise, was taking advantage of the opportunities offered in this land for fur trading. Its representatives were not a class of adventurers: they who were in control of its interests in America were men of splendid business capacity, of sound judgment, of keen discernment and of unfaltering enterprise, and in the establishment of the great commercial undertaking with which they were connected they also laid the foundations of Canada's civilization and its present progress and prosperity. Prominent in this connection was James Allan Grahame, whose last days were spent in honorable and well earned retirement in Victoria. . He was born December 22, 1825, at Raeburn Place, Edinburgh, Scotland, his parents being James and Lillias (Allan) Grahame, the former well known as a writer and contributor to the Signet.
While pursuing an academic course of study James A. Grahame was a class­mate of Sir John Reid, R. N., for many years a resident of Vancouver. He was eighteen years of age when he entered the service of the Hudson's Bay Company as an apprentice clerk under contract for five years with a progressive salary of twenty, twenty-five, thirty, forty and fifty pounds per annum. On one of the company's sailing vessels he crossed the Atlantic in 1843, arrived at Hudson's Bay and thence traveled overland by way of Norway House to Fort Garry, where he spent the succeeding winter. He performed all the duties-incident to his position and gradually increased in usefulness, so that larger responsibilities were given over to his care. Having been appointed to the Pacific coast department he crossed the continent accompanied by Joseph McKay and others, journeying by way of Edmonton and Yellowhead Pass and down the Columbia river to old Fort Vancouver, Washington, where was located the principal depot of the company, then m charge of Dr. John McLoughlin, who was succeeded by Sir James Douglas. On the site of the present city of Portland, Oregon, Mr. Graham first met the Hon. M. T. W. Drake, later of Victoria, and this constituted the beginning of a friendship that endured as long as life lasted.
In 1853 Mr. Grahame was promoted to the position of chief trader and continued at Fort Vancouver until 1860 or until the dispute between Great Britain and the United States concerning the boundary line was settled. He then closed tip the affairs of the Hudson's Bay Company at that place and turned over the fort to the United States military authorities, after which he made his way north­ward to Victoria, which city he had previously visited on several occasions. Later in the same year, however, he started for his native land, traveling by way of the Panama route. He made an extended visit in Great Britain and during that period his eighteen years of able administrative efficiency and loyally were rewarded by promotion to the rank of chief factor. The following year he returned to the new world and, traveling by way of Montreal and St. Paul, eventually reached the Norway House department at the north end of Lake Winnipeg, one of the com­pany's most important posts, there assuming charge as chief factor. In 1867 he again visited British Columbia, traveling by way of New York, Panama and San Francisco, and while en route he participated in the ceremonies commemorating the birthday of the confederation at Hamilton, Ontario. On his arrival he at once took charge at Quesnelle and Fort St. James, New Caledonia, and brought to bear the same systematic and progressive management in the conduct of the company's interests at this place that he had previously displayed. In 1869 he was summoned to London and crossed the country over the Central Pacific, which was the first trans-continental railway opened. He completed the journey from Victoria to London in nineteen and a half days, being the quickest passage on record up to that time. He was in England at the time the first Riel rebellion occurred.
Mr. Grahame again came to Canada in May, 1870, at which time he assumed entire charge of the interests of the Hudson's Bay Company on the Pacific coast. In 1872 he was once more called to London and, traveling over the Union Pacific Railroad, encountered the terrific snowstorms of that memorable winter, the journey from San Francisco to New York consuming twenty-six days. Upon his return to America in May of the same year he saw the ruins wrought by the great Chicago fire which had occurred in the previous October. While in London Mr. Grahame had been promoted to the position of sub-commissioner, which rank he retained until 1874 when he was once more called to London and was appointed chief commissioner with headquarters at Fort Garry, now Winnipeg. He entered upon the duties of that position on the 1st of June, following the retirement of Hon. Donald A. Smith, now Lord Strathcona and Mount Royal. During the period of his management as chief commissioner, the building of railways, the influx of immigration, the adjustment of tariffs and customs worked a revo­lution in the company's business and furnished opportunity for the exercise of his unusual and superior administrative faculties. He remained as chief com­missioner until 1884, when he retired and removed to Montreal. After three years he came to Victoria, where he lived continuously from 1887 until his death, one of the honored and respected citizens of the province whose life work was one of recognized value in the development and civilization of the country.
Mr. Grahame was married twice. He first wedded a daughter of the late Chief Trader Birnie, and one surviving son, James Ogden Grahame, is now a resident of Victoria. His second wife, who survives him, was a daughter of the late Hon. John Work and is a niece of the Hon. David Work, Canada's oldest senator. Of the children of this marriage, Harry M. Grahame, former alderman of Victoria, and two daughters, Lillian and Margaret, survive.
Mr. Grahame's prominent position with the Hudson's Bay Company made him known throughout the Canadian provinces and his acquaintance also broadened through his Masonic connections, for he was one of the most prominent represent­atives of the order on the Pacific coast. He was one of the organizers of the grand lodge of British Columbia and in 1872 served as deputy grand master, his removal to Manitoba preventing him from receiving further honors in that con­nection. He joined the craft in Multnomah Lodge, No. 1, A. F. & A. M., at Oregon City, Oregon, was there also a member of Clackamas Chapter, No. 2 R. A. M., and likewise belonged to California Commandery, K. T,, of San Francisco. In early days he served as master of the lodge at Fort Vancouver and he was an honorary member of the Vancouver and Quadra Lodge, No. 2, of Victoria, serving as master of the latter prior to the formation of the grand lodge. During his extended travels he participated in many notable Masonic events in Canada, Great Britain and the United States and was many times honored with appointment to the position of grand representative, while other honors and offices were conferred upon him. Death called Mr. Grahame June 19, 1905, when he was eighty years of age, and the following tribute was paid to him editorially by the Colonist: "We are chronicling today the death of James A. Grahame, for years well known to the citizens of Victoria and more especially to the older generation. He belongs to what may be spoken of as the old 'brigade' of the Hudson's Bay Company, now nearly all departed and including such contemporaries as Dr. Tolmie, Joseph McKay, Roderick Finlayson, A. C. Anderson, John Henry Work and others who came to the west about the same time and assisted in the pioneer work of fur trading and as citizens of the province in its subsequent development. The names of these men must live in the early history of the country not only as factors of a great commercial company but in a national sense as builders and founders— nation makers—-along with Dr. McLoughlin and Sir James Douglas, the two guiding spirits of the western division of the Hudson's Bay territory. The latest of this band of pioneers to depart the land of their adoption and making had for some years ceased to take, active interest in affairs and was best known as a retired citizen and a figure of the past. He did his work in the days gone by as a pioneer and as a 'trail blazer.' The present generation can but faintly, understand the strenuous nature of the life he in common with men designated 'the lords of the forest' led. There was much that was picturesque and fascinating about the lives of these men, and if they had left us more in the way of reminiscence about their lives and the country as it was under their rule, we would have the materials for a great history and works of fiction as engrossing as those of Fenimore Cooper. They were, however, as a rule prosaic men and not given to making memoirs, and as a consequence of their modesty have deprived the historian of much that he would be glad to possess."
Mr. Grahame was a member of the Episcopal church, although brought up in the Church of Scotland and was prominent in social organizations, belonging to the Union Club of Victoria, the St. James Club of Montreal and the Manitoba Club of Winnipeg. He had wide acquaintance among men of prominence through­out the country and was honored and respected by all because of the sterling worth of his character and his notable achievements. He was generous in his charities yet extremely modest and unostentatious in his mention of any beneficence. He stood in all things as he did in his connection with the Hudson's Bay Company— the embodiment of the spirit of progress and improvement, loyal to his duties, faithful to his trust and honorable at all times and in every relation."
(Source: This is from an early 20th book called B.C. Biographies, Vol. 2, pages 822-824. No publication information was included in the book so none is cited, other than title and page numbers.)
James Allen Grahame is buried in Ross Bay Cemetery, Victoria, B.C.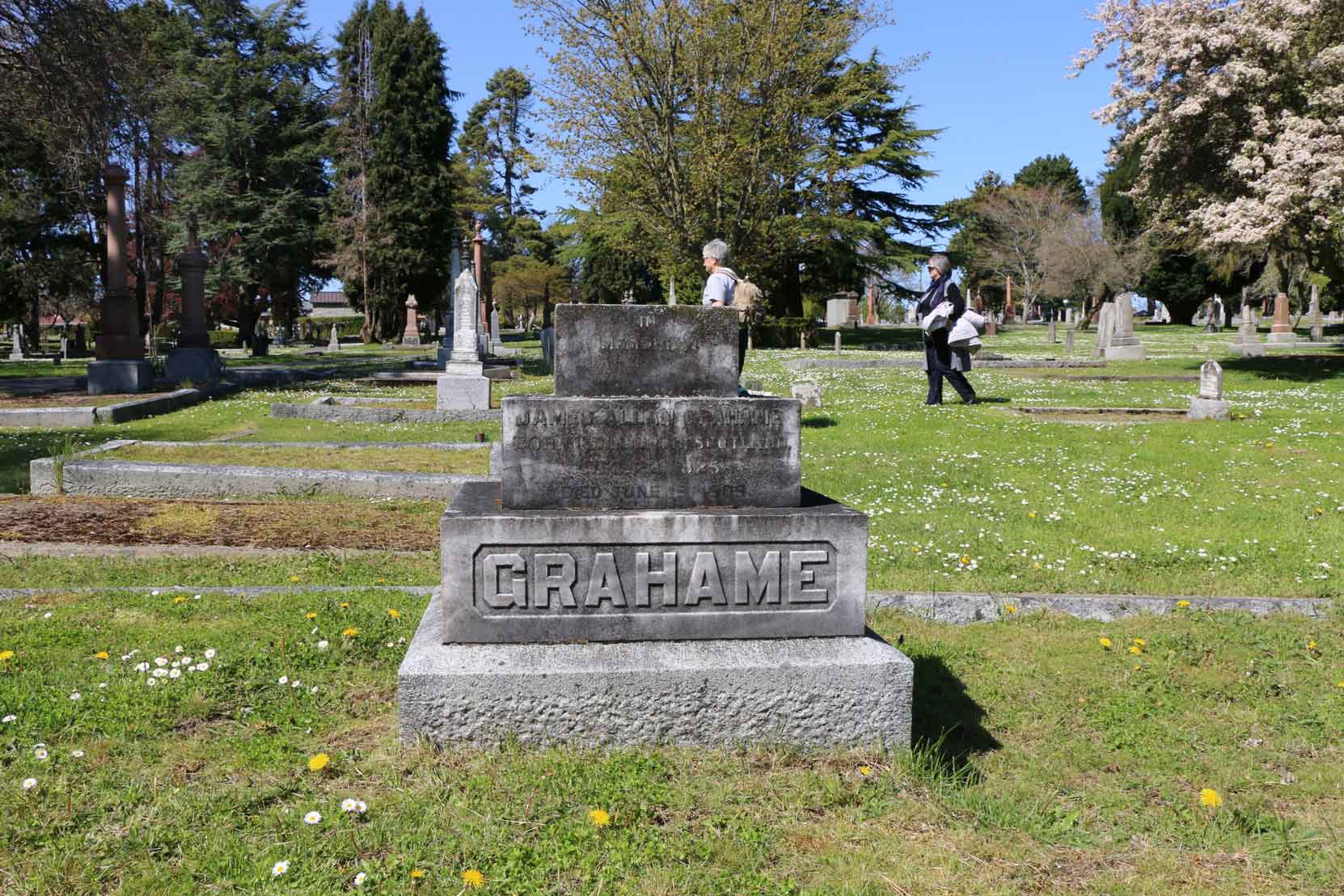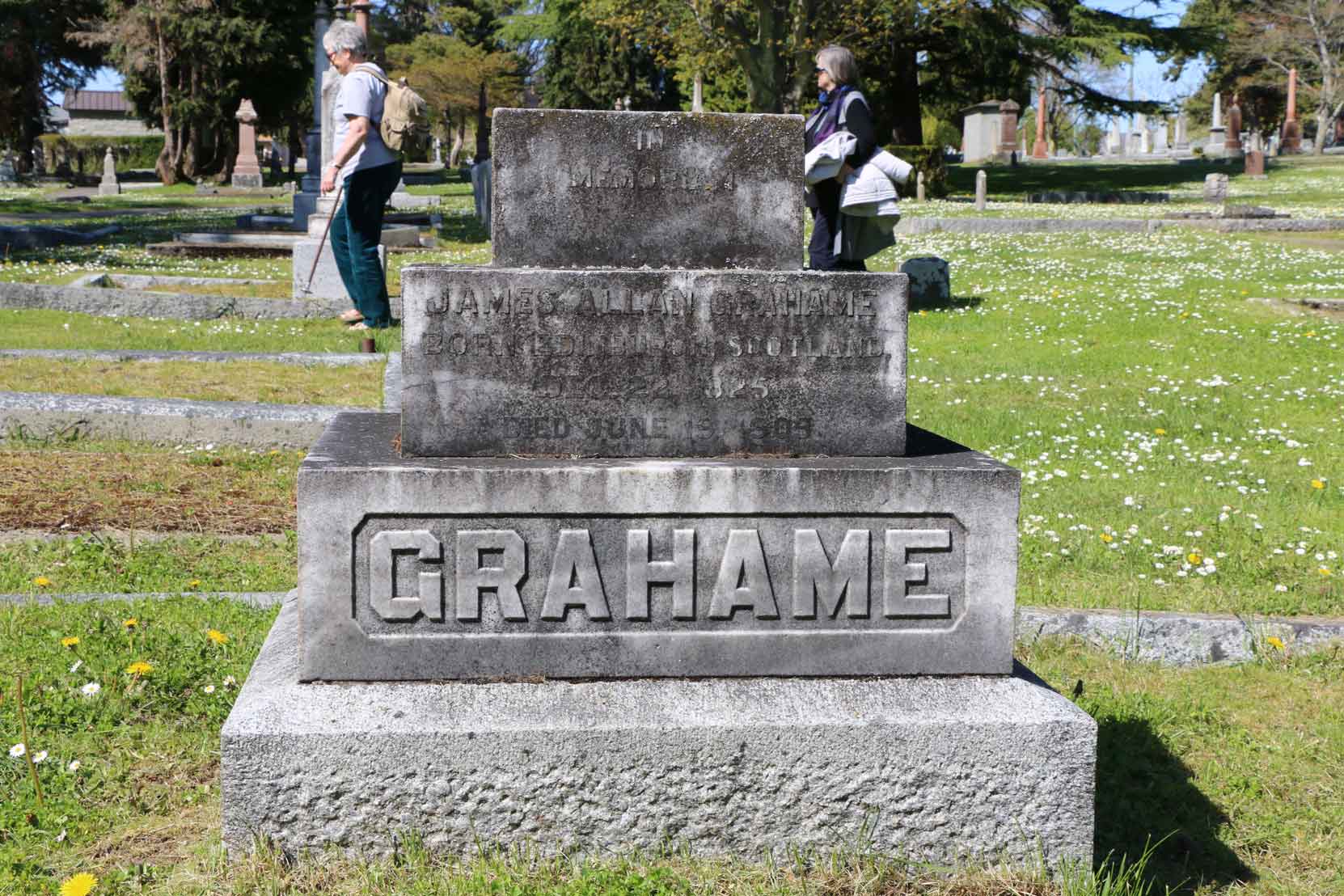 Would you like to leave a comment or question about anything on this page?