As part of our Vancouver Island Masonic History Project, here is a page on Isador Lancaster (died 17 October 1924, aged 48), who is buried in Victoria Jewish Cemetery.
Isador Lancaster was a member of Vancouver & Quadra Lodge No.2 and his headstone displays a Masonic Square and Compasses.
Here are the local newspaper reports of Isador Lancaster's death and funeral:
"Mr. Lancaster Dies In San Francisco
Mr. Isador Lancaster, formerly engaged in the clothing business here for twenty-five years and well-known to all old Victorians, died on Friday in San Francisco, where he had taken up his residence a month previously. Before leaving this city for the south, his home was at 194 Joseph Street.
Mr. Lancaster was a member of the Knights of Pythias and of the Masons, his lodge in the latter organization being the Vancouver-Quadra.
Surviving him are his widow,; a son Gerald and daughter Esther; one nephew here, Mr. A. Lancaster of the Army and Navy Clothing Store; and one brother and four sisters in England. He was a native of London, England.
The funeral arrangements at present incomplete are in the hands of the B.C. Funeral Company."
(Source: Daily Colonist, 19 October 1924, page 5)
"The remains of the late Mr. Isador Lancaster will arrive [in Victoria from from San Francisco] Wednesday afternoon and will be conveyed to the B.C. Funeral Chapel, where service will be held at 3:30. Interment will take place in the Jewish Cemetery."
(Source: Daily Colonist, 21 October 1924, page 5)
"FUNERAL NOTICE
Members of Vancouver and Quadra Lodge, A.F. & A.M., G.R.B.C., are requested to assemble at the Masonic Temple on Wednesday October 22, at 3 p.m. for the purpose of attending the funeral of their late Brother, Isadore Lancaster.
Members of local Lodges and sojourning brethren in good standing are invited to attend.
Francis F. Fatt, Secretary"
(Source: Daily Colonist, 21 October 1924, page 5)
We will do some additional research on Isador Lancaster and post what we find.
Isador Lancaster is buried in Victoria Jewish Cemetery, Victoria, B.C.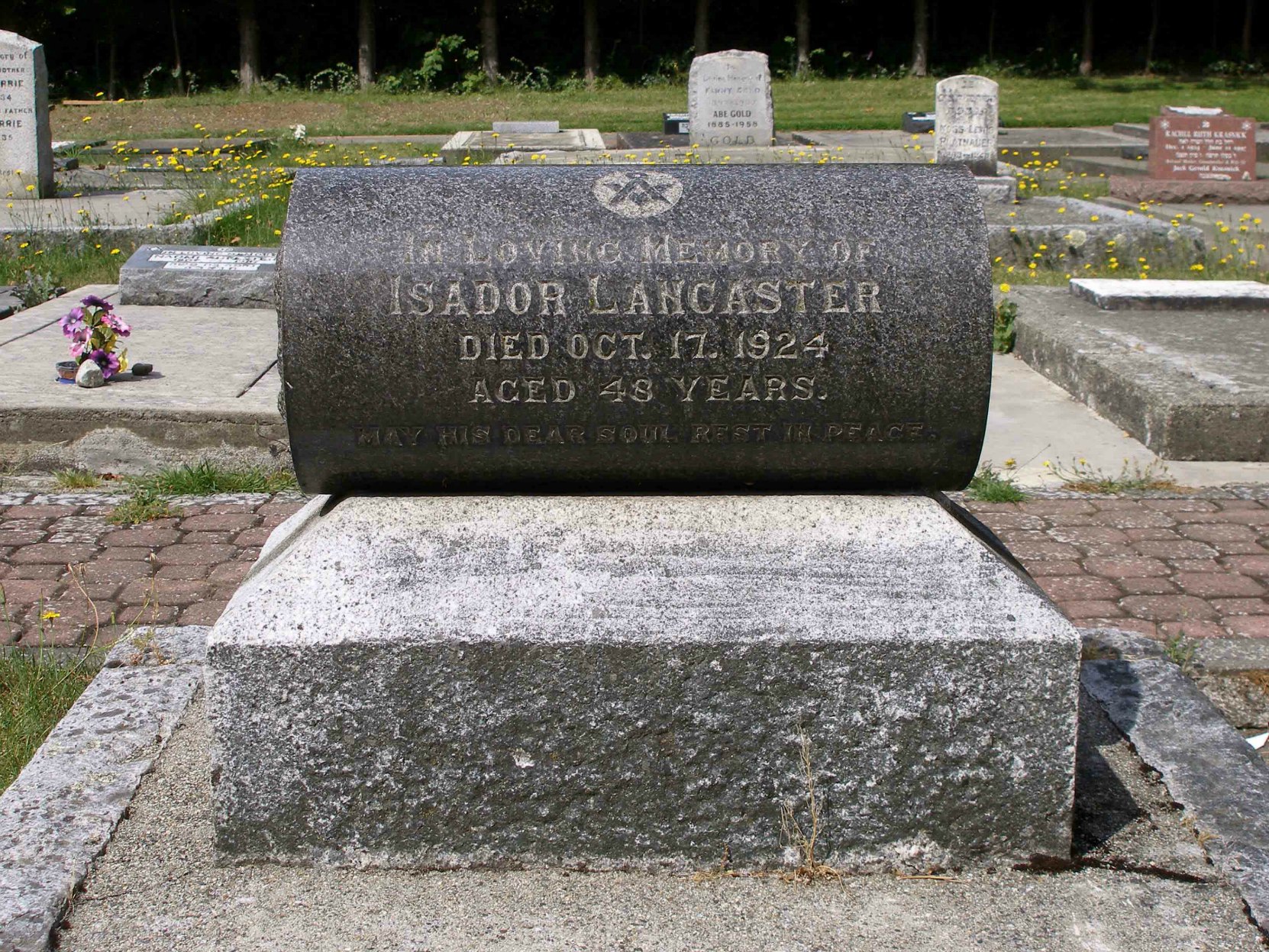 Would you like to leave a comment or question about anything on this page?