As part of our Vancouver Island Masonic History Project, with its sections on Vancouver Island Cemeteries – Masonic Interments and Deceased Brethren, here is a page on Innocent Ragazzoni (1828-1880), a member of Victoria-Columbia Lodge, No.1, who is buried in Ross Bay Cemetery, Victoria, B.C.
The B.C. Archives has a 19th century photo showing three Freemasons in regalia. One is Paul Medana and we believe one is Innocent Ragazzoni, although the figure is identified as "J. Ragazzoni".
Here is a brief biography of Innocent Ragazzoni taken from various sources:
"Sudden Death of a Well-known Resident
———–
Mr. Innocent Ragazzoni, the well known proprietor of the Metropolitan restaurant, Government street, died suddenly at 8 o'clock yesterday morning. The deceased was attending to his business as usual all day Tuesday, but towards the evening complained to several gentlemen that he was suffering from a strange and acute pain in the head. It was observed that his countenance was unusually pallid and wan, and he was advised to retire to his apartments on Fort street and take medicine to relieve the pain. He, however, declined and about 11 o'clock he was noticed by people passing the restaurant to be sitting in a chair in front of the stove with his back to the window and resting his head in his hands. Two hours later Officer Lindsay and special Officer Ogilvie noticing that gas was still burning in the restaurant, went there and found the deceased sitting in the same position, but his head was then resting on his breast. Officer Ogilvie made several attempts to arouse him and at last succeeded, when the deceased expressed surprise at the lateness of the hour. In a somewhat incoherent manner he invited the officers to take something to drink and after that the officers assisted him to turn out some of the lights, inquired if the back doors were locked and then left the premises. Twenty minutes later the place was observed to be in total darkness and all the front doors locked as usual. Yesterday morning when the cook went to his work groans were heard coming from a small apartment at the rear of the restaurant, in which the deceased occasionally slept. An entrance having been effected to the room the deceased was discovered in bed in a speechless condition and evidently dying. Although everything was done to revive him, and medical assistance was at once sent for, he never rallied, but shortly after 8 o'clock passed quietly away a victim to heart disease. The deceased first came to this Province with the rush from California in 1858, but like many others left shortly afterwards. Possessing a liking for the country, however, he returned to it in 1862 and established himself in the grocery business on the corner of Yates and Douglas streets. Two years later he sold out and removed to premises on Johnson street where he went into the coffee and spice trade. In 1873 he took a trip to Chili [sic], returning in 1875, when he opened the Metropolitan, conducting it to the hour of his death. He was a man of good education and possessed a great love for music. He was an accomplished violinist and in early days in California frequently made $30 a night by playing at concerts. He was an honorary member of Victoria-Columbia Lodge, A.F. & A.M., a member of Victoria Lodge, No. 1, I.O.O.F., and belonged to the Pioneer Society of this city. He was born at Novara, Lombardy, in December 1828 and was consequently in his fifty-second year. The body was conveyed to Odd Fellows' Hall and the funeral will take place on Sunday [4 April 1880] under the auspices of the I.O.O.F. and the Pioneers."
(Source: British Colonist, 1 April 1880, page 3, column 3)
"THE FUNERAL of the late Mr. I. Ragazzoni which took place on Sunday afternoon was very numerously attended, the cortege comprising members of the I.O.O.F., the Pioneer Society and a large number of friends and acquaintances who followed the hearse to Ross Bay cemetery in carriages and on foot."
(Source: British Colonist, 6 April 1880, page 3, column 3)
Innocent Ragazzoni is buried in Ross Bay Cemetery, Victoria, B.C.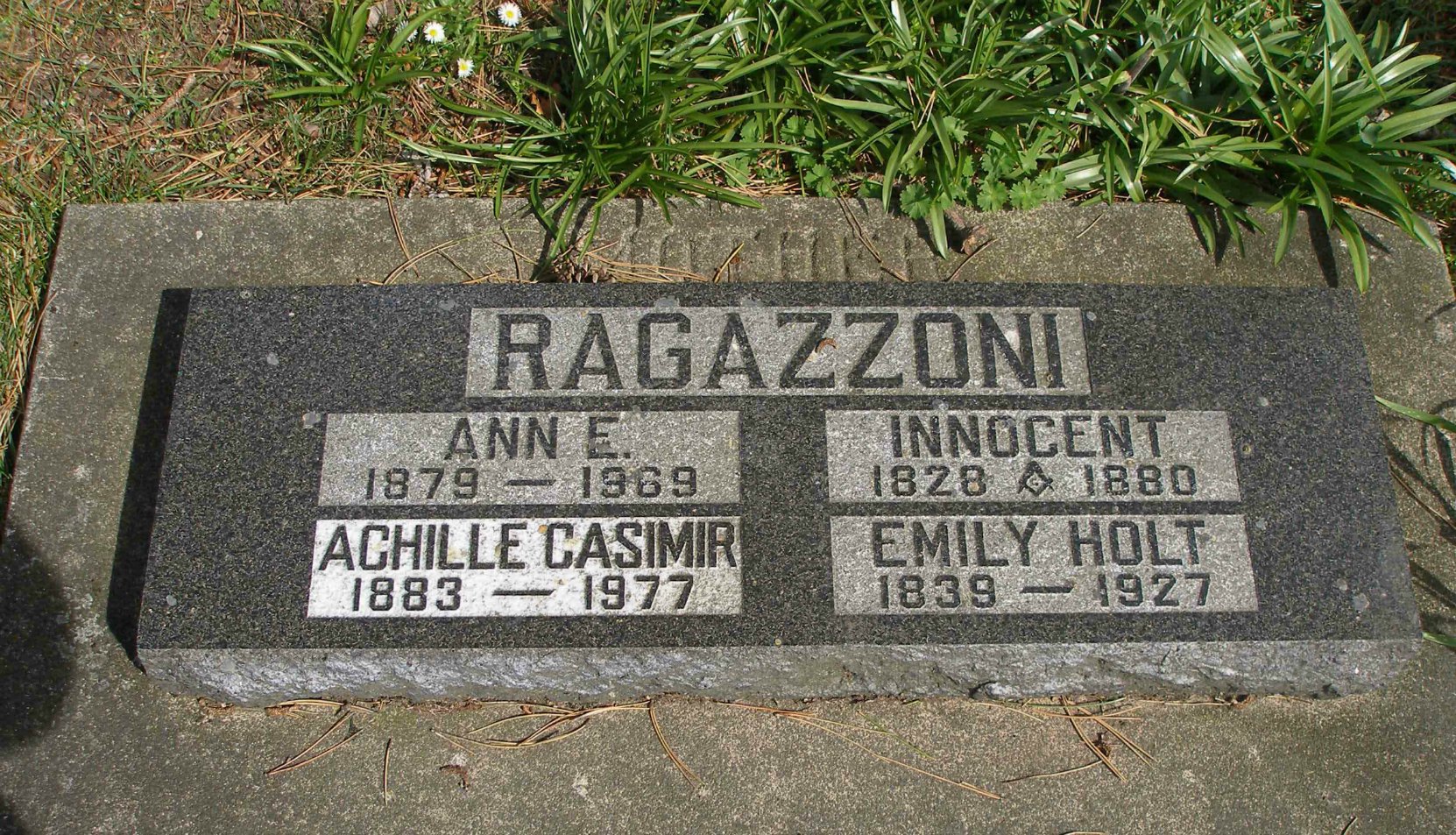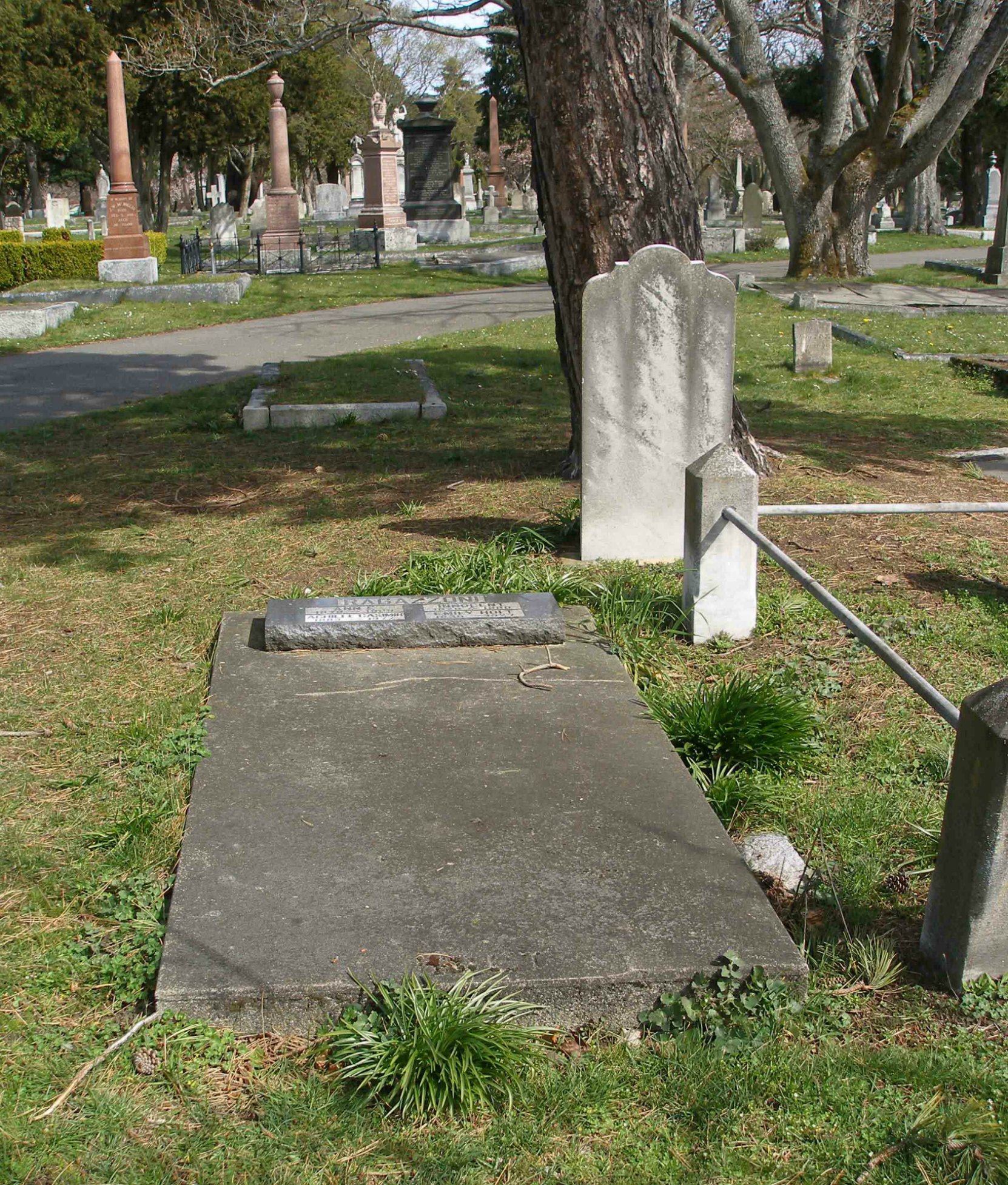 Would you like to leave a comment or question about anything on this page?