As part of our Vancouver Island Masonic History Project, with its sections on Vancouver Island Cemeteries – Masonic Interments and Deceased Brethren, here is a page on Francis Jones Barnard (1839-1889), who is buried in Ross Bay Cemetery, Victoria, B.C.
Francis Jones Barnard (1839-1889) was a prominent businessman in 19th century British Columbia. His home, Duvals Cottage, is still standing on Rockland Avenue in Victoria.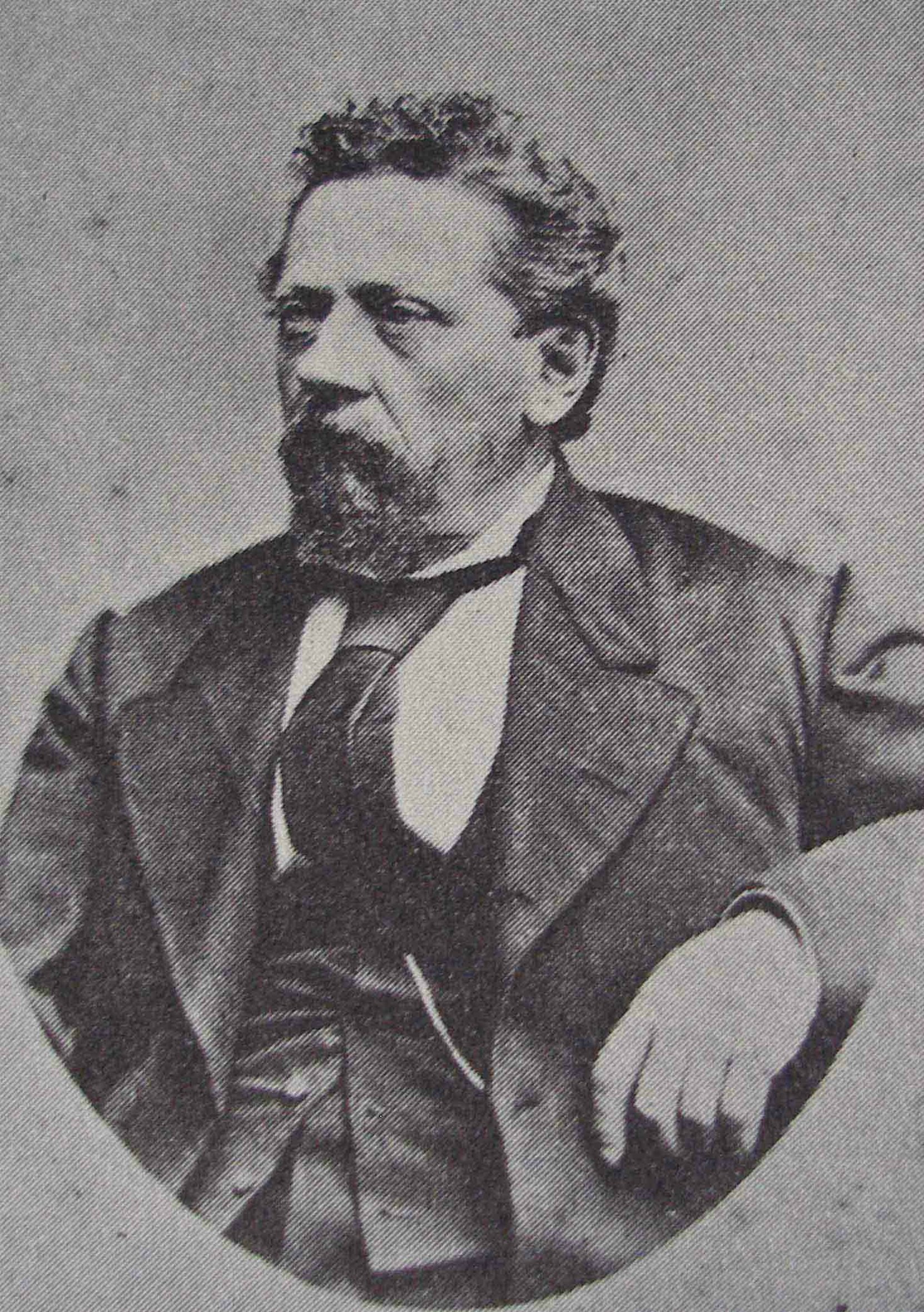 One of his sons, Sir Frank Stillman Barnard (1856-1936), was also a Freemason and also prominent in business and politics. He served as Lt. Governor of British Columbia and as a federal Member of Parliament.
Here is a brief biography of Francis Jones Barnard taken from contemporary newspaper accounts of his death and funeral:
"DIED – BARNARD – In this city, on the 10th inst., Francis Jones Barnard, a native of Quebec, aged 60 years.
The funeral will take place on to-morrow (Friday) at 10:30 a.m., from his late residence, Duvals Cottage, Belcher street."
[Note: Belcher Street has been re-named Rockland Avenue. Duvals Cottage is still standing on Rockland Avenue]
(Source: Daily Colonist, 11 July 1889, page 4)
"DEATH OF MR. F.J. BARNARD
—————-
One of British Columbia's Earliest Pioneers Passes to His Rest
—————-
Francis Jones Barnard, ex-M.P. for Yale District, died at Duval Cottage at 5 o'clock yesterday morning of paralysis in the 61st year of his age. The deceased was one of the first pioneers of British Columbia, in whose history he has played a prominent part. He was born in the city of Quebec in 1839, his father, Isaac Barnard, being a U.E.Loyalist. He came to British Columbia in 1859, during the gold excitement, and took up his residence in Yale. He established an express line to Cariboo in 1861; at first carrying the express on his back, afterwards by pony express. In 1863 this was merged into the Barnard Express and Stage Line, carrying the mails and treasure from Barkerville to Yale. In 1878 this was incorporated as the B. C. Express Co, and the business was later on acquired by his eldest son, Mr. Frank Barnard and Mr. S. Tingley. In connection with late James Hamilton and S. Tingley the deceased was the founder of the present Victoria Transfer Co., one of the largest on the coast. The deceased in 1866 was elected to the legislative assembly of British Columbia for Yale District, holding office until the term prior to the province entering Confederation in 1871. The deceased took an active part in the confederation movement and was a member of the Yale convention which sat in 1864. In 1874 he was awarded the contract for the construction of the C.P.R. telegraph line from Edmonton to Cache Creek, but this work was never completed owing to the alteration in the route.
In 1879 Mr. Barnard was returned as the representative for Yale-Kootenay district in the Dominion parliament, on the appointment of the sitting member, Mr. Dewdney, to the office of Indian Commissioner. He was re-elected at the succeeding election in 1882, being opposed by Mr. James Robinson and Mr. F.G. Vernon. In 1886, owing to failing health, he did not again seek re-election, and since that time has not been engaged in active business.
The deceased leaves a wife who has been a most faithful helpmeet during his eventful career, and during the last years of his life has been most devoted in her attention to the many requirements of an invalid. Three children and a brother and sister also mourn his death. The former are Mr. Frank Barnard, M.P., and Mr. Geo. H. Barnard, Victoria, and Mrs. J. A. Mara, of Kamloops. The latter are Mr. James T. Barnard, of Hamilton, Ont., who has been in the city for the last several weeks, and Mrs. G. A. Sargison, of Victoria.
The funeral will take place to-morrow (Friday) morning, from his late residence, at 10:30 a.m. The Pioneer Society, of which the deceased was an honored member, will attend in a body."
(Source: Daily Colonist, 11 July 1889, page 1, column 5)
"The Late F.J. Barnard – The funeral of the late Mr. F.J. Barnard took place yesterday morning, and was attended by a large number of sympathizing friends, who had known the deceased and admired him for his many good qualities of head and heart. At the family residence, Duval Cottage, Belcher street, and at the grave, the services were conducted by Rev. P. McF. Macleod, pastor of St. Andrew's Presbyterian church. The following were the pallbearers: His Honor Lieut.-Gov. Nelson, Hon. John Robson, M. P. P.; Mr. Speaker Pooley, Q.C., M. P. P.; Thomas Earle, W. C. Ward, Edgar Marvin, D. W. Higgins, M.P. P. and Forest Angus."
(Source: Daily Colonist, 13 July 1889, page 4, column 2)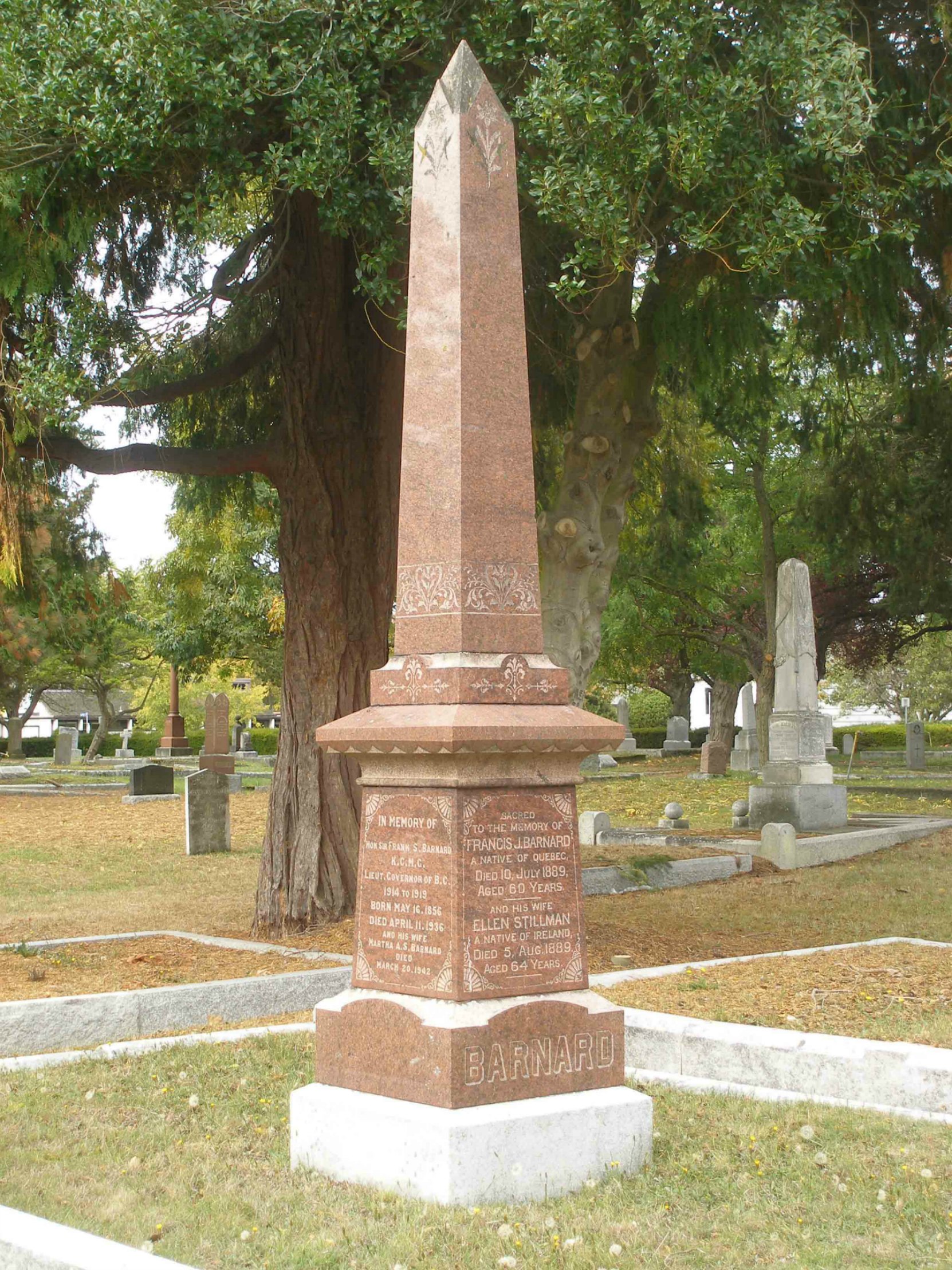 Would you like to leave a comment or question about anything on this page?