As part of our Vancouver Island Masonic History Project, with its sections on Vancouver Island Cemeteries – Masonic Interments and Deceased Brethren, here is a page on Donald Grant (1848-1915), who is buried in Ross Bay Cemetery, Victoria, B.C.
We do not know a lot about Donald Grant. His gravestone in Ross Bay Cemetery says he was born at Hants County, Nova Scotia on 4 November 1848 and died at Victoria, B.C. on 10 September 1907. His gravestone displays the Masonic Square and Compasses and the I.O.O.F. three rings symbol.
Here are local newspaper reports of Donald Grant's death and funeral:
"OLD RESIDENT CALLED
 —————–
Donald Grant, Who Came To Coast In 1879, Succumbs To Illness
—————–
An old resident, who has made his home in Victoria for close on thirty-five years, passed away at the family home, 402 Hillside avenue, yesterday. This was Donald Grant, a well-known citizen, who succumbed at the age of 68 to an illness which first showed serious symptoms about four months ago.
A native of "The Gore," Hants county, Nova Scotia, the late Mr. Grant was educated in his native province, and for some years worked as a shipwright. In 1879 he came out to the Pacific Coast, making his way to British Columbia by way of San Francisco. For many years he was employed building bridges on the C.P.R.  between Yale and Donald. For the last thirty years he had worked periodically for the Canadian Pacific railway and the C.P.R. coast service, until severe illness about four years ago forced him to retire.
A member of the order of Masons, the funeral, which is to be held a 2.30 on Monday afternoon from the residence, Hillside avenue, will be under the auspices of that body. Mr. Grant was also a member of the Odd Fellows, of the A.G.U.W., and of the Woodmen of the World.
Besides his widow, he is survived by a married daughter, Mrs. Ruby Bird, whose husband, A.H. Bird, has been connected for the past twelve years with the C.P.R. coast service."
(Source: Victoria Daily Times 11 September 1915 page 11)
Donald Grant is buried in Ross Bay Cemetery, Victoria, B.C. along with his wife Sarah Jane Grant (24 July 1853-7 April 1920) who was also born at "The Gore," Hants county, Nova Scotia.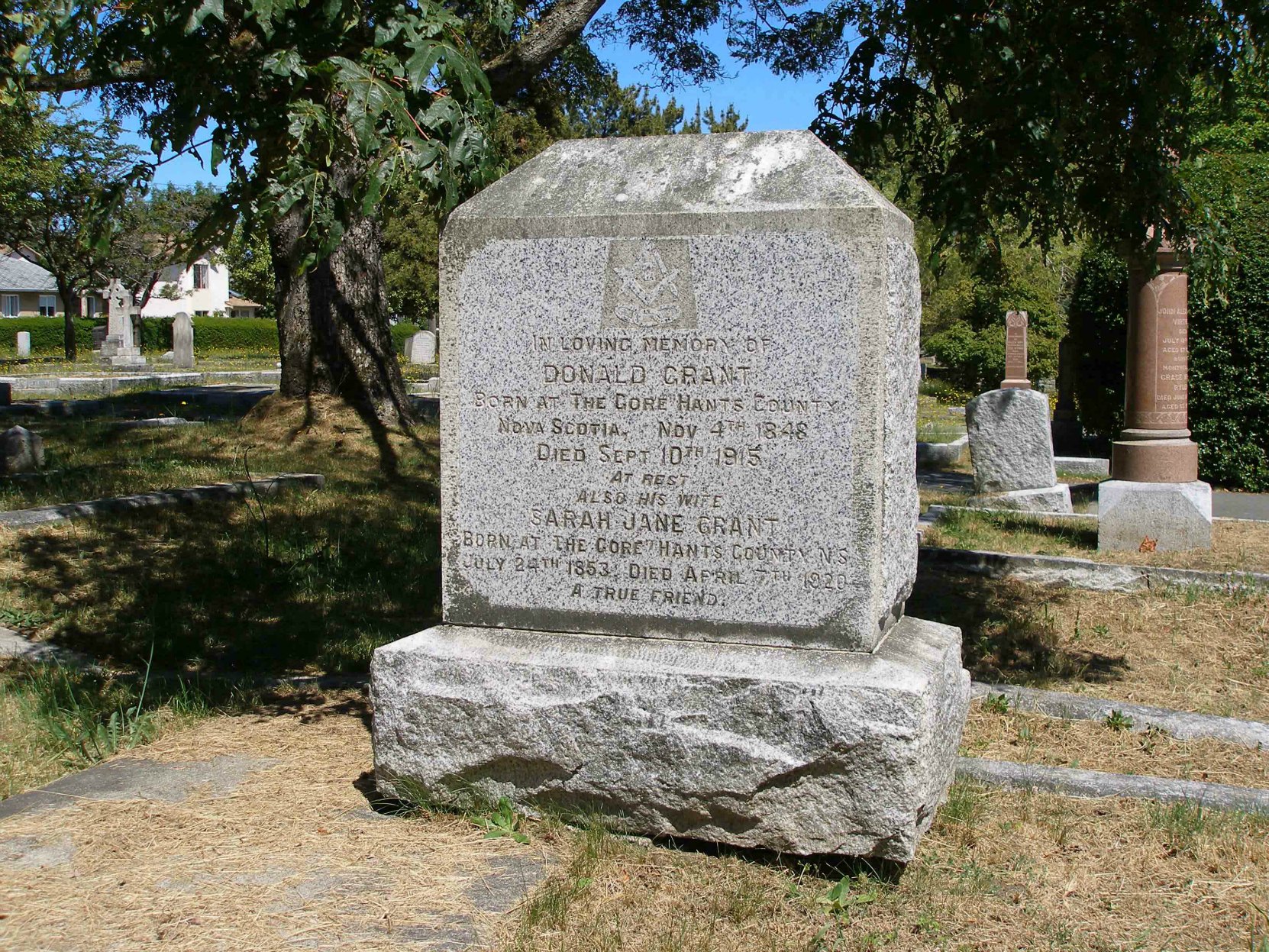 Would you like to leave a comment or question about anything on this page?