Robert Henry Whidden joined Temple Lodge No. 33 in the 1930's and remained a member until his death in 1940.
Robert Henry Whidden came to Duncan circa 1888 and opened a wheelwright business on what is now Government Street. In 1893 he began making caskets and gradually moved into the funeral business, becoming Duncan's first undertaker. He remained in the funeral business in Duncan until he sold his business in 1939.
Robert Whidden also served in the Duncan Volunteer Fire Department, which contributed the photo below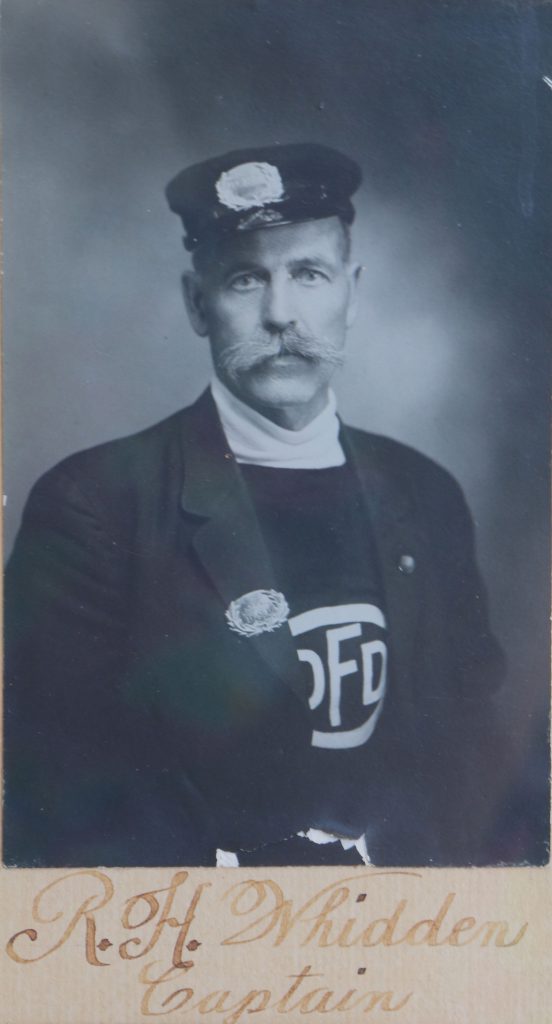 Here is some information on Robert Henry Whidden taken from Cowichan Valley Museum & Archives files:
"First Undertaker
Mr. Whidden arrived in Canada in 1887. He was first employed as a carpenter, in the construction of the Indian Boys School on Kuper Island.
Shortly thereafter, he came to Duncans where he started a wheelwright business on Government Street.  In 1893, he saw the need for someone to build caskets. That is when he started as an Undertaker.
He had a new building built in the late 1920s [note: this building was apparently on Ingram Street. It has since been demolished.]  Mr. Whidden continued in business until ill health  forced him to retire. His son Wallace worked in the business for two years when his father was not well.  The business was sold in 1939 and Mr. Whidden died in 1940 [in Victoria]."
(Source: statement by Gwen Owens Smith (Robert Whidden's grand daughter), August 1998, in Cowichan Valley Museum & Archives files)
We will do more research on Robert Henry Whidden and post what we find.
Would you like to leave a comment or question about anything on this page?