Joshua Freeeman Marshall joined Temple Lodge No. 33 in 1924-25. He then became a Charter Member of Chemainus Lodge, No. 114 in 1926. He dimitted from Temple Lodge, No. 33 in 1928 but remained a member of Chemainus Lodge, No. 114.
Joshua Freeeman Marshall was Worshipful Master of Chemainus Lodge, No. 114.
Here is a brief biography of Joshua Freeman Marshall taken from local newspaper reports of his death and funeral:
"Marshall – Following a paralysis stroke on December 30, Mr. James Freeman Marshall passed away at his home in Chemainus. Born in Vermont, U.S.A. on October 6, 1852, he came to Chemainus in May 1890 from Marshfield, Wis.
For many years he was employed by the V.L. & M. Co as boom man. He then became log scaler for the B.C. government, a post from which he retired two years ago.
He and his wife, who died some three years ago, were devoted to gardening and many prizes came to them. Mr. Marshall's specialty was dahlias. He leaves a son and daughter, Mr. James Marshall and Mrs. Rosalind Finlayson, and two grandchildren, at Chemainus.
He will be greatly missed by a wide circle of friends. He had been a member of the Masonic order for over 50 years and the funeral on Sunday afternoon was under the auspices of Chemainus Lodge, No. 114, A.F. & A.M. Some 80 brethren, from near and far, joined with the congregation at Calvary Baptist Church, where the Rev. E.M. Cook paid tribute to an old friend in the course of the service. "Rock of Ages" and "Abide With Me" were sung and a quartet, Messrs. J.C. Adam, A.E. Craig, H.W. Evans and S. Irvine, sang "Days and Moments." Mrs. Hallberg was at the organ.
At Chemainus cemetery interment was by the side of Mrs. Marshall. There the Masonic service was conducted by W. Bro. C.G. McInnes, W.M. The pallbearers were Dr. D.E. Kerr, Messrs. W.M. Dwyer, Stanley Gordon, N.F. Lang, A.V. Porter and C. Pederson. Honorary pallbearers were Messrs. F.A. Porter, T.H. Porter, W.J. Porter, T.H. Porter, A.C. Smith, James Cathcart, sen., and J.R. Robinson, sen.
Messrs. D.J. Jenkins, Nanaimo, were in charge of arrangements."
(Source: Cowichan Leader, 21 January 1932 – from Cowichan Valley Museum & Archives collections)
The following brief biography of Joshua Freeman Marshall was written by his daughter, Joyce Teevan, and is taken from a book on the Chemainus Valley, published in 1978 by the Chemainus Valley Historical Society:
"JOSHUA FREEMAN MARSHALL – 1892,
by Joyce Finlayson Teevan
Joshua Freeman Marshall was born in Wisconsin on October 6, 1852 and on January 18, 1882 married Mary Teresa Gerinty of Olmo, Wisconsin (rumour has it that she ran away from school to marry him, she was a Roman Catholic and he a Congregationalist, so there may have been some family opposition).
Mt grandfather was sent to Vancouver Island in 1890 as a timber cruiser for the holdings of the Weyerhauser Company in this area. He must have fallen in love with the country because he never returned to Wisconsin but, on completion of the job with Weyerhauser, he resigned and built a house on property on Chemainus Road near Pine Street. The house is no longer there, having burned down a few years ago. The house was completed in 1892, and he sent for his wife and small son, James. My mother Rosalind was born the following year in 1893. My grandfather then cruised for the Victoria Lumber and Manufacturing Company until 1911 when he became a government log scaler until his retirement in 1929.
In 1914 he sold his property on Chemainus Road to Daniels and built a home, "Stonycroft," at the corner of Cedar and Esplanade, where he remained until his death in 1931.
He was an amateur horticulturalist and specialized in breeding new varieties of dahlias. He was also an enthusiastic Mason and became a Past Grand Master of the Masonic Lodge [note: this is incorrect. He was not Grand Master of B.C. & Yukon. It must mean Past Master]. I spoke to the Porter girls (my mother's term for Mrs. Couper and Mrs. Bottomley) and they remembered parties at my grandmother's when they were young. They also remembered an unique butter churn my grandfather had invented to help my grandmother with churning. When they admired it, he built one for them too. As for schooling, I know my mother had to go to Victoria to attend High School and to Vancouver for Normal School."
(Source: Memories of the Chemainus Valley, Chemainus Valley Historical Society, 1978, page 219-20)
Joshua Freeman Marshall is buried in Chemainus Cemetery, Chemainus, B.C.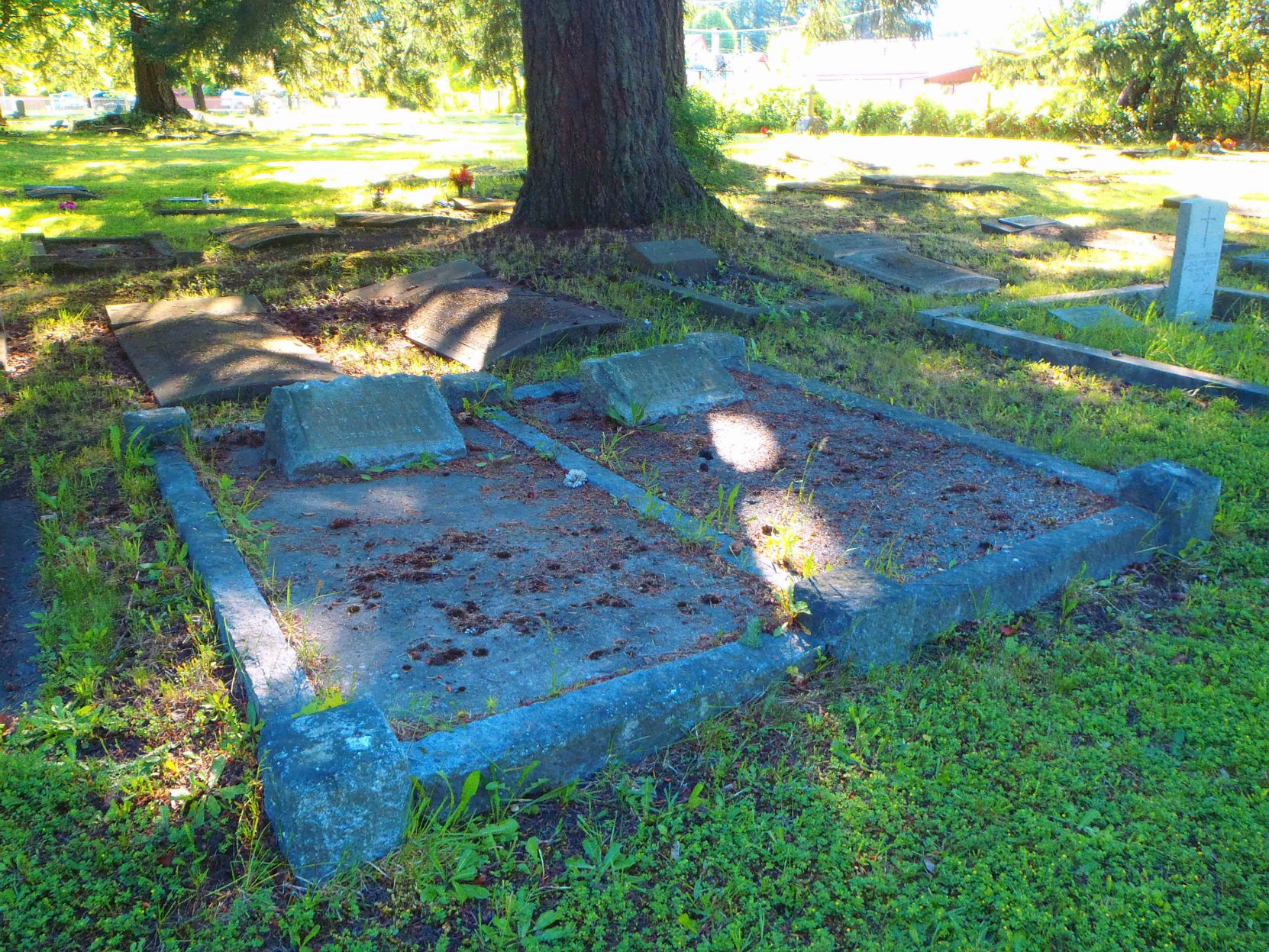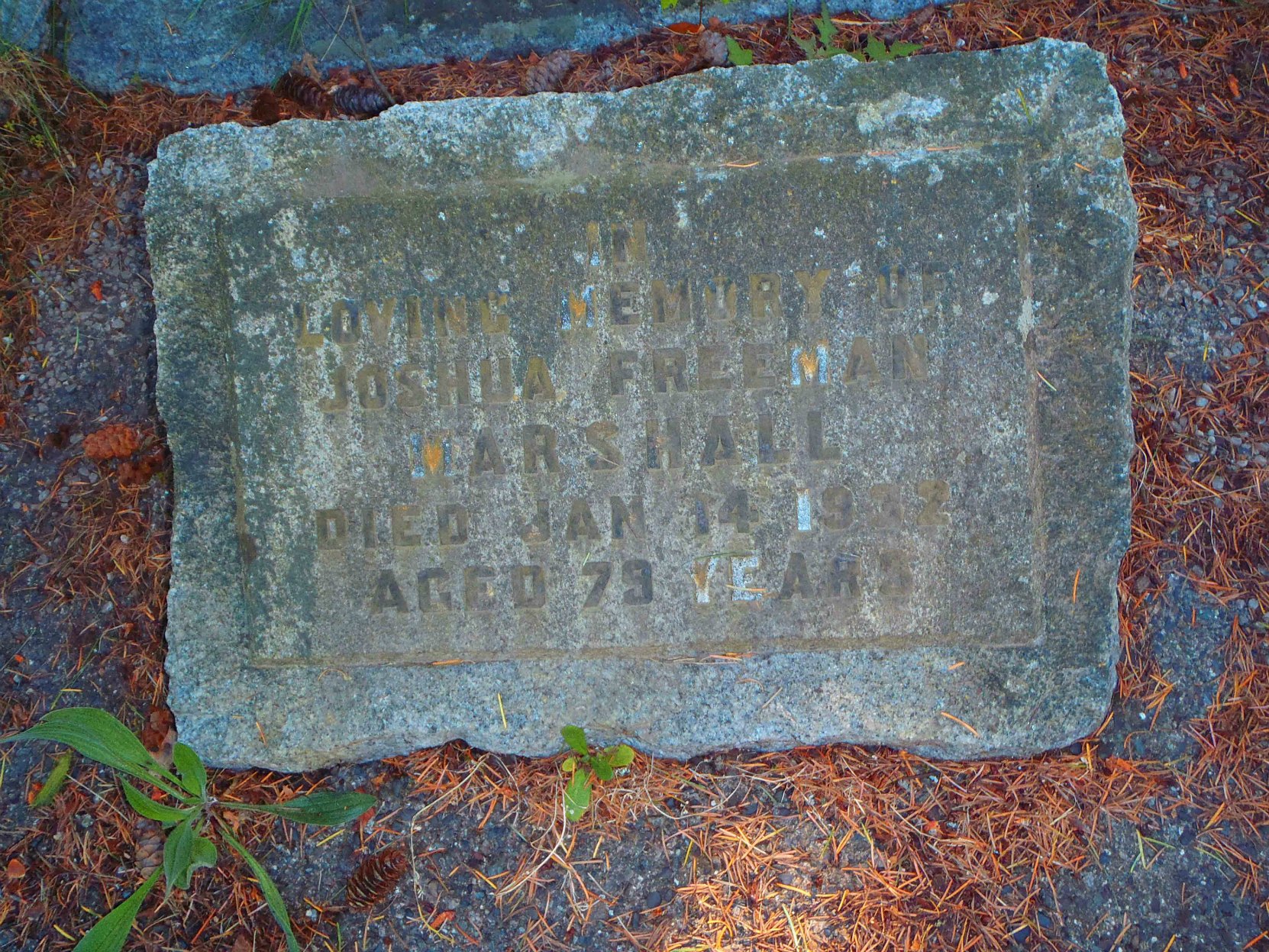 Would you like to leave a comment or question about anything on this page?