Archibald Renfrew Kier (died 3 April 1881, aged 84) was a pioneer farmer in the Somenos district of the Cowichan Valley. A Square & Compasses appears on his grave marker although he does not appear to have been a member of a Masonic Lodge in British Columbia.
Larry Kier, one of Archibald Kier's descendants in the Cowichan Valley, provided the following photograph of Archibald Renfrew Kier and his wife Mary Jane Kier.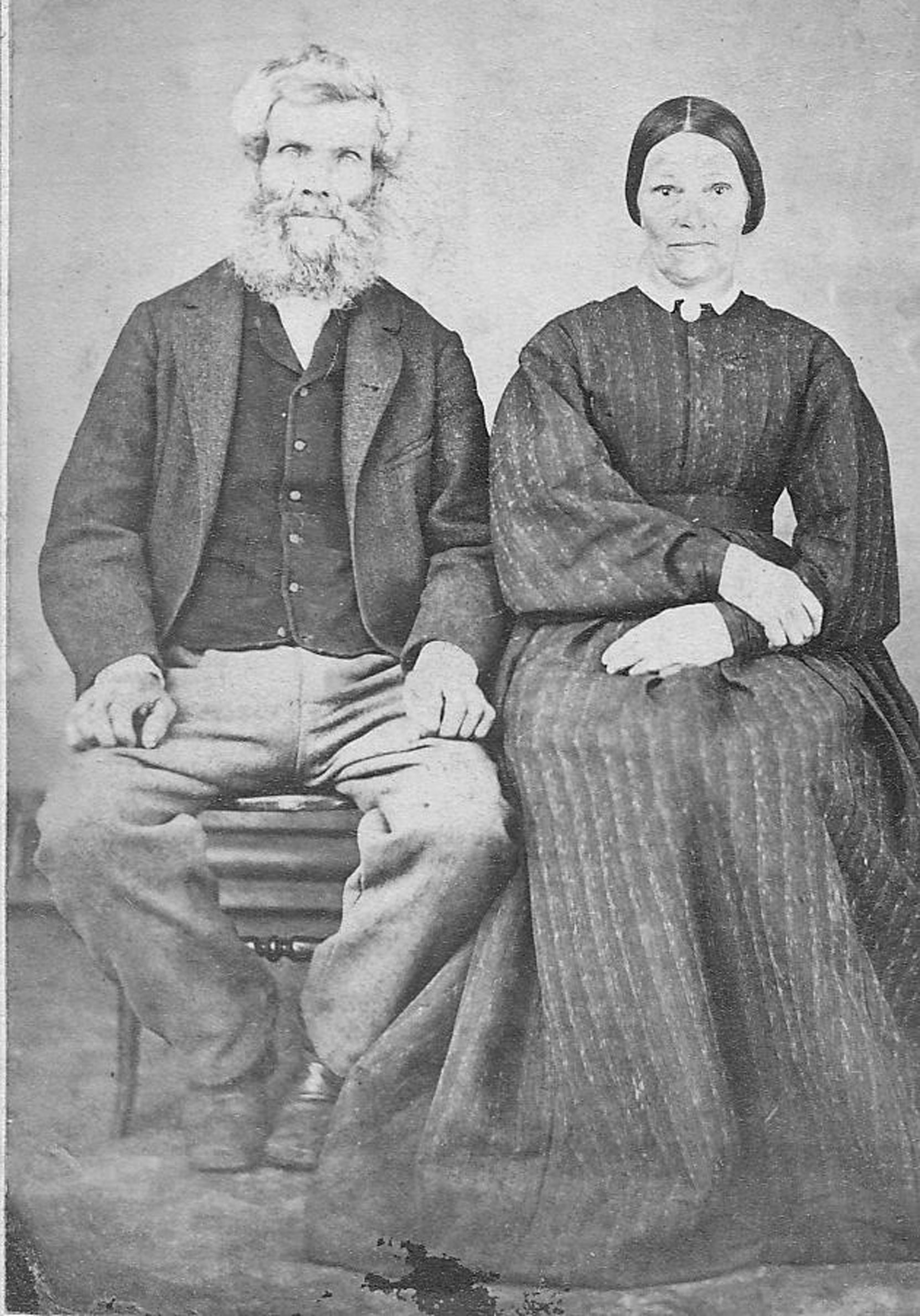 Larry Kier has also provided us with a copy of a letter written in 1858  by Archibald Renfrew Kier's Masonic Lodge in Scotland to St. John's Lodge in Newbury, Ontario, where the Kier family lived before coming to the Cowichan Valley in 1863..
Here is a map showing the location of the Village of Newbury, Ontario, south west of London, Ontario:

We are guessing that the "St. John's Lodge, Newbury" described in the letter is St. John's Lodge No. 20 in London, Ontario but we will have to do some more research to confirm that.
Here is our transcription of the 1858 letter to "St. John's Lodge, Newbury". The letter does not contain punctuation in many places so we have omitted it and followed the letter as written:
"To the Right Worshipful the Grand Master & Brother Freemasons of the St. John's Lodge Newbury
We the members of the Eaglesham Montgomerie Kilwinning Lodge By confirmation from the Grand Lodge of Scotland No. 233 –
Having been requested by Archibald Kier at present residing in Newbury Canada West, to forward a Certificate testifying that he was a member of the Eaglesham Montgomerie Kilwinning Lodge No. 233 Have much pleasure in giving the following Archibald Kier was admitted as an Apprentice on the 8th January 1818 And was Passed and Raised to the Degree of Master on the 20th February following, and was made Marked Mason in March of the Same year [note: 1818] and latterly was chosen Right Worshipful Master on the 14th January 1825 All of which he faithfully fulfilled Bearing a most excellent character both among Brother Masons and A large circle of acquaintances. We therefore have much pleasure in recommending him to the Esteem & Fellowship of the Brethren of St. John's Lodge Newbury.
We are Brethren
Yours truly
Hugh Montgomerie Secretary
John Gebbie R.W.G. Master
James Young Treasurer
Eaglesham 18th September 1858″
Eaglesham Montgomerie Kilwinning Lodge No. 233 does not exist anymore but we found this page about Lodge Eaglesham No. 1265. We will need to do more research to confirm and follow up the information on this page.
We contacted the Grand Lodge of Scotland which told us that Lodge Montgomerie KIlwinning No 233 was Chartered in 1800 by Lodge Mother Kilwinning but seems to have gone dormant in 1854. The Grand Lodge of Scotland does not have any early records of Lodge Montgomerie KIlwinning No 233.
We will also contact the Grand Lodge of Canada in the Province of Ontario to find out whether it has any information about Archibald Renfrew Kier during his time in Newbury, Ontario between 1858 to 1863.
We will post what we find.
Here is Archibald Renfrew Kier's 1881 obituary in the Victoria newspaper, the British Daily Colonist [now the Times-Colonist]:
"DEATH OF A PIONEER FARMER – We regret to announce that Mr. Archibald R. Kier, a pioneer farmer of Somenos, Cowichan, died on Sunday evening last at the ripe age of 83 [note: his gravestone, see below, says 84 years and 5 months]. Deceased was a native of Scotland but resided for several years near London, Ontario, from which place he moved with a large family to this Province in 1863.  Mr. Kier has been since Confederation [note: British Columbia joined Canada as a province in 1871] postmaster at Somenos. He was highly respected by every settler in the large district of which he was a resident, and was looked up to by members of his family with much veneration. Mr. Smithe, Esq., M.P.P. , of Somenos, was a son-in-law of the deceased."
(Source: British Daily Colonist, 5 April 1881, page 3)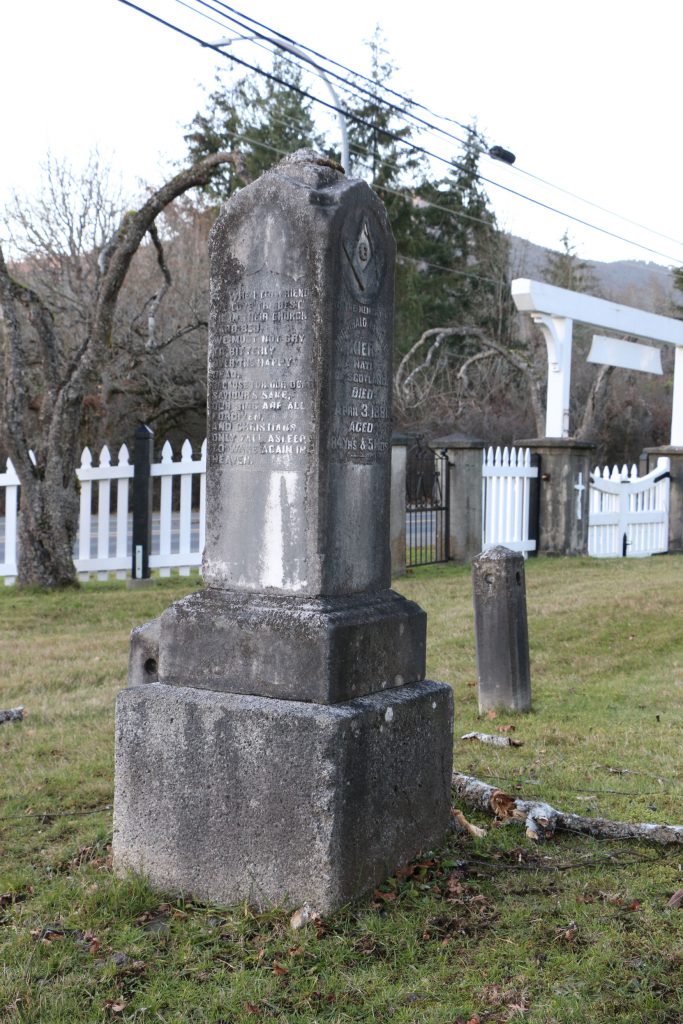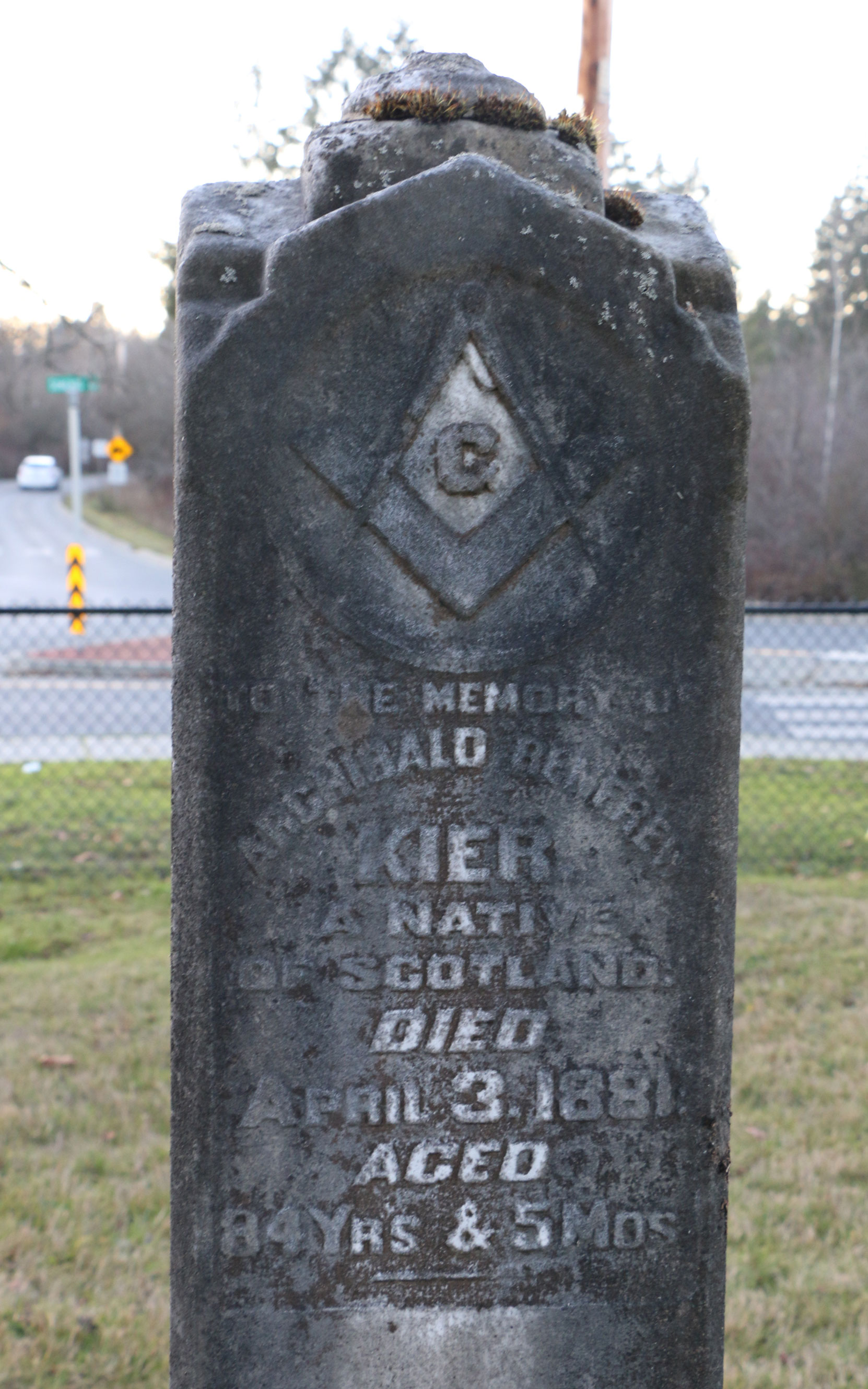 Archibald Kier's obituary (see above) notes his son in law was "Mr. Smithe, Esq., M.P.P. , of Somenos…"
William Smithe (1842-1887) was Premier of British Columbia from January 1883 until his death from nephritis, aged 44, on 28 March 1887. [Note: Smithe is sometimes spelled "Smythe" in biographical information]
For more information on William Smithe, see:
William Smithe's grave is a few steps from Archibald Renfrew Kier's grave in Mountain View Cemetery.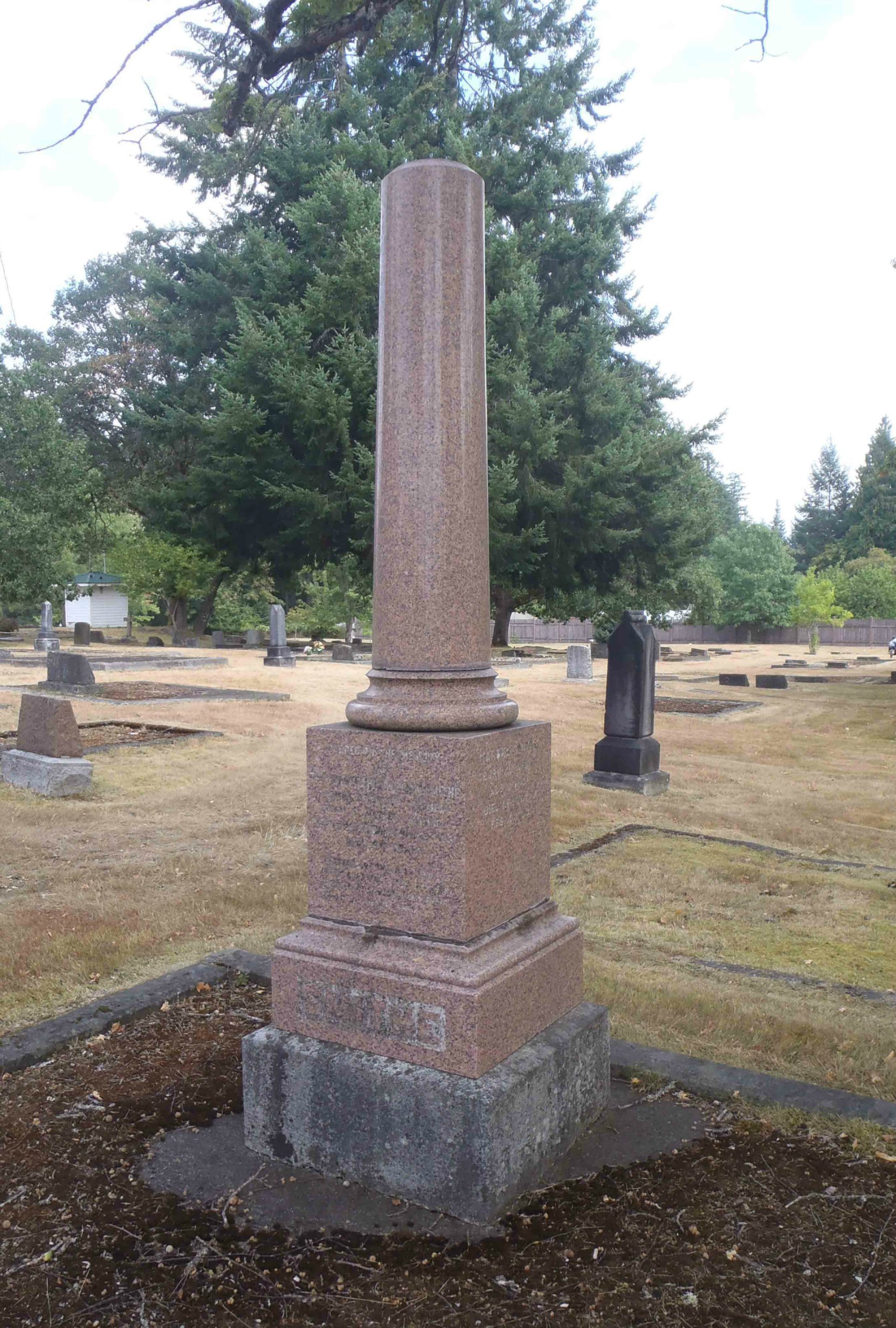 Would you like to leave a comment or question about anything on this page?