Home > Temple Lodge Historian > Masonic History Project > Vancouver Island Cemeteries > St. Peter's Quamichan
VANCOUVER ISLAND CEMETERIES - MASONIC INTERMENTS
ST. PETER'S QUAMICHAN, ANGLICAN CHURCH & CEMETERY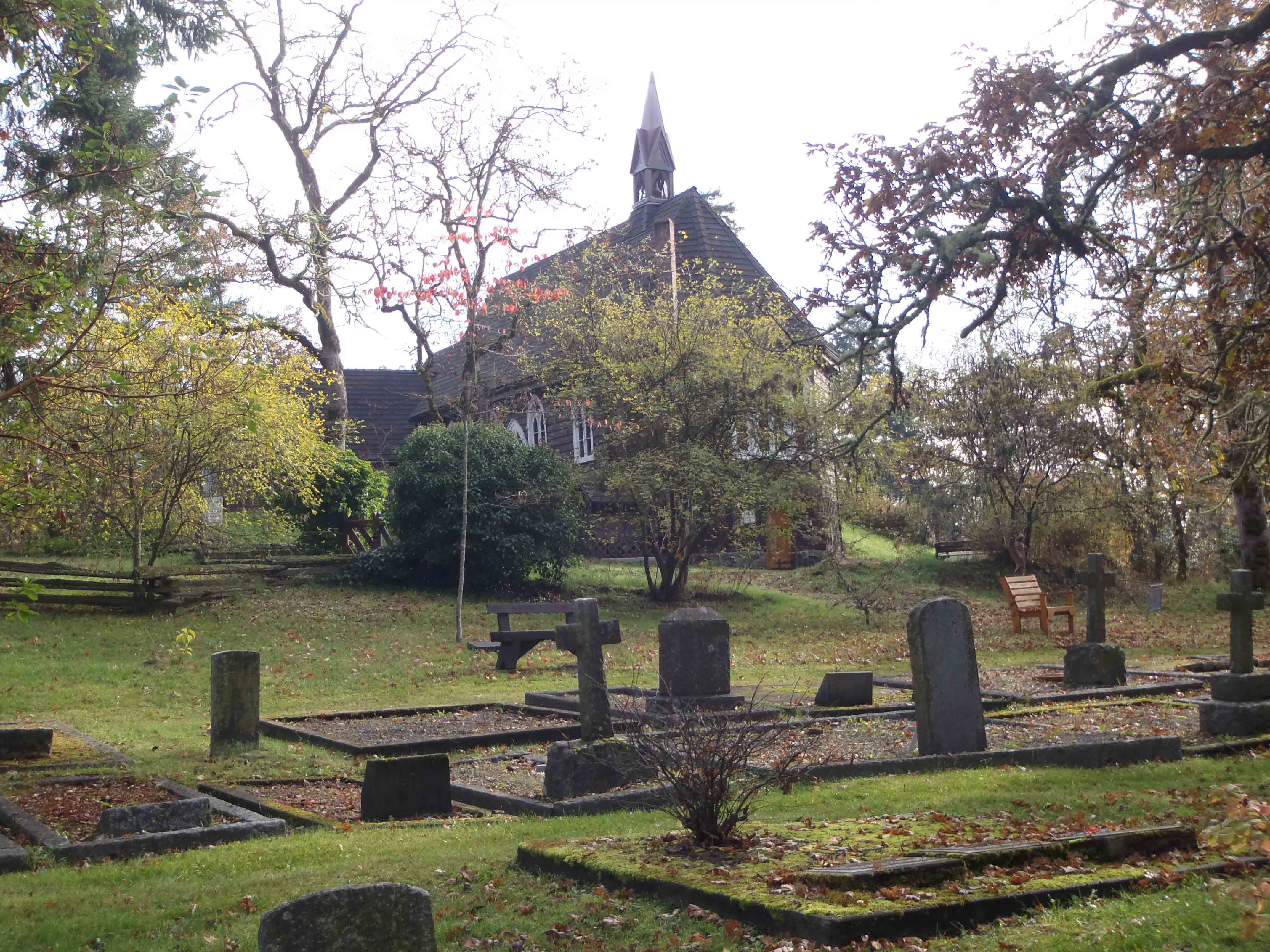 St. Peter's Quamichan Anglican Church is located at 5800 Church Road, North Cowichan between Maple Bay Road and Tzouhalem Road. The church office phone is (250)746-6262.
An Anglican Church has stood on this site since 1866. The present church was consecrated in June 1877. Additions to the church building were made in 1893 and in the 1930s.
The churchyard contains a picturesque cemetery with interments dating back to 1866.
We are currently aware of 54 Freemasons interred in St. Peter's Quamichan, including three former Mayors of Duncan, some prominent local businessmen, farmers, lawyers and a RCMP Superintendent. The names are in the list below.
Here is a list of the Freemasons whom we currently know to be interred in St. Peter's Quamichan Anglican Cemetery:
Adam, Robert John - died 1991
Alexander, David - died 1928 (note: his former farm gives its name to the current Alexander district along Beverley Street and Lakes Road)
Anderson, Richard Burpee - died 1912
Bruce, Ronald George Maunsell - died 1991
Chambers, Robert Earl Stirling - died 2011
Clague, Herbert Naden - died 1921
Copeman, John Young - died 1958
Corfield, Norman Tressidor - died 1983 (Note: associated with the formation and construction of Duncan Garage)
Dibb, Frank Walton - died 1933
Dick, John - died 1941
Dobson, Christopher - died 1937 (note: built the commercial building on the north west corner of Station St. and Craig St. in downtown Duncan. His former home at 220 Beech is still standing. He also built the altars used in Temple Lodge, No.33 and Ashlar Lodge, No.3)
Dunbar, John - died 1988
Duncan, Kenneth Forrest - died 1952 (note: first Mayor of Duncan, 1912)
Dwyer, William Mourdant - died 1948 (note: was the head of the School Board that built Duncan Elementary School in 1913.)
Findlay, James - died 1975
Glay, George Adolph - died 1954
Grieg, James - died 1954 (note: former Mayor of Duncan)
Hall, John Edward - died 1944
Hearn, Edward Harry - died 2005 (member of Malahat Lodge, No.107, Past President of Cowichan Valley Shrine Club)
Holford, John Coupe - died 1946
Horsfield, Richard Edward - died 1986
Jaynes, Percy Franklin - died 1920
Keast, Hubert - died 1911
Lane, Arthur Edward Cecil - died 1947
Langley, Arnold Seymer - died 1912
Lomas, Alfred Hinton - died 1957
Maitland-Dougall, James St. Leger - died 1940
Marshall, William Thomas
McGregor, Dr. Robert Campbell - died 1919
McKenzie, Alexander Grant - died 2011
Mellin, Richard Guy - died 1931
Nelson, Richard - died 1921
Norie, Francis James - died 1946
Peterson, John Henry - died 1917
Phillips-Wolley, Sir Clive - died 1918 (note: played a leading role in the creation of Strathcona Park on Vancouver Island)
Piers, Sir Charles Robert Fitzmaurice -died 1996 (Worshipful Master of Temple Lodge, No.33 in 1957)
Prevost, Harold Fairfax - died 1941 (note: former Mayor of Duncan. His business building is still standing at 45 Craig St., Duncan)
Price, Ernest Alfred - died 1920
Price, Frank - died 1943
Price, Joseph - died 1955
Pruessing, Emil Julius - died 1945
Sandys-Wunsch, Theodore - died 1966 (note: former RCMP Superintendant. Involved in the Mad Trapper case)
Scholey, Sidney Laing - died 1972
Sheppard, Llewellyn Donald - died 1998
Stilwell, John Ernest - died 1957
Tautz, George Franklin - died 1925
Tipton, Robert - died 1969
Tombs, Stanley Josiah - died 1942
Tombs, Thomas Ethelbert - died 1916
Vidal, Hugh Francis - died 1941
Waldon, William - died 1946
Wellburn, Harry Osborn - died 1910
Whittome, James Henry - died 1936 (note: owned the Whittome Building in downtown Duncan.)
Wood, Thomas Anthony - died 1945 (note: former Reeve of North Cowichan)