Home > Vancouver Island Masonic History Project > Buildings Associated With Freemasons > Sir Clive Phillips-Wolley house
BUILDINGS ASSOCIATED WITH FREEMASONS
SIR CLIVE PHILLIPS-WOLLEY HOUSE "THE GRANGE" -
3443 DRINKWATER ROAD, NORTH COWICHAN, B.C.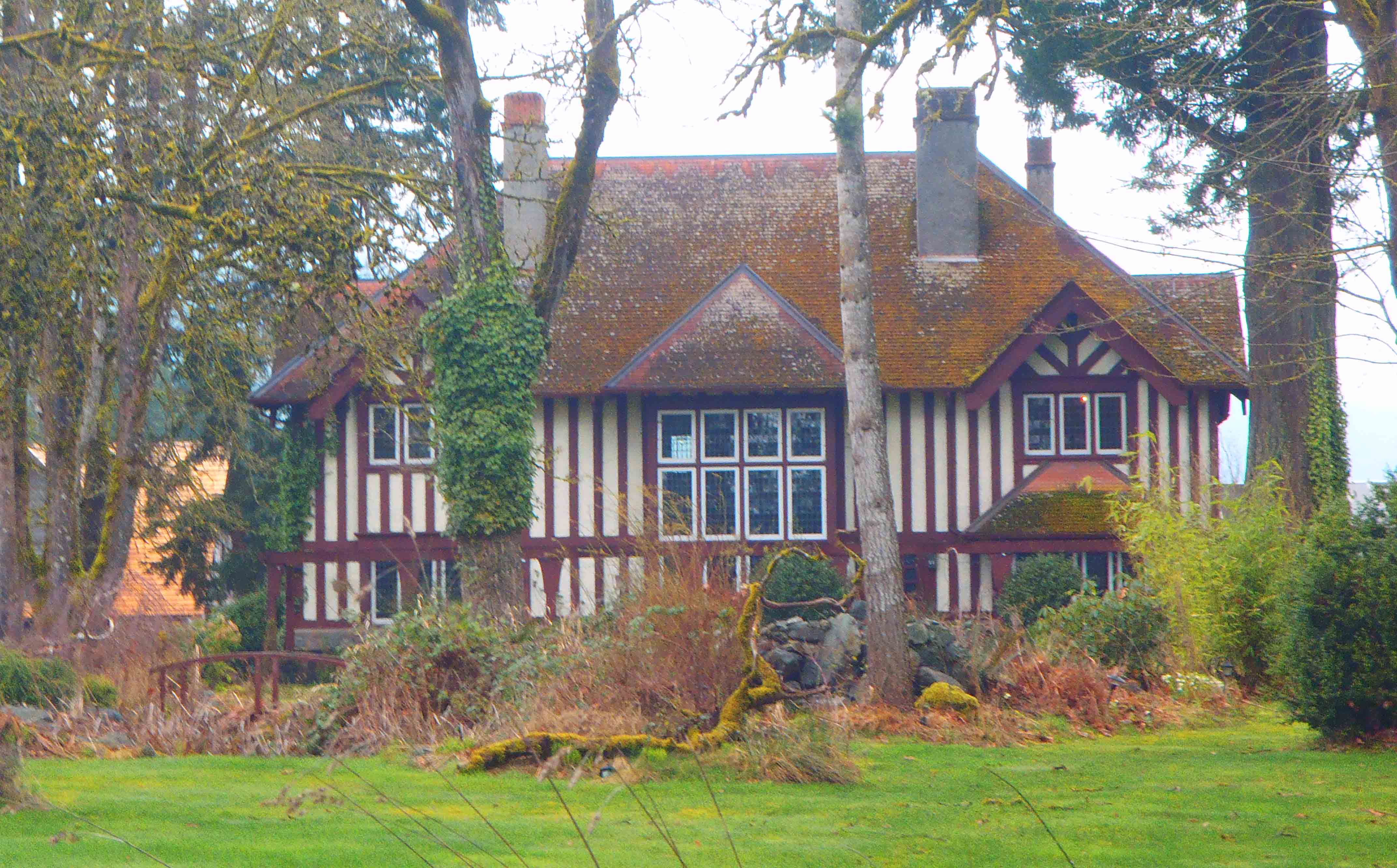 The Phillips-Wolley house at 3443 Drinkwater Road, North Cowichan was built for Brother Sir Clive Phillips-Wolley in 1911 by Victoria architect Samuel Maclure.
A present day photo of the main house is shown in Fig.1 and a photo of the Gate House is shown in Fig.2.
Brother Sir Clive Phillips-Wolley was a member of United Service Lodge, No.24 in Esquimalt, B.C.
University of Victoria architectural historian Martin Segger considers the house one of Samuel Maclure's "consumate masterpieces."
Among the other houses designed by Samuel Maclure for Freemasons include the Biggerstaff Wilson house in Victoria.
Here is University of Victoria architectural historian Martin Segger's description of the Phillips-Wolley house, taken from his book, Samuel Maclure: In Search Of Appropriate Form: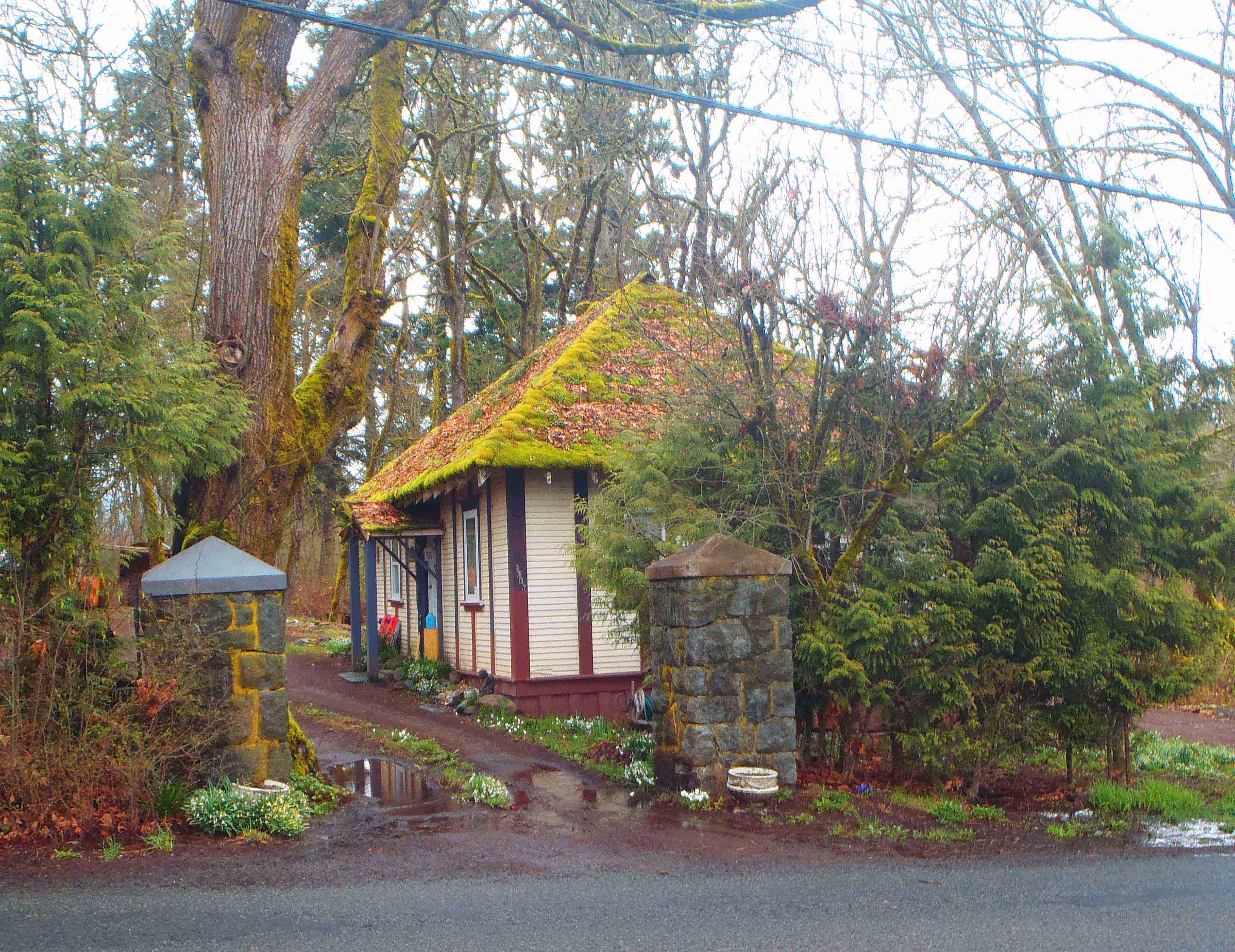 "During the early years of the twentieth century changes were taking place in the mainstreams of world architecture, Eventually even Samuel Maclure was to be effected by these. The result would be an almost total transformation in his art, one which would at first glance seem to be a complete denial of those arts-and-crafts precepts which inspired his work up to the First World War. A commission which unexpectedly reveals the source and direction of this radical transition appears in one of Maclure's most masterfully executed commissions.
Clive Phillips Wolley House, 1911
On the face of it, the hunting lodge designed for Clive Phillips Wolley at Somenos, Vancouver Island, in 1911 appears to far one of those typical, if perhaps a little more flamboyant, Elizabethan revival houses at which the architect excelled. Captain Sir Clive Oldnall Long Phillips Wolley, a descendent of "Clive of India," was one of those archetypal Maclure clients. Born in 1854, a product of the British public school, he had studied law at Temple Bar, served overseas in the diplomatic service as British Vice-Consul at Kerch on the Russo-Turkish border, and had been commissioned as a Captain of the 4th Battalion, South Wales Borderers. In1876 he inherited the family country seat, the Wolley Estates at Hanwood in Shropshire. In 1887, however, while on a world tour, the Wolleys decided to settle, for at least part of the year annually, in Victoria, Wolley, an addicted hunter and sportsman, was to turn hishand to journalism, politics, and various literary pursuits. He briefly owned the Nelson Miner newspaper, edited the Vancouver Province, and wrote numerous books of prose and poetry extolling the natural beauties of British Colombia. He was a consulting editor for the Badminton Library and a contributor to the Spectator. The knighthood followed in 1915, which recognized a lifetime of services to King and Empire, including Wolley's work with the Navy League in British Columbia and his "Coronation Hymn" composed in honour of the coronation of George V, On Vancouver Island the Wolleys owned houses in Victoria and also Piers Island, which was purchased as a hunting preserve. Finally in 1911 they commissioned Madure to design the Somenos "hunting lodge" near Duncan.
The house, set amidst the gently rolling meadows near Somenos Lake is one of Maclure's consummate masterpieces. The protective spread of the great hipped roof is relieved by gables on each elevation but dominates the half-timber walls which rise out of solid granite peripheral terraces and foundation work silled with random ashlar. On the front elevation a hipped roof extends down from the gable to shelter the entrance porch. The garden front is composed around a central two-storey mullioncd window bay, its roof-level hipped gable echoed by that of the single-storey dining room bay. A sleeping porch and verandah complemented by a glazed conservatory extend the house out into gardens on the east elevation. There is a formal harmony to the seeming casual design which on the interior can be detected by the prominence of a majestic Maclure living hall. Despite the organization of the spatial circulation in a U-form around this large central hall with its feature wall of mullioned glass and cozy ingled hearth, in many aspects the house is without precedent in Maclure's previous work. Although on the east side the dining room and kitchen are aligned in the standard manner, there is no drawing room. On the corresponding west side the plan terminates in a small study and boudoir. These open off an internal corridor which crosses the plan and is screened from the hall by large posts which support a gallery above. On the second floor an axial corridor connects the two bedroom wings. The stairwell is recessed and drops to the ground floor in a constricted dogleg behind the gallery. The openness of the plan permits the spaces to be penetrated by numerous views, especially from the second-floor gallery, through the hall and out through its large window to the gardens or in the other direction across the stairwell through windows framing the undulating farmlands of the Somenos estate. The living hall effectively remains an enclosed space, however, totally static without the cross-axial circulation of previous plans such as the Shallcross house.
The source for these unusual elements, the long spinal gallery, self- contained hall and two-storey window bay are traceable to houses which had appeared some years previously in the pages of an English magazine, which by that time had become prime arbiter of taste and fashion, Country Life. Deanery Garden, Sonning, built for Edward Hudson, publisher of the magazine, and Munstead Wood, Godalming, for its garden columnist, Gertrude Jekyll, seem to be obvious sources for the Wolley house. The designer in both cases was a young architect, Edwin Landseer Lutyens. The Wolley house bay-windowed hall with fireplace inglcnook is a scaled down version of Lutyens's earlier Deanery Garden (1900), the external elevations are remarkably similar including the crowning hipped gable. The arrangement of gallery, stairs and hall flanked by library and dining room is remarkably similar to that of Munstead Wood completed in 1899.
The position of Edward Hudson and his publications under the Country Life imprint in the first half of this century must be compared to that of Ruskin in the nineteenth century and Lord Burlington's in the eighteenth, In particular, Hudson's life-long friendship with Lutyens, along with the Country Life exposure of his work, two books on his work and a posthumous biography gave the architect's career an enviable stature throughout the English-speaking world. Many an architect at the edges of the cultural mainstream must have been nourished by this amazing and spectacular career as illustrated and broadcast through the pages of Country Life, A major stream of English and international architecture followed in his footsteps and increasingly through the period from 1900 on, Samuel Maclure was joining that company.
While it is unlikely Maclure ever met Lutyens there are remarkable parallels in their lives. Lutyens s father was a British army captain and, later, an animal painter. For our purposes it is perhaps coincidental that he married his wile while stationed in Canada. It was in recognition of a friendship with the famous English painter that Lutyens decided to name one of the 14 children, Edwin Landseer. Born March 29, 1869, E. L. Lutyens, like Maclure, was dogged with frail health throughout his life, was informally educated and from an early age sketched everything he saw. Also echoing the older Maclure, it was on long countryside walks that Lutyens very early developed a love for the natural landscape and its rural vernacular architecture. For about a year in 1885-86 Lutyens attended the Royal College of Art but he failed to complete the architecture course. In 1887 he started an apprenticeship in the office of George and Peto, vernacular revivalists from the William Morris tradition. Again he failed to finish, instead accomplish­ing the unusual feat of setting up his own practice in 1889 at the age of twenty. Like Maclure, a number of fortuitous events shaped his career, among them Lutyens first major commission and then long association with Gertrude Jekyll. a major figure in the English arts-and-crafts move­ment and later inventor of the English "woodland" garden. Over a period of some 30 years the two developed at her property at Munstead Wood a house and garden which defined the ethos of the arts-and-crafts vernacular revival in both architecture and landscape gardening. It was through Jekyll that Lutyens met Edward Hudson, the owner and publisher of Country Life magazine. As well as publishing Lutyens major buildings, in a series of articles starting in September 1900 written by Lawrence Weaver, Hudson was to use Lutyens for his own buildings and recommend the architect to his circle of powerful and influential friends. During a long and incredibly productive career Lutyens produced more work than any other English architect except Wren and again, like Maclure, he did this in the main by employing a very ordinary, young, semi-trained and frequently changing staff. One exception to this manner of work was his lengthy partnership with Herbert Baker who ran the New Delhi office in India during the planning and construction of the Viceroy's house and govern­ment complexes there. Also finding an echo in Maclure's manner of practice was Lutyens's attentions to design and construction detail, con­summate workmanship on the job, coupled with a casual disregard for what he called the "stuffing" of architecture. That is what heated, watered or drained it. Unlike Maclure, Lutyens went on to create a grandiloquent heroic style which was to set the pace for British colonial architecture between the wars with massive public and private institutional commissions. Yet Lutyens remained a very quiet, notably shy person, famed for a wry, almost childlike, wit and sense of humour which often found a way into his building designs by way of an unusual juxtaposit ion of features, proportions or decorative details.

In 1913 Lawrence Weaver's County Life essays were published by Hudson in book form. Above all else, what the book demonstrated was Lutyens's move from his early romantic phase, seeking design inspiration in the English mediaeval vernacular, to an interest in the classical roots of English Georgian, the architecture of Christopher Wren and the Italian Rennaissance work of L.B. Alberti and Palladio. A similar shift, probably with one eye on the published work of Lutyens, can be noted in Maclure's work at this time."
Source: Martin Segger, "Samuel Maclure: In Search of Appropriate Form", Sono Nis Press, Victoria,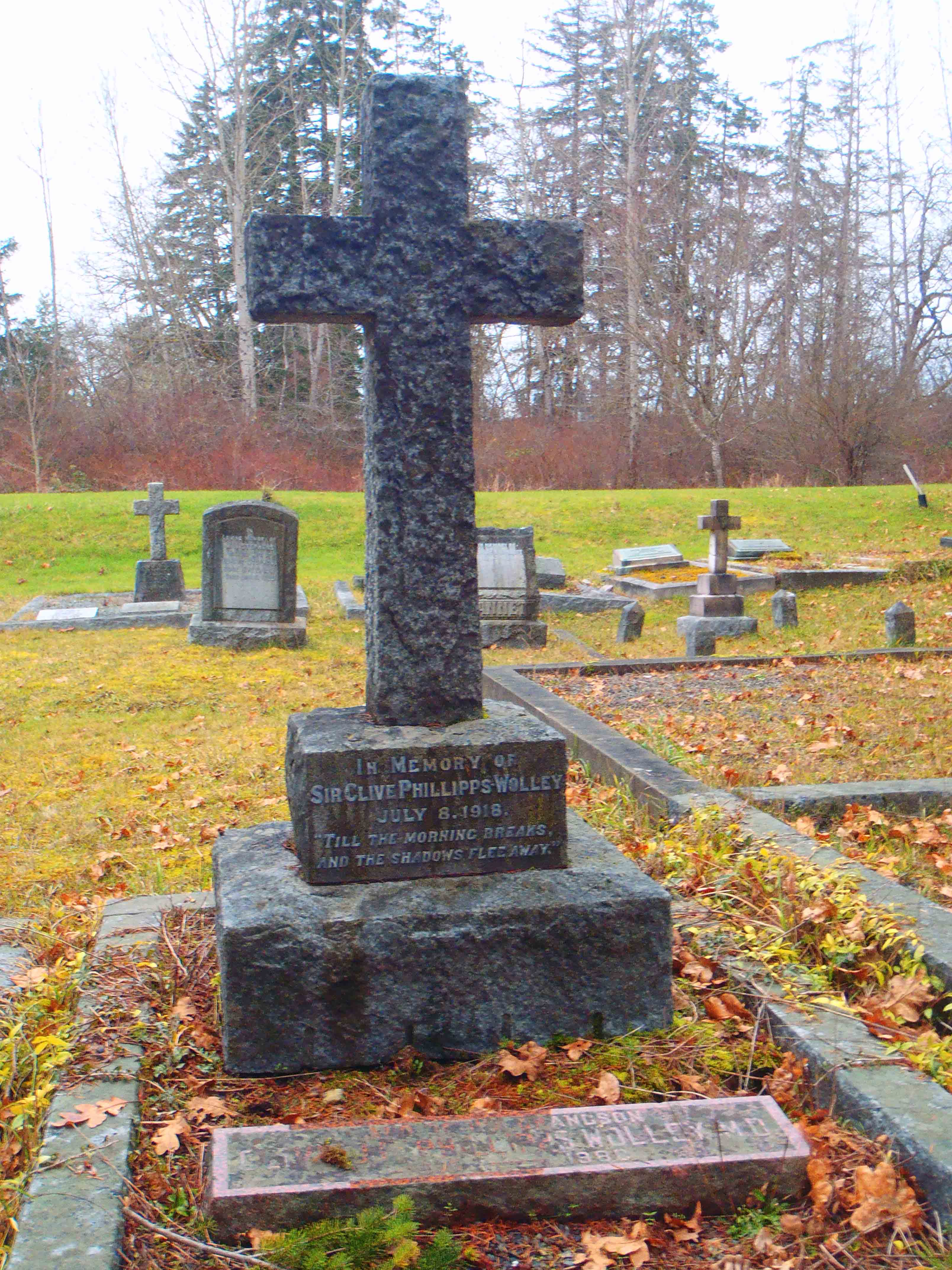 Sir Clive Phillipps-Wolley is buried in St. Peter's Quamichan Anglican Cemetery in North Cowichan.